by Lowell Here are a few national and Virginia news headlines, political and otherwise, for Monday, August 12. Guatemala elects hardline president who opposes Trump...
by Lowell Here are a few national and Virginia news headlines, political and otherwise, for Saturday, July 27.  Hong Kong Protests: Police Fire Tear Gas...
by Lowell Here are a few national and Virginia news headlines, political and otherwise, for Monday, June 4. North Korea sacks top three military officials,...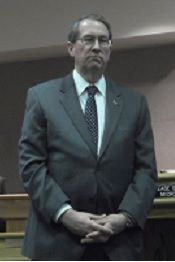 So now that Bob Goodlatte has visited the border and determined that all blame for the immigration crisis
du jour
rests squarely on President Obama's shoulders, maybe we can get to some substantive discussion. Dismissing Goodlatte's and Darrell Issa's grandstanding on its face, a well-considered, rational strategy is essential.
"Word has gotten out around the world about President Obama's lax immigration enforcement policies, and it has encouraged more individuals to come to the United States illegally, many of whom are children from Central America." - Bob Goodlatte, R-VA 6th
This is a ridiculous and simple-minded assertion designed to play on prejudice and fear. The law that codified current policy toward unaccompanied minors, the Trafficking Victims Protection Reauthorization Act (TVPRA) was enacted in 2008 and signed by President Bush. Reagan administration policies in and subsequent neglect of countries in the Central American Northern Triangle, which includes Honduras, Guatemala and El Salvador, have directly led to the highest homicide rate per capita in the world. These governments cannot contend with rising levels of violence. Internally displaced persons constitute the bulk of those displaced but increasing numbers of people are crossing state boundaries in search of safety. However, criminal gangs are transnational, meaning there is no sanctuary obtained by crossing an adjacent border.
The TVPRA requires the establishment of standards for custody, creation of more child-friendly asylum procedures, and relaxation of eligibility for Special Immigrant Juvenile Status (SIJ) visa status. These are simple internationally recognized expectations of humanitarian treatment. Do the critics believe that inhumane treatment of children for their first 72 hours or so in America will somehow discourage migration?
What a difference a year makes. This time last year there was a sense that comprehensive immigration reform at the federal level may happen in some form. It would be sweeping and, like any compromise, not exactly what everyone wanted. Now we have something worse: only the noise of recrimination.
The Virginia Coalition for Immigrant Rights (VACIR) met last year to map out the values and principles held by Virginians and provide a voice to Congress. But now what since reform appears dead in the water? Well, during the Obama administration, more than 2 million mothers, fathers, brothers, sisters, and children have been deported; more deportations than in any previous administration. That number is hard to wrap your head around and does not convey the individual personal tragedies involved. For example, Immigration and Customs Enforcement (ICE) reports 72,410 of those deported said that they had one or more U.S. born children. Tens of thousands of U.S. citizens, then, have had their parents deported. So the VACIR has changed its tact and directed its energy toward pressuring the Obama administration to act since the House of Representatives has failed in its responsibilities. They are also looking at ways state legislators can address the issues.
11% of Virginians were born outside the United States. They, like all Virginians, need the tools and opportunities necessary to build strong families, healthy communities, and a culturally and economically thriving Virginia. For now VACIR is focused on four key areas:
Comprehensive Immigration Reform at the Federal level
Where do we even begin with Federal reform? The well is poisoned. I will disclose that my bias on this matter begins and ends with the Republican Party, Ronald Reagan, Simpson-Mazzoli, and close personal experiences with immigration and naturalization. Some 3 million immigrants were granted amnesty in 1986. That is the precedent that those who are angry should focus on when crying about today's "failed policies." And the fact is that the reason for the current flood is not anything President Obama has done but a more pedestrian cause: it's the economy stupid; the economy in Honduras, El Salvador and the rest of Central and South America. Places where we meddled, then abandoned; the spawn of Ronald Reagan's foreign policy abetted by Ollie North and "company."