Home
Tags
Independence Day
Tag: Independence Day
by Lowell Here are a few national and Virginia news headlines, political and otherwise, for Saturday, Independence Day, July 4, 2020. This year, of course,...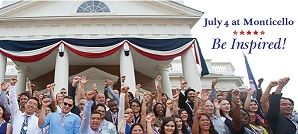 Immigration status neither confers nor denies basic human rights. How anyone arrives in America does not affect their status as humans. We do not have a spotless record and to pretend we do is shameful. Fortunately not ubiquitous, our inexcusable cases of exploitation are a close kept family secret.
Happy Independence Day. This week none other than Rush Limbaugh began framing the right wing excuses for the behavior of Americans in Lawrenceville and, now, Murrieta, north of San Diego. The purpose of Ellis Island, he bloviated, was to halt the spread of disease; poking at a spot that sparks fervor aimed at the children who've crossed our border. He sarcastically mocked the words on the Statue of Liberty. And, he seemed to argue that we are not a nation of immigrants. Tell that to the 11% of Virginians who are.
Recently, while waiting for a connection after a cancelled flight in Budapest, I struck up a conversation with a woman who I'd heard speaking English. Turned out that she is in the process of establishing residency in Germany. A naturalized American citizen, her family immigrated to the United States from Estonia after World War II. It had been a struggle to gain that status and it only occurred by happenstance. Sitting in a park in devastated Tallinn, her father struck up a conversation about his dream with a nun who coincidentally was with a Catholic organization working with sponsors for immigrants to the United States.
The family was eventually granted entry status and guided to settle in a small northwest Pennsylvania town where there was a job for her father. It was a company town, essentially owned by his employer. To "help" them settle, they were given credit at the company stores, payment for which was automatically deducted from his wages. It did not take her mother long to come to the realization that they were gradually falling further and further into debt with small hope of escaping a spiral into tacit servitude.