Good stuff, as always, from Virginia Attorney General Mark Herring. Check it out, below. ATTORNEY GENERAL HERRING TO PROVIDE HISTORIC UPDATE ON PROJECT TO END...
Virginia State Sen. Amanda Chase (R-SD11) has responded to the (justified) backlash against her outrageous remarks about rape victims ("It's those who are naive...
In a House of Delegates floor speech yesterday (see below), Del. Lee Carter (D-Manassas City/Prince William County) argued that sexual assault survivors "should be...
by Lowell Here are a few national and Virginia news headlines, political and otherwise, for Saturday, February 9.  Trump says Kim summit will be in...
The following explanation and video of today's protest at #ASSLAW (Antonin Scalia School of Law) in Arlington is courtesy of End Rape on Campus. Great...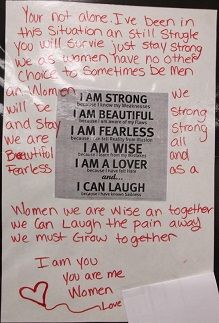 The cloak of silence surrounding
intimate partner fatalities
is nearly impenetrable. Details are buried with the victims. Family members deny evidence of abuse before their very eyes. But partners who have survived and healed provide a window on the methods and complexity of power wielded by their abusers.
What follows are stories told by women who could be your sister, mother, neighbor, or boss. These women came together in October at Charlottesville's Shelter for Help in Emergency to share their lives; to try to explain and describe how they were bound to their abusers, how they left, and how they continue to suffer though the healing process. Looking at them you would never know what is inside or be able to distinguish them from the staff at the Shelter. These are striking women who you know but who live secret parallel existences; hidden even from themselves.
The stories that follow are at once different and the same. One striking aspect of these is that the methods the abusers employ are from the same kit familiar to anyone who has studied child or elder abuse or, for that matter, financial exploitation of the wealthy in Ponzi schemes. They are just applied in different variations depending upon the situation and prey. If we recognize the tools in the toolkit, then maybe observing them being applied is the red flag to defend ourselves and others. This, as suggested in A Journey Into Intimate Power and Abuse, provides a perspective that hints a "healthy cynicism" is the necessary defense against any form of nefarious advantage.
All of these women were and are like any of us, reaching to achieve their hopes, dreams, and aspirations. What makes us vulnerable is how and when we assign trust. That vulnerability is an aspect of human commerce as is trust. Sociopaths leverage an intuition crafted from their own experiences to recognize prey and know how to "close the sale."
Note: The posters featured here line the walls of the conference room at the Charlottesville Shelter office. Like the stories that follow, there are no names displayed out of respect for the privacy and security of these survivors. (click to embiggen)
Last Friday I traced the route Hannah Graham took to the place she was discovered, curious to know, among other things, how long the drive had taken. I also wondered if a former residence of Matthew's along the route that hadn't been mentioned in the news had been searched.
My interest in any of this is part of a broader curiosity about the relationship between power and behavior that began with an attempt to better understand how sexual harassment, abuse, assault, and rape should be approached by the military leadership. I am certain that the initiatives taken to curb these issues in the military are aimed at the wrong targets and will falter. But I digress. October has been National Bullying Prevention Month. There was an eye-opening, at least for me, and gut wrenching series of presentations at the Charlottesville Shelter for Help in Emergency. And though Hannah Graham was not a known acquaintance of her alleged assailant, the motivations and social skills of this sort of assailant are strikingly similar. It is really their signatures that distinguish them. They are rarely insane, by the way.
Though I am not a psychiatrist or sociologist, I am going to dare to discuss the social pathology involved in behaviors that probably should not always be stove piped into various categories like bullying, domestic abuse, intimate partner abuse, elder abuse, child abuse, hazing, rape, murder, etc. You may recall that when Hannah Graham went missing, I suggested that she would not have been her assailant's only victim. What I have come to recognize through a lot of study recommended by old friends who are experts is that these are varying manifestations of power and most of those who wield power in those ways do not perceptibly look or act differently from you or I unless they are among peers or bystanders under their influence. Their "success" is shaped by knowing what others perceive as right or wrong and only acting wrong in the presence of their victims or reliable bystanders. Often they count on their victims' and any witnesses' shame to provide leverage that avoids consequences for their actions.
So, before I go below the fold, I want to repeat what I know is easier for me to say than for others to do: if you are or know a victim of any of these trespasses, report, report, report...do not stand by, get help; help others.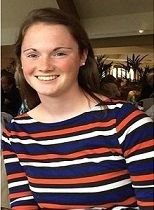 Possibly only because Hannah Graham disappeared did we learn she was a victim of foul play. Statistically, 1,137 other American undergraduates were raped that day. Why aren't they in the headlines? Bet you if four UVA football players had gone missing in five years, those cases would have been solved.
There is every disincentive for victims of rape to report their assaults. When they do, they invariably become victimized again. The deck is stacked in favor of assailants. You'd think that in the enlightened environs of college campuses this would not be so. When will the discussion about violence against women change from women avoiding potential danger to men behaving with respect?
There is nothing positive about this to learn from the leadership on Virginia's campuses. And there seems no accountability for leadership failures. The President of James Madison University (JMU), at a minimum, provided cover for the malfeasance in his administration's handling the Sarah Butters sexual assault, deflecting blame onto the victim. Governor McAuliffe plastered over the scandal of Title IX investigations across Virginia by appointing a task force to conduct a "top-to-bottom" review of procedures for investigating sexual assaults and resolving complaints at public colleges and universities. You can conduct the tightest investigations in the universe and it won't prevent the next broken life. Nice try Governor, but this won't change the climate on campuses. You want Presidents of Virginia's universities and colleges to be invested? Fire one; start with JMU President Alger who allowed Sarah Butters' dignity to be trampled upon.
The overuse of football as a metaphor for life can be irritating but sadly in the area of leadership, some college coaches are way ahead of their "bosses." Last July after Coach Charlie Strong started kicking players off of his team for their behavior toward women, ESPN commentator Rod Gilmore was asked about football players' violence against women. Gilmore, a former Stanford football player, accomplished attorney, and ESPN analyst praised Strong for doing the right thing.
"He's one of the few people who takes a strong stand against violence against women. I mean he comes out on day one and says that if you don't treat women with respect, you cannot play for him. And he's new at Texas and he backed that up today. But seriously, across the landscape of college football, we don't take it seriously enough." - Rod Gilmore on ESPN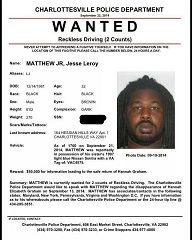 As
mentioned in a previous post
, rapists are very often serial offenders. The current "person of interest" is 32 years old, so if he perpetrated a crime against Hannah Graham, it is very unlikely this is the first time he has struck. This is not an acquired taste.
What that means is that if indeed Jesse Matthew was involved in any misdeed leading to or resulting in the disappearance of Ms. Graham, this will not have been the first time. And that leads to one of the reasons rapists are able to be serial offenders: their victims don't report the crime(s) for personal reasons. This underlines the urgency for encouraging reporting and for pursuing any investigation into sexual assault and/or rape to a conclusion.
Therefore the investigators should be aggressively calling for any information from acquaintances of Matthew, including prior assaults, rapes and/or drugging, that has not been reported. Silence is an enemy to the liberty of everyone who comes in contact with persons who are able to commit these acts without regard to or fear of the consequences.
The courage to report such a demeaning victimization is essential to protecting literally the lives and liberty of many others. Anyone who has hidden any information about an interaction with this "person of interest" or any assailant should learn from this sad situation. Report, report, report. And not just about this case; and no matter how long ago.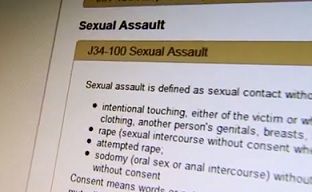 "Critics of such legislation" may reveal more than they intend when they question lawmakers' "real-world wisdom." It is that conventional "wisdom" that poisoned the well of justice in
Sarah Butters' case
. It comes down to this: rape is not about midnight wrestling matches between hormonal lovers. It's about violence.
Those quoted phrases are from a dismissive opinion piece in The Free Lance-Star that diminishes the importance of the work undertaken by Governor McAuliffe's task force to combat sexual violence at Virginia's colleges and universities. It is symptomatic of a prevailing cultural attitude toward the value of women and ignores a significantly greater social disease for which there is currently no innoculation.
In "civil" conversation involving sexual relations we usually pussyfoot and that plays into avoiding a substantive discussion about the violence. The violence has a sexual manifestation but it is actually a complete disregard for the victim; usually female (but sometimes male, by the way). It is about dominance and misogyny.
There are a number of "realities" that we want to pretend away. That one in five women on campus are the victims of sexual violence is easier to accept if, as that opinion piece does, we frame these as "misunderstandings." While there are cases of remorse after acquiescence in a relationship, we shouldn't count them in that 20%. Nor should the task force pretend that is an explanation for the alarmingly high, and likely under-reported percentage. Next, accepting that 20% figure does not indict 20% of the males on campus as perpetrators. Research shows that sexually violent perpetrators commit serially. While that may help some feel better about our culture and men in general, what it should also do is emphasize the imperative to get anybody who commits any single act of this sort off campus immediately and permanently. Plus, the number of violent acts against women that involve more than one perpetrator, often referred to as gang rape, is uncomfortably greater than we want to know...so we pretend; and women, shamed by the experience, shutter it, setting up the next target of group "affection." Not finally, but I will pause here, the abuse of authority (i.e. professors) to impose one's will on another (aka seduction) is no less a betrayal, act of violence, and rape than a forceful, physical subjugation (and serial).
For these and other reasons, I have little confidence that the Governor's task force will accomplish much, if anything. Maybe the discussion about Combatting Campus Sexual Violence today on HearSay with Cathy Lewis will provide a glimmer of hope.