See below for video of Del. Don Scott (D-HD80) defending State Sen. Louise Lucas (D-SD18), who is also the first-ever female and first-ever African-American...
The following video and photos are from last night in Portsmouth. For the record, I despise these statues and very much understand why African...
by Lowell Here are a few national and Virginia news headlines, political and otherwise, for Thursday, June 11. Britain briefly suspends sending evidence to U.S....
I was chatting with a Richmond-based political source of mine yesterday about the following bill by Israel O'Quinn (co-patroned by Daniel Marshall and John...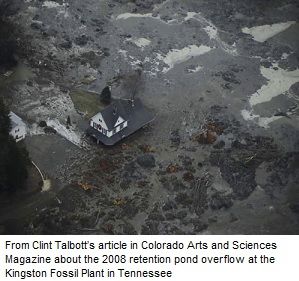 Chesapeake is concerned. The City Manager indicates that
this issue rises from the Dan River spill last February
and the city's action to protect the Elizabeth River is not directed at Dominion. But there's history there and Dominion has provided no reason to trust its motives.
This isn't just Chesapeake's concern. The Elizabeth is really only a tidal estuary that runs to the mouth of the James River on the way to the Chesapeake Bay through Portsmouth and Norfolk. It is about six miles long. The Dan River spill created a 70 mile coating of toxic sludge. So this should have the attention of Virginia Beach and the Eastern Shore too. But Chesapeake is center stage because it already knows how difficult it is to force Dominion Power to take responsibility for its mess.
Battlefield Golf Club was built using fly ash. Something the coal power industry has been advertising as a "good thing" in an attempt to rid itself of this pesky poisonous residue of energy production. Maybe if they can just spread all of it thin enough over hill and dale, insert it into concrete, and sweep it into wastewater systems no one will notice the damage. The proper cost of disposal has never been calculated into the cost of energy produced from coal. War on coal? How about coal's war on the planet?
Now almost five years into litigation over the damage caused during the Battlefield Golf Club construction, only one thing is clear: once any area is contaminated, you have to wait for a proper class to fall victim to the damage before anything can be recovered. That is essentially what is going on with the lawsuits over the golf course. For now the damage has been "limited" to the ground water under the golf course. And since the local residents have been connected to city water on Dominion's dime, the judge has basically said that they have not been damaged. The Environmental Protection Agency's findings of that limited damage have actually helped the defendants' case(s). Residents will have to wait for cancer, birth defects, or however this eventually manifests to demonstrate they have been harmed.