I live in a bubble. It's a lovely little bubble in Northern Virginia. Sure, I have problems--my kids' college is expensive, my Metro commute...
Though the clinic in Wise is Virginia's anchor, it is only one of four this year; even more in the future if Dr. Vicky Weiss has her way. This weekend's iteration drew attention for a drone demonstration but the primary purpose remained providing care to persons with limited access to health care.
The need is underlined by the flood of participants at every event. Here you see the very last open space in the parking area of the Wise County Fair Grounds being filled just as the gates opened yesterday for this weekend's clinic. The first arrival had been at around 2pm Wednesday, two days before. By 9pm Thursday there were some 800 staged with tickets in hand; at 4:30am Friday over 1,250. By noon the equivalent of about half the population of Wise had passed through the gates for care.
Remote Area Medical (RAM) was initiated by its founder, Stan Brock, to provide service to the world's inaccessible areas. Upon the realization that barriers to access are not just geographical, he began delivery of care to rural and underserved populations in the United States; eventually into urban centers. Now more than 90% of RAM operations are within the United States.
RAM of Virginia was launched in April 2014 on the steps of the state's Capitol Building to alleviate the growing need of affordable health care for thousands of underserved Virginians. Headed by Dr. Victoria Molnar Weiss, the affiliate hopes to expand its operations to host many mobile clinics throughout the state yearly.
It was Creigh Deeds' event, but guest Terry McAuliffe ran with it, ringing out the first and in the second year as Virginia's 72nd Governor. McAuliffe made his first campaign stop of 2015 supporting his former gubernatorial rival and using the opportunity to tune up on this year's legislative agenda.
A year after taking office, the Governor took the opportunity to climb on the soapbox to emphasize the issues he ran on and report progress. He enumerated a number of issues, but jobs and healthcare were the bookends claiming substantial progress on one and frustration with the other. On jobs, he pointed out that the state faced strong headwinds, losing nine billion dollars in defense contacts the last three years; more than any other state in the country. So, he has set out re-purposing Virginia's economy to make it less reliant on the federal government. That is what he thinks about every single day.
Additional issues addressed:

Women's rights
Marriage equality
Responsible gun ownership
Mental/behavioral health
Reformed Standards of learning
Daycare centers
Restoration of rights
Building broadband
McAuliffe announced that there would be a booklet published today, the first anniversary of his inauguration, outlining accomplishments during his first year in office. Highlighting successes on jobs, he said his whole emphasis is on how to build that new economy. And in that effort he has become the most travelled governor in our nation's history. The results so far include 265 economic deals and $5.4 billion in direct investment; double what any governor has ever done on job creation.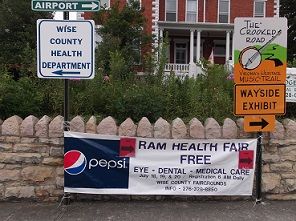 It is been called a field hospital, but really isn't. There is some minor surgery, mostly dental, but most care falls into more clinical than surgical. An impressive endeavor in any case and outclasses any medical or dental activity the U.S. military routinely provides overseas. That was striking.
Odd what catches one's attention. The nice tents and orderly processes were expected. What caught my eye was the condition of the Wise County Fairgrounds as the Remote Area Medical (RAM) effort came to an end. The clients left the grounds far tidier than I would have ever expected. In fact, quite clean. A sign of respect? Or just the nature of people in this part of Virginia. Everywhere you go people are friendlier and more open to strangers than in more urban areas.
At the close of this RAM I was told that the last count at mid-morning had been 2,700 and that the total was likely near last year's 3,000 treated. The numbers are misleading. At every RAM, people are turned away and there is no accurate count of those. If the capacity supported more, the numbers would have some meaning. What is clear is that demand is growing either from awareness or economic conditions.
What I didn't know is that Wise is just one of three clinics that RAM has organized in far Southwest Virginia this year. Next: Jonesville, Virginia; 13 - 14 September. Then: Grundy, Virginia; 4 - 5 October. What I didn't expect was the efficiency of the breakdown of the camp. I now want to take part in and watch the arrival and assembly. For those who want to volunteer, information is available at the RAM website. Note that you should register early as registration can close; it closed a month before the clinic in Wise.
Another thing I didn't realize: the State Fairgrounds at the center of Oklahoma City, The Seattle Center in, of course, Seattle, and the Manhattan Convention Center in New York City now qualify as "remote." New York City! Clinics will be held at those locations in August, October, and November respectively. What does this say about health care in the United States? I am not really sure other than something is amiss.