by Lowell Here are a few national and Virginia news headlines, political and otherwise, for Sunday, July 14. WE'RE BACK, BABY!!! #BLACKOUT pic.twitter.com/9KySiRQf4m — Jason Mante (@jasonmante)...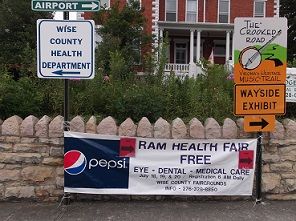 It is been called a field hospital, but really isn't. There is some minor surgery, mostly dental, but most care falls into more clinical than surgical. An impressive endeavor in any case and outclasses any medical or dental activity the U.S. military routinely provides overseas. That was striking.
Odd what catches one's attention. The nice tents and orderly processes were expected. What caught my eye was the condition of the Wise County Fairgrounds as the Remote Area Medical (RAM) effort came to an end. The clients left the grounds far tidier than I would have ever expected. In fact, quite clean. A sign of respect? Or just the nature of people in this part of Virginia. Everywhere you go people are friendlier and more open to strangers than in more urban areas.
At the close of this RAM I was told that the last count at mid-morning had been 2,700 and that the total was likely near last year's 3,000 treated. The numbers are misleading. At every RAM, people are turned away and there is no accurate count of those. If the capacity supported more, the numbers would have some meaning. What is clear is that demand is growing either from awareness or economic conditions.
What I didn't know is that Wise is just one of three clinics that RAM has organized in far Southwest Virginia this year. Next: Jonesville, Virginia; 13 - 14 September. Then: Grundy, Virginia; 4 - 5 October. What I didn't expect was the efficiency of the breakdown of the camp. I now want to take part in and watch the arrival and assembly. For those who want to volunteer, information is available at the RAM website. Note that you should register early as registration can close; it closed a month before the clinic in Wise.
Another thing I didn't realize: the State Fairgrounds at the center of Oklahoma City, The Seattle Center in, of course, Seattle, and the Manhattan Convention Center in New York City now qualify as "remote." New York City! Clinics will be held at those locations in August, October, and November respectively. What does this say about health care in the United States? I am not really sure other than something is amiss.