by Lowell Here are a few national and Virginia news headlines, political and otherwise, for Tuesday, April 16.  Notre-Dame Cathedral in Paris Catches Fire Notre...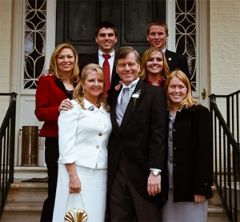 Eventually there'll be a lesson from the McDonnell trial. For now, though, the revelation is how easily polished politicians can embrace and superimpose parallax and conflicting images without challenge. What we see depends upon where we stand. We too often choose the view that eliminates the discomfort of cognitive dissonance.
You might recall that Bob fashioned himself as a friend of business; the "Jobs Governor." Now that it is convenient, he feigns disinterest in the details of business and investment. Even Jonnie Williams recalls an investment proposal putting the Governor to sleep during a plane ride. Many remark that it is a shame that such a fine man finds himself in this situation and look for someone to blame. Maureen is a convenient straw-woman; for them and for Bob's attorneys. Some say that he is so bright that it is surprising that he was taken in by a snake oil salesman. Others believe that he was simply too trusting. This reflects a public persona that he cultivated along a path of retrofitted accomplishments and, as it turns out, malleable, maybe even bankrupt, fundamental values.
Bob was born with the gift of physical charisma; aka good looks. Many people rely on that gift to advance themselves. If you've got it, flaunt it, so they say. But when there is not sufficient desire to develop internally yet personally ambitious, the alternative to interpersonal and intellectual development is building socio-pathological, manipulative skills. Bob McDonnell's accomplishments were singularly adequate and hardly distinguished but sufficient to pass as achievement among a close knit group of Virginia Beach, then statewide sycophants.