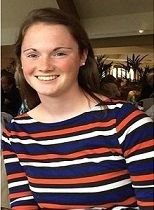 Possibly only because Hannah Graham disappeared did we learn she was a victim of foul play. Statistically, 1,137 other American undergraduates were raped that day. Why aren't they in the headlines? Bet you if four UVA football players had gone missing in five years, those cases would have been solved.
There is every disincentive for victims of rape to report their assaults. When they do, they invariably become victimized again. The deck is stacked in favor of assailants. You'd think that in the enlightened environs of college campuses this would not be so. When will the discussion about violence against women change from women avoiding potential danger to men behaving with respect?
There is nothing positive about this to learn from the leadership on Virginia's campuses. And there seems no accountability for leadership failures. The President of James Madison University (JMU), at a minimum, provided cover for the malfeasance in his administration's handling the Sarah Butters sexual assault, deflecting blame onto the victim. Governor McAuliffe plastered over the scandal of Title IX investigations across Virginia by appointing a task force to conduct a "top-to-bottom" review of procedures for investigating sexual assaults and resolving complaints at public colleges and universities. You can conduct the tightest investigations in the universe and it won't prevent the next broken life. Nice try Governor, but this won't change the climate on campuses. You want Presidents of Virginia's universities and colleges to be invested? Fire one; start with JMU President Alger who allowed Sarah Butters' dignity to be trampled upon.
The overuse of football as a metaphor for life can be irritating but sadly in the area of leadership, some college coaches are way ahead of their "bosses." Last July after Coach Charlie Strong started kicking players off of his team for their behavior toward women, ESPN commentator Rod Gilmore was asked about football players' violence against women. Gilmore, a former Stanford football player, accomplished attorney, and ESPN analyst praised Strong for doing the right thing.
"He's one of the few people who takes a strong stand against violence against women. I mean he comes out on day one and says that if you don't treat women with respect, you cannot play for him. And he's new at Texas and he backed that up today. But seriously, across the landscape of college football, we don't take it seriously enough." - Rod Gilmore on ESPN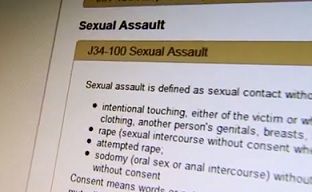 "Critics of such legislation" may reveal more than they intend when they question lawmakers' "real-world wisdom." It is that conventional "wisdom" that poisoned the well of justice in
Sarah Butters' case
. It comes down to this: rape is not about midnight wrestling matches between hormonal lovers. It's about violence.
Those quoted phrases are from a dismissive opinion piece in The Free Lance-Star that diminishes the importance of the work undertaken by Governor McAuliffe's task force to combat sexual violence at Virginia's colleges and universities. It is symptomatic of a prevailing cultural attitude toward the value of women and ignores a significantly greater social disease for which there is currently no innoculation.
In "civil" conversation involving sexual relations we usually pussyfoot and that plays into avoiding a substantive discussion about the violence. The violence has a sexual manifestation but it is actually a complete disregard for the victim; usually female (but sometimes male, by the way). It is about dominance and misogyny.
There are a number of "realities" that we want to pretend away. That one in five women on campus are the victims of sexual violence is easier to accept if, as that opinion piece does, we frame these as "misunderstandings." While there are cases of remorse after acquiescence in a relationship, we shouldn't count them in that 20%. Nor should the task force pretend that is an explanation for the alarmingly high, and likely under-reported percentage. Next, accepting that 20% figure does not indict 20% of the males on campus as perpetrators. Research shows that sexually violent perpetrators commit serially. While that may help some feel better about our culture and men in general, what it should also do is emphasize the imperative to get anybody who commits any single act of this sort off campus immediately and permanently. Plus, the number of violent acts against women that involve more than one perpetrator, often referred to as gang rape, is uncomfortably greater than we want to know...so we pretend; and women, shamed by the experience, shutter it, setting up the next target of group "affection." Not finally, but I will pause here, the abuse of authority (i.e. professors) to impose one's will on another (aka seduction) is no less a betrayal, act of violence, and rape than a forceful, physical subjugation (and serial).
For these and other reasons, I have little confidence that the Governor's task force will accomplish much, if anything. Maybe the discussion about Combatting Campus Sexual Violence today on HearSay with Cathy Lewis will provide a glimmer of hope.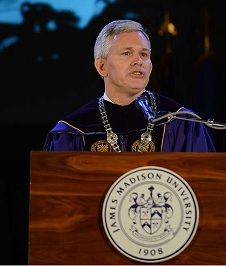 This morning
the Governor will visit a farm
just south of the James Madison University (JMU) campus. While farming best practices are admirable, the safety of students on campus, neglected by the JMU administration in Sarah Butters' sexual assault case, screams for immediate attention. President Alger deserves a wakeup call.
On Alger's campus a student may participate in a gang sexual assault of a fellow student, videotape it, publish it on the internet, be accused by the victim then escape any substantive punishment. Following the revelations about JMU's bumbling enforcement of its own sexual assault policies, the University President, Jonathan R. Alger, withdrew to his comfort zone: acting as his own lawyer rather than campus leader. What was his reaction to McAuliffe's formation of a task force to combat sexual violence at Virginia colleges?

"For all of us, this is a time to come together, to share best practices, to make clear that we all take this issue very seriously," said Jonathan R. Alger, president of James Madison University. He said the freshmen now gathering at the school in Harrisonburg are getting the message that they must not be bystanders to sexual assault. - Washington Post
Best practices? Seriously? The message?