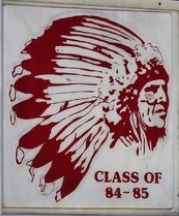 Among the dumbest arguments against changing the Washington team's mascot has been that that would mean Oklahoma would have to change its name. Idiots. But a simple epiphany revealed on a Harrisonburg radio talk show captures the kind of lightbulb moments that will lead to the inevitable outcome.
One morning a fellow on WSVA 550 who had been on the fence about the controversy announced he had changed his opinion about the team name. The conversion came while watching a rerun of an old Daniel Boone television series episode. The story centered on a Native American child that was being enrolled in the frontier school. The telling scene was when the youth approached and was peppered by his classmates with clearly derogatorily intended pejoratives including the "R" word. In context and told by a series that originally aired in an era when we were much more embarrassed by our prejudices, the true message and meanness of the term rang out.
"...it has ties to a time when bounties were paid for the scalps of American Indians...it is a racial slur like any other racial slur that we wouldn't print in the pages of a family newspaper." - The Oklahoman Online
At about the same time, those "insensitive" Oklahomans in one school district were deciding to remove that nickname from the teams at Capitol Hill High School in Oklahoma City despite "tradition." You see Oklahomans, in a state named for the red people, can distinguish the difference.
Note: I have planned to continue my series of articles on the situation in Arizona. However, I interrupt this series for some important diversions and reflections.

Louisiana
In her condemnation of profit over the good of this nation, last night, Rachel Maddow asked whether Louisiana is part of our country or not?

America has a choice to make about the State of Louisiana. Is Louisiana part of our country or isn't it? Because if Louisiana is part of America, then the American people and the American government have to begin to defend Louisiana against American greed, and multinational greed. Because yes, legally it's the job of BP, the oil company, to clean up this disaster that looms over this wetlands behind me right now.