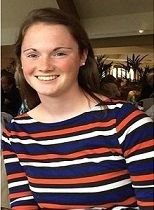 Possibly only because Hannah Graham disappeared did we learn she was a victim of foul play. Statistically, 1,137 other American undergraduates were raped that day. Why aren't they in the headlines? Bet you if four UVA football players had gone missing in five years, those cases would have been solved.
There is every disincentive for victims of rape to report their assaults. When they do, they invariably become victimized again. The deck is stacked in favor of assailants. You'd think that in the enlightened environs of college campuses this would not be so. When will the discussion about violence against women change from women avoiding potential danger to men behaving with respect?
There is nothing positive about this to learn from the leadership on Virginia's campuses. And there seems no accountability for leadership failures. The President of James Madison University (JMU), at a minimum, provided cover for the malfeasance in his administration's handling the Sarah Butters sexual assault, deflecting blame onto the victim. Governor McAuliffe plastered over the scandal of Title IX investigations across Virginia by appointing a task force to conduct a "top-to-bottom" review of procedures for investigating sexual assaults and resolving complaints at public colleges and universities. You can conduct the tightest investigations in the universe and it won't prevent the next broken life. Nice try Governor, but this won't change the climate on campuses. You want Presidents of Virginia's universities and colleges to be invested? Fire one; start with JMU President Alger who allowed Sarah Butters' dignity to be trampled upon.
The overuse of football as a metaphor for life can be irritating but sadly in the area of leadership, some college coaches are way ahead of their "bosses." Last July after Coach Charlie Strong started kicking players off of his team for their behavior toward women, ESPN commentator Rod Gilmore was asked about football players' violence against women. Gilmore, a former Stanford football player, accomplished attorney, and ESPN analyst praised Strong for doing the right thing.
"He's one of the few people who takes a strong stand against violence against women. I mean he comes out on day one and says that if you don't treat women with respect, you cannot play for him. And he's new at Texas and he backed that up today. But seriously, across the landscape of college football, we don't take it seriously enough." - Rod Gilmore on ESPN