Home
Tags
All of the above
Tag: all of the above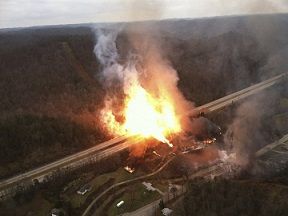 Like his discredited predecessor and kowtowing to the fossil fuel sector, Governor McAuliffe has embraced an "all of the above" energy plan that begrudgingly mentions renewable energy. Tomorrow he'll foist it at the
Science Museum of Virginia
. Some of the people he avoided in Charlottesville will be inside to greet him.
Climate change activists, including Richmond Resistance have organized an assembly that is drawing participants from across Virginia. While access to the event inside the museum is at capacity, some activists who oppose the Dominion natural gas pipeline did obtain entry and will be there. They do not intend to disrupt the event, but will wear shirts that show solidarity with those picketing outside.
The Sierra Club commended the McAuliffe plan for promoting renewables "to jump start our lagging clean energy business sector."

On the other hand, the club's Virginia director, Glen Besa, said in a statement that McAuliffe's support "for offshore drilling, and expanding gas pipelines and coal technology exports seriously undercuts his intentions to address climate change." --Associated Press via Seattlepi.com
Talk about faint praise.
And the Sierra Club understates the main objection. This plan egregiously ignores the impact of the "strategy" on climate change. Between the lines is a pragmatic acceptance of fracking and the resulting threat to aquifers and the atmosphere; just to mention a couple of things vital to the environment.
There appears no serious investment in wind and solar energy contained in the 461 page plan. The Governor's continued pragmatism on climate change and other issues may do more to suppress Virginia's Democratic vote in 2016 than any Republican scheme, much to the chagrin of a close and personal friend.