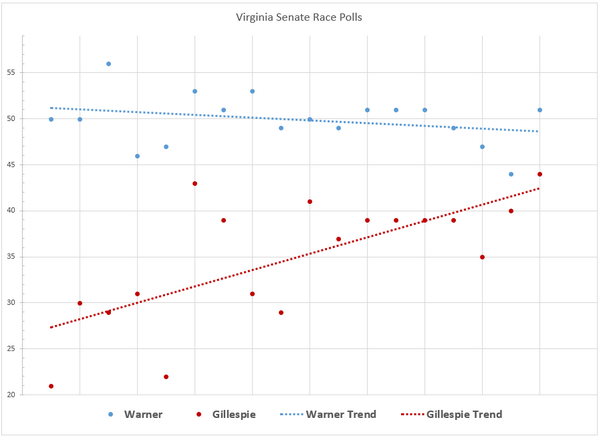 Since my series on Virginia politics back in December and January I've given up my Virginia roots, moved to the District of Columbia, and even find myself voting in a DC election! You can take me out of Virginia, but you can't take Virginia out of me. With Election Day just around the corner, I'm delurking to raise some questions about what we should expect from the Mark Warner victory on Tuesday ... Knock on wood!
Despite my concerns about jinxing the election, a Mark Warner defeat on Election Day is the furthest thing from the realm of plausibility. Consider this trend line of polling in the Virginia Senate race tweeted earlier this week by Speaker Howell's spokesman, Matthew Moran.
I fully expect Warner to win on Tuesday, but I think we should be prepared for a closer than expected victory. Libertarian Robert Sarvis was hoping to build on his surprisingly strong showing from 2013, but he will be lucky to hit 2% this time around. I would not be surprised by a Warner margin of victory of 5 to 6 percent, far closer than earlier polls showing him up by over 20 percent. Warner has run a positive campaign based on his personal brand, playing up bipartisan support from that other Senator Warner and reminding Southwest Virginia of his work bringing Virginia Tech into the ACC. The polls show we won't have the same "Warner Country" that turned out for Mark almost two to one from 2008.
One of the constant themes from my Christmas series was that the Democratic Party of Virginia needs to prioritize competitive races based on the underlying Democratic lean of the districts, not idealizing the magical appeal of candidates who can supposedly swim up stream against the partisan tides that have been moving rural Southwest and Southside Virginia into the Republican column. This year could be a good test of the personal appeal of Mark Warner in Southwest Virginia versus the "War on Coal" rhetoric in Republican attack ads.