From Equality Virginia and HIV advocacy groups ECHO-VA, Positive Women's Network-USA, and The Sero Project Groups Commit to Future Advocacy as Governor Northam Signs Bill...
From Sen. Jennifer McClellan's office: General Assembly Passes Locke/McClellan Bill to Reform Discriminatory HIV Laws  Bill Now Heads to Gov. Northam's Desk; Will Repeal Outdated Laws...
Good news from Equality Virginia: Senate Bill 1138 to Modernize and Repeal Discriminatory HIV Laws in Virginia Receives Senate Judiciary Committee Approval Current laws disproportionately impact Black,...
SPONSORED CONTENT  If you have ever applied for insurance coverage – whether life, disability, or health – the insurance agent has pages of questions that...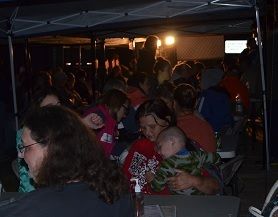 A week ago this morning I visited with a film crew from South Korea working just outside of Jonesville, Virginia. No, they weren't casting a movie. They were filming a video appeal to Samsung's worldwide employees for contributions to help Americans without access to health care. Thankful, Virginia Delegates?
The day prior, a German television news team was on set at this Remote Area Medical clinic capturing the essence of what American political arrogance delivers our least fortunate. So the young South Korean and I traded our stories. I knew a Korea he had never experienced, him being born after my first foray to outposts along a tense Demilitarized Zone. He knows an America that can't exist in his own nation where there is universal health care; an America you won't hear honestly debated by Virginia Republicans or their Presidential pretenders.
Incumbent Delegate Terry Kilgore (R-Scott), running for reelection unopposed with over a quarter million dollars in his campaign coffers, failed to drop by to thank his constituents' benefactors for delivering the health care that his Party's policies have denied them. Maybe he is saving the funds to pay for a flight to Inchon so he can meet the Samsung executives personally.
The sparsely used and essentially vacant Lee County Airport terminal had been transformed the Friday prior into a health facility; every nook and cranny was claimed. The expeditionary nature of the organization Stan Brock leads leverages volunteers to construct tents, unload and arrange equipment, and prepare for two days of service. Last year, players from the Lee High School football team provided the bulk of muscle required. But this year the Generals had a game on set up day; local churches rounded up some help. A group of students from James Madison University's (JMU) Department of Social Work, led by their mentor, Dr. Laura Hunt Trull, pitched in both days of the clinic. And there were the cats and dogs like me.