Home
Tags
Eugene Delgaudio
Tag: Eugene Delgaudio
The insanity continues
, as Loudoun County Supervisor Eugene Delgaudio (R) follows up on his
"Thousands of men in bright neon bikinis"
missive with a "Homosexual Onslaught is relentless" email.
So, we know the dude's got "issues," but when is Delgaudio's Best Friend Forever, Del. Tom Rust (R), going to dissociate himself from this lunacy? And when does Delgaudio endorser Rep. Frank Wolf (R) ("No one works harder than Eugene. He is not afraid to make the tough decisions and speak out for what he thinks is right") going to do the same?
[Cue sound of crickets chirping...chirp...chirp]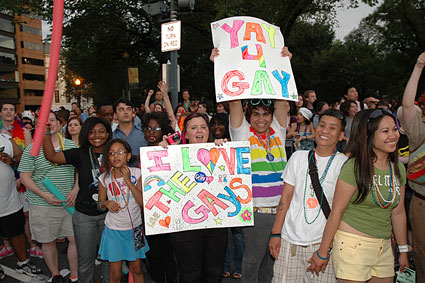 For anyone who ever had any doubts, Loudoun County Supervisor
Eugene Delgaudio
(R) is not only a rabid and obsessed homophobe, he's also
unintentionally hilarious
.
Dear Joe,

It was truly a sight to sicken the soul.

Thousands of men in bright neon bikinis hanging all over each other.

Groups of men and women -- it was hard to tell the difference sometimes -- acting out their homosexual lusts in defiance of all standards of decency and morality.

There were tens of thousands of them flooding the streets.

Throngs of "gay rights" radicals rallied all over our Nation's Capitol. Tourists had to rush to shield their children from the depraved displays of near nudity.
On and on it goes about the "radical homosexuals" (aka, people who want the same rights as everyone else in America), the "dangerous" "Homosexual Agenda" (see previous paranthetical), "Thought Control" (who knows), "homosexual re-education classes" and the dreaded "Homosexual Classrooms Act" (everyone, altogether now - WTF?!?!?!).
P.S. Don't forget, Delgaudio is practically "Best Friends Forever" with Del. Tom Rust. Oh, and don't forget, Rep. Frank Wolf said this about Delgaudio, "No one works harder than Eugene. He is not afraid to make the tough decisions and speak out for what he thinks is right." Also, in 2005, Delgaudio complained that "Frank Wolf's ringing endorsement will see little ink in area newspapers." Gotta love these "moderate" Republicans, hangin' with a homophobic head case like Delgaudio. The question is, how long are people going to let them get away with this charade?
h/t: "Radical Homosexual" - heh - blog Joe. My. God.
Eugene Delgaudio
once again embarrasses himself
, and I would hope Loudoun County Republicans, with his insane antics. Now, he's upset that
"President Obama has nominated a radical ally of the Homosexual Lobby to sit on the Supreme Court,"
that said nominee is
"a rock solid vote for Homosexual Marriage and to uphold Thought Control,
" and that she may even be "a homosexual."
Do people like Eugene Delgaudio really exist? Yes, but they're usually in a padded room, surrounded by men in white coats. Another
instant classic
from the Loudoun County Board of Supervisors, once again involving the infamous
homophobic bigot
(and
all-around lunatic
) Eugene Delgaudio. Watch for yourself, starting around 1:56 of the video and particularly at 1:59-2:01. Fun times.
...Delgaudio attacked Miller for making the proposal and for not being business friendly. Changing the subject, he then accused Miller and his family of leading an effort to disparage him.

[...]

On Tuesday, Delgaudio hinted at the episode and started to mention "Miller's family," when Miller lunged for his microphone to interrupt.

"You are done speaking for me," Miller shot. "I will speak for myself, sir!"

"You've made me mad in the past," Miller continued. "But this is the first time you made me mad in public," before adding, "Keep it up and you'll regret it!"

Delgaudio quieted his stance. "Great, I'm the one that gets laughed at on Comedy Central," he responded, before the matter moved on to another supervisor.
By the way, I couldn't embed this video, but you can click on the image above and it will take you to the Loudoun County Board of Supervisors website, where you can view it.
UPDATE: Liz Miller weighs in.
I strongly encourage everyone to
go vote in the Loudoun Times poll
, "If the members of Loudoun's Board of Supervisors were all up for re-election today, who would you want voted out of office?" Make sure you vote for super-bigot Eugene Delgottago...er,
Delgaudio
. Thanks.