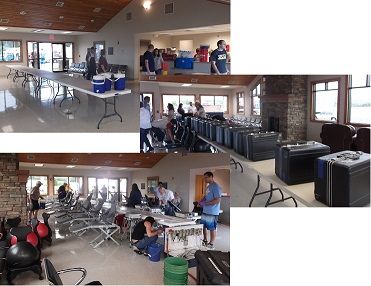 There's always a story behind the story and sometimes one belies the other.
Remote Area Medical (RAM)
is a godsend; make no mistake about it. But like any private sector organization, the transparency or accountability we demand from government is not always evident. Today's "conservatives" would never acknowledge that.
Watching and taking part in the transformation of a rural air terminal into expeditionary specialty clinics, dental and vision, is not an immersion in military precision. It almost can't be when much of the labor is borrowed. The effort resulting when organization is flattened results in stove-piping. The raw volunteers care about pitching in and recognize the limits of their ability to contribute to technical assembly of the equipment. There are enough seasoned volunteers that as long as the boxes and bags are lined up at their assigned places, they can readily and efficiently assemble and order materials; in their areas. The lack of organization and efficiency among the unguided volunteers is more than compensated for by their numbers and camaraderie. From pitching tents (probably the most organized effort), to setting up tables and chairs, to moving crates and boxes, the unbridled activity ends in mission accomplishment.
This is at the tactical delivery end. Strategically there is always another view that is masked by the appearance if not the reality of good intentions. My father had no time for the American Red Cross. After raging battles on isolated Pacific islands during World War II, the Red Cross sold donuts to the Marines and sailors ashore; the Salvation Army was there handing out goods gratis. Guess which organization he favored. My wife cannot turn down a request for a donation from Saint Jude's in Memphis despite having no clue who Danny Thomas was; it's those children. On the other hand, when I see anyone collecting donations to benefit our military service members or veterans, I challenge their credentials on the spot. I wasn't as discerning with RAM until I saw the DC-47 (a WWII DC-3 configuration) touch down in Lee County. After all, RAM had been endorsed via association by both of Virginia's United States Senators, our current Governor, and General Assembly members from both sides of the aisle.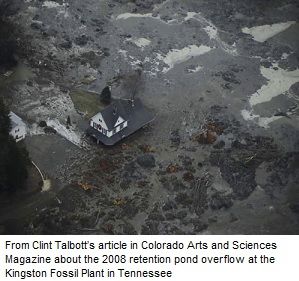 Chesapeake is concerned. The City Manager indicates that
this issue rises from the Dan River spill last February
and the city's action to protect the Elizabeth River is not directed at Dominion. But there's history there and Dominion has provided no reason to trust its motives.
This isn't just Chesapeake's concern. The Elizabeth is really only a tidal estuary that runs to the mouth of the James River on the way to the Chesapeake Bay through Portsmouth and Norfolk. It is about six miles long. The Dan River spill created a 70 mile coating of toxic sludge. So this should have the attention of Virginia Beach and the Eastern Shore too. But Chesapeake is center stage because it already knows how difficult it is to force Dominion Power to take responsibility for its mess.
Battlefield Golf Club was built using fly ash. Something the coal power industry has been advertising as a "good thing" in an attempt to rid itself of this pesky poisonous residue of energy production. Maybe if they can just spread all of it thin enough over hill and dale, insert it into concrete, and sweep it into wastewater systems no one will notice the damage. The proper cost of disposal has never been calculated into the cost of energy produced from coal. War on coal? How about coal's war on the planet?
Now almost five years into litigation over the damage caused during the Battlefield Golf Club construction, only one thing is clear: once any area is contaminated, you have to wait for a proper class to fall victim to the damage before anything can be recovered. That is essentially what is going on with the lawsuits over the golf course. For now the damage has been "limited" to the ground water under the golf course. And since the local residents have been connected to city water on Dominion's dime, the judge has basically said that they have not been damaged. The Environmental Protection Agency's findings of that limited damage have actually helped the defendants' case(s). Residents will have to wait for cancer, birth defects, or however this eventually manifests to demonstrate they have been harmed.
From the
Associated Press
:
A three-judge panel of the United States Court of Appeals for the Fourth Circuit, in Richmond, on Monday reversed a ruling requiring the Tennessee Valley Authority to upgrade emission controls at three coal-fired power plants in Tennessee and one in Alabama. The ruling reverses a decision by Judge Lacy H. Thornburg of Federal District Court, who said emissions affecting air quality in North Carolina's western mountains were a "public nuisance." Judge J. Harvie Wilkinson III of the appeals court wrote that allowing the ruling to stand would undermine the nation's regulatory scheme.
Come on, you can't give Tennessee, Alabama & North Carolina cleaner air while letting coal pollution cause respiratory problems, foul our air & water and kill our forests in the rest of the country! Give our lungs an inch, they'll take a mile!
Cross-posted from The Green Miles; photo via Flickr's Roger Smith Just weeks after flooding in Tennessee, Kentucky & Mississippi
killed at least 31 people
, floods in Arkansas
killed at least 20 people
this week. And today, parts of Oklahoma City have gotten
over 9 inches of rain
. An Oklahoma City official told CNN, "
Areas are flooding that have never flooded before
."
Should we keep calling these "freak floods" or "extreme weather"? Or, given that these kinds of severe storms are exactly what climate scientists have been predicting as a consequence of global warming, do we have to re-adjust what we consider "normal"?
As Brad Johnson tweeted, welcome to the Anthropocene.