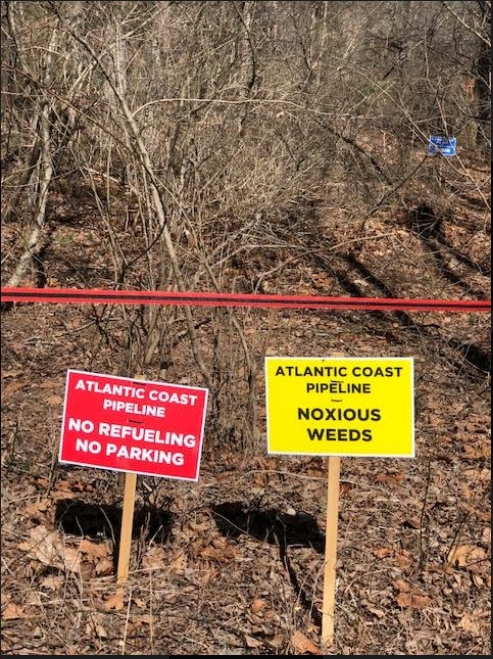 by Jon Sokolow
On Saturday, I joined a group of about 20 hikers organized by the Sierra Club Virginia Chapter to tour one of the many areas targeted by the Atlantic Coast Pipeline.  We hiked trails in the George Washington National Forest near the Braley Pond Day Use Area in Augusta County, just over two hours from Northern Virginia.  It is an area of great beauty, frequented by hikers, bicyclists and people who want to fish in the trout stocked waters of Braley Pond.  We were struck not only by the natural beauty of the area, but by the many rivers and streams that seem to run everywhere, and which Dominion wants to cross with their buried 42 inch pipeline filled with pressurized methane gas.  We also were struck by the many steep slopes, which would have to be destroyed to run pipeline at very steep angles.  We witnessed tall trees cut and dumped into streams, despite hollow promises by Dominion and the Department of Environmental Quality to protect those very streams.  And the pipeline is slated to cross the narrow dirt road that provides the only access to Braley Pond, which means this area would be off limits during construction to the many people we met who spend weekends with their families enjoying nature.
One sickening irony:  we saw signs along the proposed pipeline route that proclaimed, "Atlantic Coast Pipeline – Noxious Weeds."  The signs apparently are posted because Virginia regulates the removal and disposal of noxious weeds.  A "noxious weed" is defined in Virginia law as  a plant that is "detrimental to crops, surface waters, including lakes, or other desirable plants, livestock, land, or other property, or to be injurious to public health, the environment, or the economy."
That is a perfect description of the Atlantic Coast Pipeline.
Dominion and the state officials who support it are hoping that people in Northern Virginia don't make the drive to areas such as Braley Pond to witness the coming devastation of the Atlantic Coast Pipeline.  They hope no one is paying attention.  It is no wonder.  Anyone who visits these areas can immediately see the insanity of running an unnecessary $7 billion methane gas pipeline through a beautiful scenic area in the middle of a national forest.  Wake up Virginia!