( – promoted by lowkell)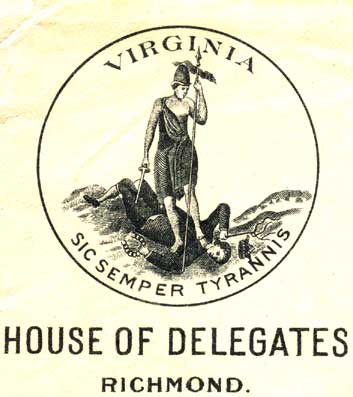 House of Delegates to Consider Restoration of Rights Bills Monday, Jan. 14 at 8am
As you have probably heard, Gov. McDonnell recently announced his support for an automatic process for restoration of rights for Virginians convicted of nonviolent felonies.

This session, Delegates Greg Habeeb and Peter Farrell have introduced bills to address this issue, and I urge you to support legislation for the automatic restoration of rights for non-violent felons.
Recently we learned that the above-mentioned bills, as well as similar Democratic bills which have been put forth repeatedly over the years, will be on the docket of the Constitutional Amendments Subcommittee for Monday, January 14th at 8am.
These seven Subcommittee members will be considering the proposed restoration of rights amendments on Monday morning. If you have a moment, please contact them now:
Jackson Miller, Chair (R-Manassas) Phone (804) 698-1050 Email1 Email2 facebook twitter

Tim Hugo (R-Centreville) Phone (804) 698-1040 Email facebook

Johnny S. Joannou (D-Portsmouth) Phone (804) 698-1079

Algie Howell (D-Norfolk) Phone (804) 698-1090 Email

Israel O'Quinn (R-Bristol) Phone (804) 698-1005 Email facebook twitter

David Ramadan (R-Loudoun) Phone (804) 698-1087 Email facebook twitter

Mark Cole (ex-officio voting member) (R-Fredericksburg) Phone (804) 698-1088 Email
So, my question is this: will Governor McDonnell put his money where his mouth is? In other words, will he pressure (or has he pressured) the members of the Constitutional Amendments Subcommittee to support any of these bills on Monday morning? Or will he allow these bills to die in subcommittee as they have so many times in the past?
Blue Virginia blogger Paul Goldman wrote that this could be Gov. McDonnell's "Nixon Goes to China" moment. But without his active support in the legislature, this could be McDonnell's "Bush Goes to Mars" moment.
Constitutional Amendments Subcommittee Website

Meeting information

Date of Meeting: January 14, 2013

Time and Place: 8:00 a.m./4th Floor West, GAB (General Assembly Building)

201 North 9th Street, Richmond, Virginia 23219