Advertisement

By Danica Roem
Photos by Mike Beaty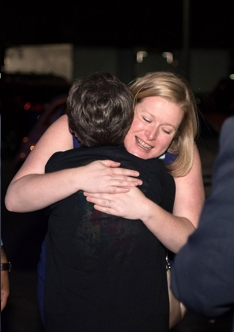 I have a story for you from the Town of Haymarket.

It's the dividing line between Prince William County's rural heritage in the west and its growing status as an exurban destination on the east.
And it's emblematic for why Jacqueline Smith is now clerk-elect of Prince William County, Manassas and Manassas Park, winning 54%-46% in the April 18 special election, despite being outspent more than 6-to-1.
Throughout the last seven weeks, Democrats across the greater Prince William County area canvassed to elect Jacqueline, an attorney from Dumfries who earned the party's nomination in 2015 and came painfully close to winning then, before giving it one more shot this year.
On Saturday, for the third time in three days, I headed back to Tyler precinct to finish the second and third turfs assigned specifically to me.
Tyler includes all of the Town of Haymarket, parts Gainesville (Greenhill Crossing area, the south side of Heathcote Boulevard and part of Pageland Lane), and the famous battlefield of Manassas, where there are a few nearby rural homes along General Longstreet's Line.
As a candidate competing in the Democratic primary for the 13th District of the House of Delegates, I entered Tyler knowing it is a swing precinct within the district.
Despite being a lifelong Manassas resident, my assigned turf in the west was my turf: I covered the Town of Haymarket and Gainesville for more than nine years as the lead reporter for the Gainesville Times. I sat in on countless Town Council meetings for years. I've walked the length of the town along Washington Street repeatedly, I wrote hundreds of stories from Haymarket and I know the people well.
As a point of personal pride, I declared to my campaign manager that we would focus on Tyler and we would win it.  I refuse to lose that precinct, not after nine years of telling the stories of that community.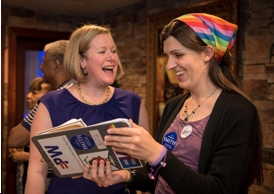 The voters there we targeted were the strongest Democrats in the precinct; we just needed to make sure they knew there was a special election coming up and we needed them to vote for Jacqueline.
My campaign manager, Ethan Damon, and Jacqueline's campaign manager, David Marshall, are both VAN gurus (VAN – the Voter Activation Network – is the system Democrats use to identify our voters). They provided nearly flawless data; we just had to put in the work of actually knocking on the doors.
In fact, the 12 Democratic House of Delegates candidates from across Prince William County all had the same opportunity, to test-drive their own Get Out The Vote operations before June 13.
Given my own election is coming up June 13, I needed to talk to our strong Tyler Democrats personally to make sure they would vote on April 18 and again for me in two months. Our data was as precise as we could make it. We had specifically targeted people we were out to ask to vote.
So when my step-daughter and I pulled up to one house in the Town of Haymarket, one that's off the beaten path, I looked down and my walk packet revealed one strong Democrat lived at that house… but there was nothing about anyone else in the house.
Only one person there participated in multiple Democratic primaries, one of the metrics we used to determine like voter leanings given that we don't register by party in Virginia.
So I pulled alongside the road there and met a woman wearing a hijab in her garage. We chatted, she said she'll vote, and then she tells me about the rest of her family at that house, including five registered voters.
Two college-age women and one senior woman came outside, as well as one other woman who wasn't registered to vote but wanted to listen anyway. The other voter wasn't there.
They were fun, upbeat, progressive and engaging. They cared deeply about protecting the environment and the young women told me about the impact of the cost of college tuition…. issues that directly matter in my race but not so much for the clerk of the court.
I told them that Jacqueline believes no one should be discriminated against when they walk into the courthouse because of what they look like or how they worship. I told them that nondiscrimination is important to me as a transgender woman, which they met with a collective smile.
And I told them that if all five of them voted, we could win Tyler precinct. It's a swing precinct, and in a low-turnout election, one house could make all the difference.
Their smiles grew. They were palpably excited. And the four women registered to vote all committed to vote April 18 and June 13.
Three days later, the results from Tyler came in:
Jacqueline Smith: 85 votes
Jackson Miller: 82 votes
We won Tyler by three votes… and it's because those four women made good on their word.
Without them, we would have lost that precinct 82-81.
Nothing replaces the candidate-to-voter conversation. It was a conversation I had in various forms countless times during the last three weekends of the special election, in Haymarket, Gainesville, Manassas and Manassas Park.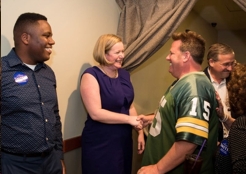 The Republicans had mailers, a ton of yard signs, digital ads, on-air ads, robocalls… you name it.
But we had heart.
We had more people knocking doors, people like Mike Bizik, who knocked on more than 600 doors in one day alone and knocked on more than 27,000 doors during the last 20 months.
We had more volunteers handing out sample ballots for in-person absentee voting at the Woodbridge DMV every day for four consecutive weeks, dozens of people who signed up for multiple hour-long shifts each for days.
Personally, I handed out ballots six times, despite the DMV not being even close to the 13th District, because those were guaranteed voters; they were right there, we just had to ask them to vote. Other volunteers like Deanna Bayer, Elisabet Michaelsen, Richard Jessie, Deshundra Jefferson and so many others stood outside there in the sun, rain, wind, warmth and cold even more often, all committed to securing what turned out to be a 20-point victory in absentee ballots.
Above all, the Democrats had more conversations than the Republicans.
At the end of the day, what we said at the doors mattered more than what the Republicans said in their mail pieces.
Money doesn't vote.
People vote.
And on Tuesday, the people of Prince William County, including those four women in the Town of Haymarket, voted for Clerk-elect Jacqueline Smith (D).
There's no paywall on Blue Virginia, and we definitely want to keep it that way! If you want to help support our work, you can donate here - thanks!
Also, you can
sign up for our weekly email list here
.