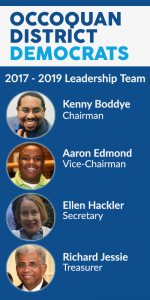 This is our new Leadership Team! Thursday night, I was unanimously elected to become the next Chairman of the Occoquan District Democratic Committee! It feels like just yesterday I had just joined the committee and started to become acquainted with the Occoquan Democrats, so I'm truly humbled that the membership feels me worthy of this honor.
An even bigger honor is that I will be serving alongside a powerful set of officers – Aaron Edmond was elected Vice Chairman, Ellen Hackler will be our next Secretary, and Richard Jessie is our new Treasurer. I have no doubt that this new leadership will take our committee to new heights!
2017 was a big year for Virginia, and Prince William County was one of the key battlegrounds of the election cycle. The Occoquan District includes 3 different House of Delegate Districts, and 2 of those now have newly-minted Delegates (Hala Ayala and Danica Roem. Democrat Luke Torian retained his seat.)
We're just getting started, though. 2018 will be full of elections from the Town level right on up to Senate. The Occoquan Democrats are committed to building a slate of progressives to takeover the Town of Occoquan's Mayor and Town Council seats. We'll also be putting everything we can into helping the Democratic Nominees for Congressional Districts 1 and 10. Finally, we'll see to it that both Tim Kaine and Gerry Connolly easily win their re-election bids in November.
This of course, will help us set the stage for 2019. We will be going full-throttle into helping Danica, Luke and Hala defend their seats, helping out our State Senators, and creating the kind of blue wave that will oust Corey Stewart and the rest of the Republicans on our Board of County Supervisor. This year we defeated Delegate Rich Anderson, in 2019 we'll do the same to Supervisor Ruth Anderson.
A big thank you to Jessie, who has served as our Chairman until tonight, along with Chris Berry, Deb Vaughan and Jinny Federici for being instrumental in all of the progress we've already made. I hope to live up to your example, and carry the torch onward!