Advertisement

I'll add more as I see them, but for now, check out the reactions from Virginia politicos to last night's historic results in Alabama!  Also note some of the ones, like Barbara Comstock, who suddenly have nothing to say. Hmmm.
Gov. Terry McAuliffe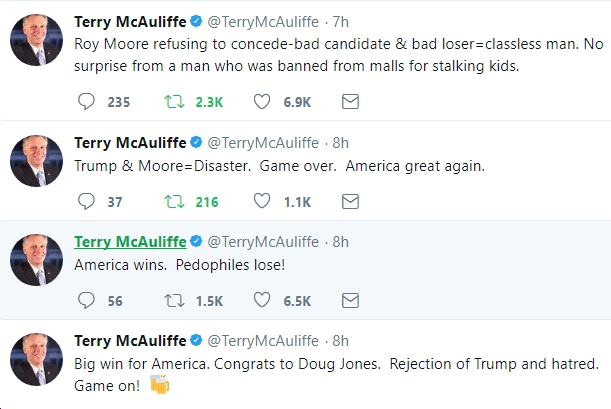 Governor-Elect Ralph Northam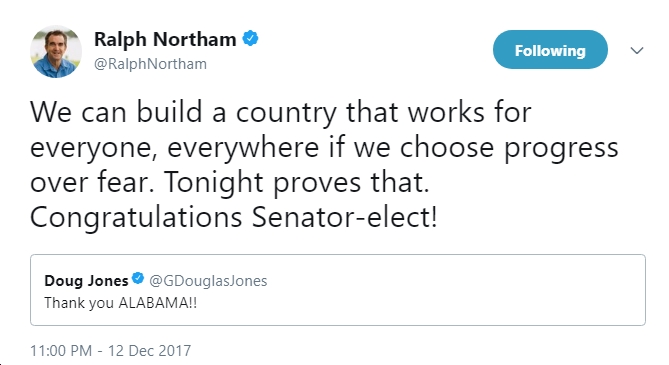 Sen. Mark Warner



Sen. Tim Kaine



Rep. Don Beyer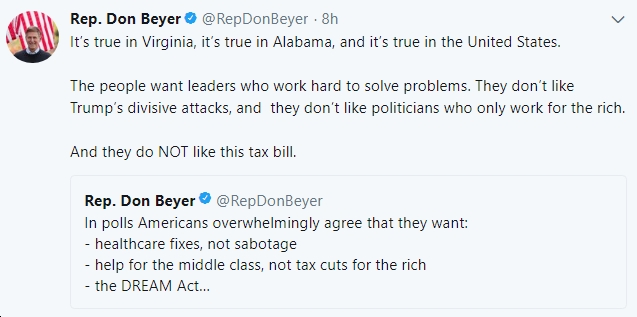 Former Rep. Tom Perriello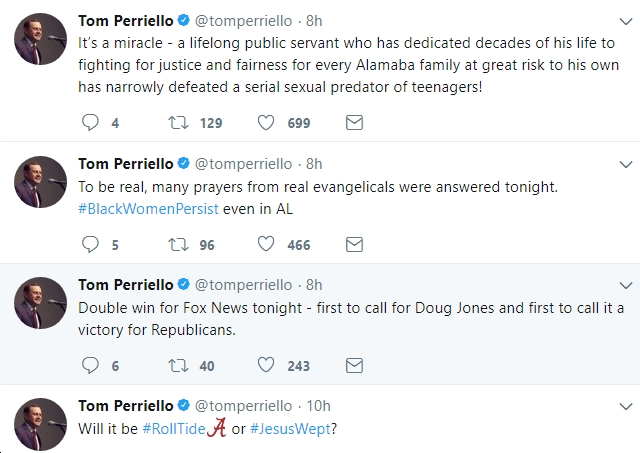 2018 VA GOP U.S. Senate candidate E.W. Jackson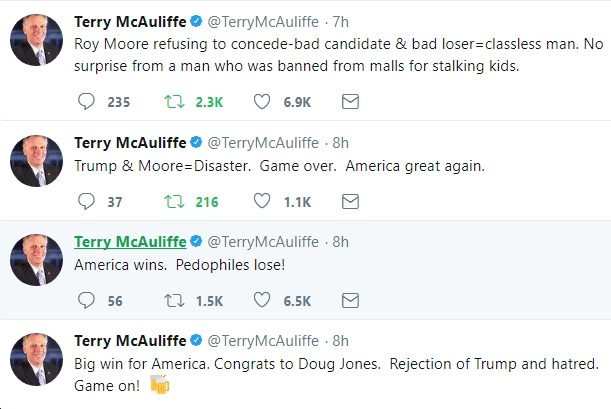 Former Del. David Ramadan (R)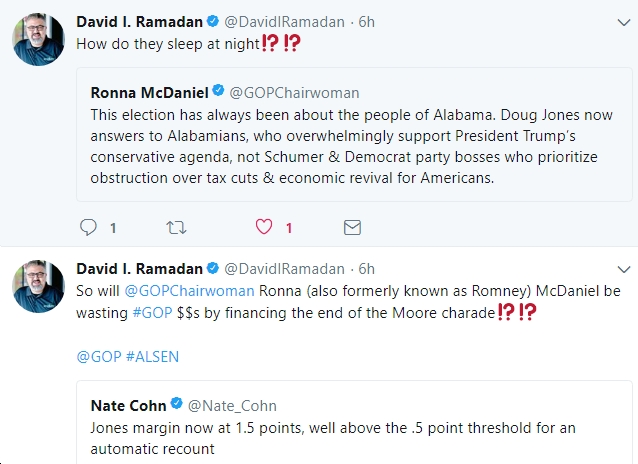 Former VA GOP Executive Director Shaun Kenney



Bob McDonnell's former Communications Director Tucker Martin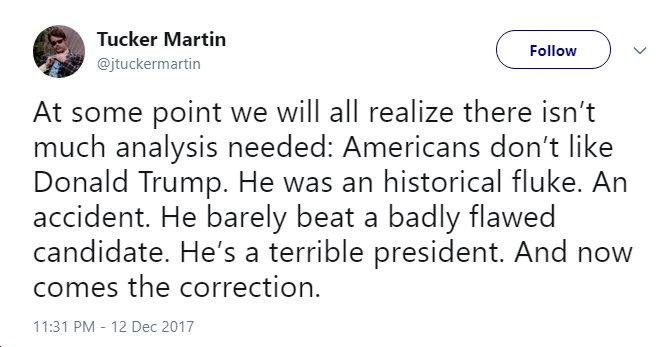 DPVA Chair Susan Swecker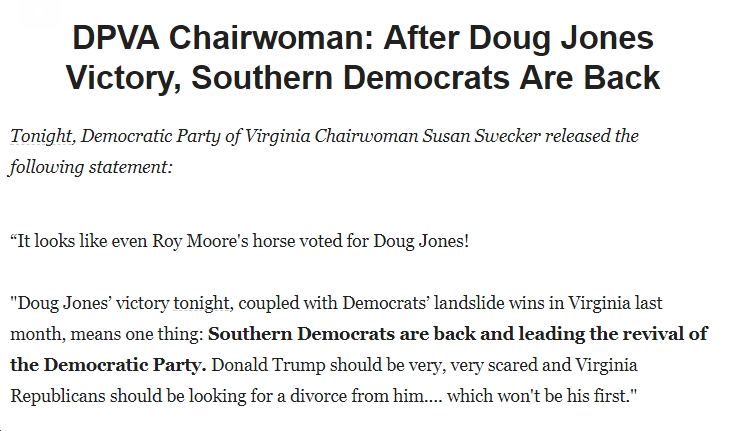 With @UofAlabama students at the @MooreSenate rally! #MAGA #DrainTheSwamp pic.twitter.com/BIfDIF5syG
— Corey Stewart (@CoreyStewartVA) December 13, 2017
State Sen. Scott Surovell (D)
Also waiting for the statement from @CoreyStewartVA who went to @AlSen to campaign this week – Looks like the "criminals, communists, crackheads and wierdos" won Alabama. What happened?

— Scott Surovell (@ssurovell) December 13, 2017
Commitment. Dedication. Hard work. Virginia 2017 and Alabama 2017 prove it; when Democrats talk to voters, when Democrats put in the work, Democrats win! #organize always. Well done, Alabama — now lets keep this wave rolling across the entire nation!

— VA House Democrats (@VAHouseDems) December 13, 2017
Congratulations Senator-elect @GDouglasJones! In #Virginia and #Alabama, and throughout our country, the #resistance is strong!

— Kathy Tran (@KathyKLTran) December 13, 2017
Please take note: One of the main reasons we did so well in VA is we had volunteers inside the commonwealth & across the country working hard for our candidates for months.
The same happened in Alabama.
Your volunteer efforts matter so much. Please keep it going in '18 & '19!

— Danica Roem (@pwcdanica) December 13, 2017
Sky's the limit! Whoa! A Democrat elected in Alabama! #ThereIsHope

— Hala Ayala (@HalaAyala) December 13, 2017
I don't know about you, but I am proud to be a democrat per @RalphNortham ! Congratulations @GDouglasJones on your win in Alabama! https://t.co/O5ZNE9Nf5b

— Delegate-Elect Elizabeth Guzman (@guzman4delegate) December 13, 2017
YES – Amazing Upset!! Doug Jones WINS the Alabama U.S. Senate seat!! https://t.co/7QmhdU7RwB

— Alfonso Lopez (@Lopez4VA) December 13, 2017
Last night, Alabama voted for self respect and against bigotry.

— Gerry Connolly (@GerryConnolly) December 13, 2017
And how was that winning combination put together? With help from groups all over the country-phone calls, donations, personal outreach to Alabamians from family & friends-supporting & amplifying the work of @GDouglasJones' campaign on the ground. First VA, now AL. #KeepItGoing https://t.co/udGtz4NNdQ

— David J. Toscano (@deltoscano) December 13, 2017
There's no paywall on Blue Virginia, and we definitely want to keep it that way! If you want to help support our work, you can donate here - thanks!
Also, you can
sign up for our weekly email list here
.