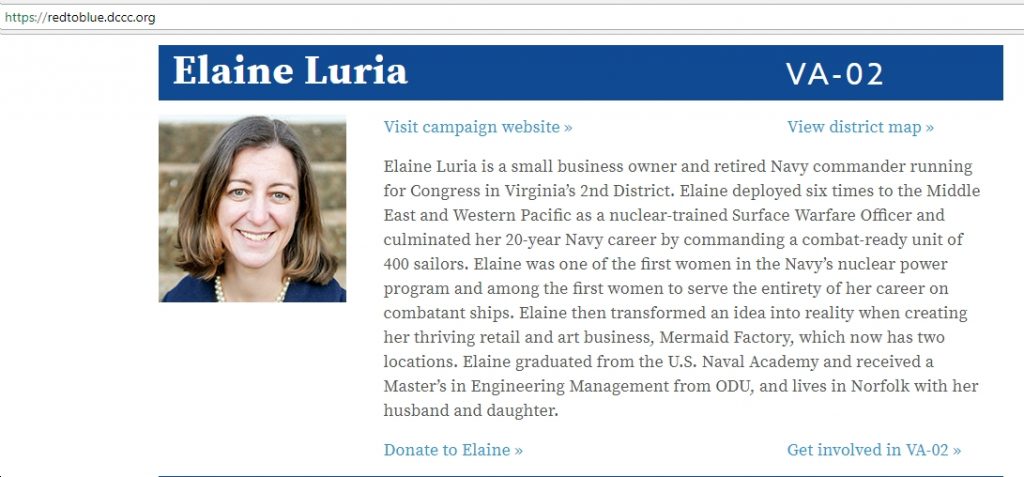 See below for a press release from the DCCC this morning, which announces that they've decided to throw their weight behind VA-02 Democrat Elaine Luria as part of the DCCC's "Red-to-Blue" program. Note that there are several other Democrats running — public school teacher Karen Mallard, small-business owner Garry Hubbard and former Cooch supporter/fine jewelry store owner David Nygaard and…Shaun Brown (don't ask), but apparently the DCCC has decided they have the candidate they want to take on Rep. Scott Taylor (R) in this military-heavy district —  former Navy Commander Elaine Luria. I'd already expected Luria to rack up a big $$$ advantage in the Democratic race, and now that should be even more the case. The question for the DCCC is whether putting their thumb on the scale so heavily – and this early – for one of the Democratic candidates will turn out to be a smart move or not. We'll see.
DCCC CHAIR LUJÁN RECOGNIZES ELAINE LURIA AS PART OF 'RED TO BLUE' PROGRAM
Addition to Battle-Tested Program Highlights Luria's Strong Campaign
DCCC Chairman Ben Ray Luján today announced that Elaine Luria has earned a spot on the DCCC's highly competitive Red to Blue program. Luria is one of only 24 Democratic candidates in the country to receive this designation thus far.
Elaine Luria has worked hard in Hampton Roads and the Eastern Shore to earn a spot on Red to Blue by surpassing aggressive goals for grassroots engagement, local support, campaign organization and fundraising. Beyond her demonstrated abilities to build a winning campaign infrastructure, Luria has a strong record of service, small business background, and message that connects with voters in Virginia's 2nd Congressional District.
"From staring down Iranian naval ships and Iraqi oil smugglers as a naval officer, to launching a successful family business, Elaine Luria has never backed down from a challenge," said DCCC Chairman Ben Ray Luján.  "Now Elaine is working to bring the same leadership and toughness that allowed her to lead thousands of sailors during her naval career to Congress. With her record of service, there is no question that Elaine has what it takes to win this seat and fight for the people of Coastal Virginia in Congress."
Red to Blue is a highly competitive and battle-tested program at the DCCC that arms top-tier candidates with organizational and fundraising support to help them continue to run strong campaigns. Additionally, the DCCC provides strategic guidance, staff resources, candidate trainings, and more. It is not an endorsement.
In 2018, the DCCC will make more targeted and frequent additions to the Red to Blue program than in previous election cycles.