With a bit over a month to until Alexandria Democrats head to the polls to choose their nominees for City Council, I've been looking more closely at the candidates, talking to people who know Alexandria politics, and am ready to make my first two endorsements.
A bit of background: as I noted in this post, there are a dozen candidates — eight newcomers (Canek Aguirre, Elizabeth Bennett-Parker, Matthew Feely, Dak Hardwick, Amy Jackson, Robert Ray, Mo Seifeldein, J. Chris Hubbard) and four incumbents (Willie Bailey, John T. Chapman, Redella "Del" Pepper and Paul Smedberg,) running for six seats. Effectively, in such a heavily "blue" city, the Democratic primary will be equivalent to the general election, as it's unlikely that any of the winners on June 12 will lose in November.
With that background, let me go right to my first two endorsed candidates for the June 12 Democratic primary: 1) incumbent Willie Bailey; 2) newcomer Elizabeth Bennett-Parker. Why did I pick these two candidates?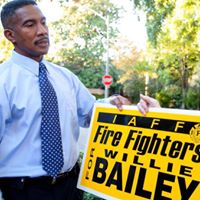 Let's start with Willie Bailey.
There are a number of reasons I'm endorsing Willie Bailey. For starters, I've read and heard great things about him. I mean, how often is someone called a "living legend" who (bolding added by me for emphasis):
When he sees a child in need he springs into action, taps his vast network and marshals the resources to fill the need, not only for that child but for thousands of other children in Alexandria and throughout Northern Virginia…Each August under the auspices of the nonprofit Firefighters and Friends to the Rescue, which Bailey founded and with the support of Fairfax County Fire & Rescue Department and Alexandria's Fire Department he oversees the collection and distribution of approximately 3,000 backpacks filled with school supplies for children who otherwise would not have them. [note by Lowell: I'm informed that Bailey also distributes thousands of winter coats to kids, in addition to the backpacks filled with school supplies]
…When congratulated on his nomination as 2013 Living Legend, Bailey was a bit mystified. He had never heard of the Living Legends, so he googled it. He remarked that he had "never wanted recognition" and thinks of himself as "the man behind the scenes." Drawing on lessons from military service, he says his "job was always to make others look good."
How could anyone not like and admire someone like this? Especially when, from what I've read (see above) and heard from people who know him, Bailey does these things not for any personal credit or recognition, but simply because he feels the need – and wants to – help kids. Nice.
Turning to policy issues, I strongly agree with Bailey on adding 1 percentage point to Alexandria's "meals tax" as a way to provide dedicated funding to affordable housing, something that has been shrinking rapidly in Alexandria. As this article explains, the tax – which would add a whopping 16 cents to a $16 restaurant bill (also note that "70 percent of people who use credit cards to dine out in Alexandria are not residents of the city") – would "raise about $4.75 million annually for the city's affordable housing trust fund." And as this article points out, "while everybody eats at restaurants, wealthier people are more likely to eat out, and to spend much more money when they do so," plus "Alexandria's restaurants draw so many patrons from outside the city, [so] the tax is largely passed off to people visitors who don't live in the city." To me, this one's an easy call, to the extent that I'm honestly not sure I could support anyone (e.g., Vice Mayor Justin Wilson and Councilor Paul Smedberg) who opposes the small meals tax increase — or dedicating the revenues to affordable housing.
On other issues, Bailey is a supporter of smart growth, which he correctly says "encourages high density around Metro stations" and "is the best way to both maintain residential neighborhoods while encouraging growth"; easing traffic congestion, in part by providing "more transit options to [the relatively underserved western] part of the city," by supporting Metro and by "encourag[ing] the use of bicycles, which would also make our city healthier"; and making sure that " all areas of Alexandria are receiving equal opportunities for development." Again, I couldn't agree more with all of this. Combined with everything else I've mentioned, this makes it very easy for me to give Willie Bailey an enthusiastic thumbs-up for reelection.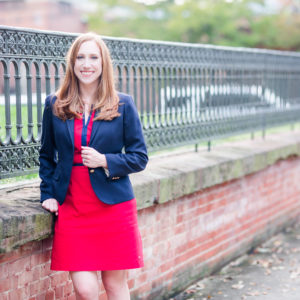 Next, here's my thinking on Elizabeth Bennett-Parker.
You might start sensing a theme here, as Bennett-Parker – like Willie Bailey – is another person who seems more concerned about serving others than about personal accolades or credit. From her website (bolding added by me for emphasis):
Born in Alexandria to two Naval officers, Elizabeth is dedicated to serving her community. She helps lead Together We Bake, a nonprofit job training and personal development program for women in need. Working with our city's most vulnerable women has led Elizabeth to help build an Alexandria that aims higher for families and individuals who need support.
Elizabeth understands the pressures of being a small business owner. She is the founder of Fruitcycle, a business fighting the tragic paradox that, while one in six Americans experience food-insecurity on a daily basis, 40% of our food is thrown into landfills.
Before launching Fruitcycle, Elizabeth worked for the National Governors Association, where she served as governors' liaison to Congress, federal agencies, and the White House on issues related to transportation, economic development, and health.
She was appointed by the Alexandria City Council to serve on the Community Criminal Justice Board and was selected as one of Alexandria's 40 under 40 in 2017.
Impressive. As for Bennett-Parker's priorities, here are a few that jumped out at me as great reasons to support her candidacy: 1) "She is an advocate for fair planning that allows for big city vibrancy and preserves Alexandria's small town charm." (exactly the right combination, in my view); 2) "She will fight for environmental sustainability" (Alexandria badly needs an environmental champion on its City Council); 3) "She will work with ACPS to modernize facilities and make sure students receive the education they need to succeed."; 4) "Elizabeth will fight to ensure that our City's seniors, lower-income individuals, and young people are able to access affordable housing" (crucially important); 5) " As a nonprofit leader who works with women who are homeless, recent immigrants, and formerly incarcerated, she knows the struggles of the most vulnerable members of our community. She will work to ensure all Alexandrians can succeed and build a great life for their families." (again, a perspective and skill set that is much needed on the City Council).
Finally, note that the smart-growth advocates at Greater Greater Washington recently endorsed Bennett-Parker, citing her "ground-up experience, which highlights the need for bike infrastructure to not just exist, but be functional," her "thorough answers," and that she had "given a great deal of thought to these issues and how a place on the city council would allow [her] to pursue [her] vision." Oh, and Run for Something endorsed her as well, writing that "As a small business creator and nonprofit leader, Elizabeth works to build an Alexandria that provides opportunities for all residents."
So those are my first two recommendations for Alexandria City Council — nominate Willie Bailey for reelection and Elizabeth Bennett-Parker for first-time election. No matter what, make sure you vote on June 12 in the Democratic primary!
P.S. It will be interesting to see what Alexandria Republicans choose to do on June 12 – vote in the Republican primary for U.S. Senate or vote in the Democratic primary for Alexandria mayor and city council. True, Republicans only make up something like 20% of Alexandria's voters, but if they choose to vote in the Democratic primary, they could certainly make a difference. My betting is that most of them will want to vote in the Republican U.S. Senate primary for Nick Freitas, Corey Stewart or E.W. Jackson, but we'll see in a few weeks…