by A Siegel
As evidence piles up that natural gas is a "Bridge to Nowhere" and that natural gas infrastructure built today won't only be (highly) damaging to the environment but will likely become 'stranded assets' (economically unviable monstrosities adding economic damage on top of environmental disaster), Dominion's only answer to Virginia's energy future: natural gas.
As even ExxonMobil realizes that association with the climate denialist, democracy-hating American Legislative Exchange Council (ALEC) isn't sensible in the 21st century, Dominion Energy remains embedded deeply in ALEC.
As thinking Americans reel in painful embarrassment at Donald Trump's childish narcissism, and as they increasingly rise in outrage over the white-nationalist and fascistic tendencies and actions that are embedded in the #CultOfTrump, I find it striking that Dominion Energy recently committed its Political Action Committee's funds to a (neo)fascist's fundraiser with Sarah Palin, of all people.
Even as Sarah Palin has many reasons to thank Trump (one of which is that once the GOP nominated him, Palin was no longer the most ignorant person to have been on a major party's national ticket), how can anyone forget her bluntly demonstrated unpreparedness for the national stage and her inability to even finish out her term as Alaska's governor? In light of the above, it's truly appalling that the "Corporate Media Strategist for Fortune 200 Company Dominion Energy" David Botkins piled on the praise for Sarah Palin when he paid (or, more likely — Dominion Energy paid, leveraging outsized profiteering from serving Virginia electricity consumers) at least $2,500 for the chance to have his photo taken with this Tea Party rock star?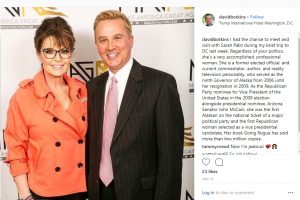 I had the chance to meet and visit with Sarah Palin during my brief trip to DC last week.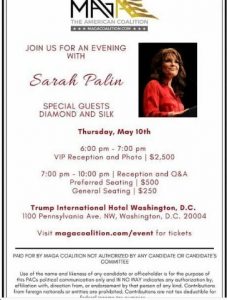 Note that Botkins conveniently opts not to mention that this was at a May 10 fundraising event for the "MAGA Coalition" political action campaign.
The MAGA Coalition, "dedicated to helping advance Trump's "America First" principles," features no less than former White House inhouse (neo)Nazi sympathizer Sebastian Gorka as their "Chief Strategist". "Pizzagate Truthers and a Seth Rich Conspiracy Theorist" created this Cult of Trump dark money PAC.  Its true basic goal: to defend likely Russian ((un)witting?) agent Donald Trump against law enforcement and to promote Putin's interests before America's and Americans'.
As to Botkins' over-the-top sycophantic nature, contemplate these four words re Sarah Palin …
Regardless of your politics, she's…
"Regardless of your politics, Sarah Palin is […]" How would you fill in the blank?  A national figure? A former Vice Presidential candidate? A right-wing conspiracy star?  A joke? An extremist? Other?
For his part, Dominion Energy's "Corporate Media Strategist" David Botkins fills in the words thusly:
"she's a very accomplished, professional woman"
"Very accomplished," perhaps, in a twisted sort of way. "Professional" is definitely in the eye of the beholder, but I doubt that the majority of Americans don't behold her this way.
Now, let's consider something:
Dominion Energy's most important market space is the Commonwealth of Virginia.
Core to that is Dominion's role as Virginia's largest regulated monopoly.
Core to Dominion's profitability has been its ability to bend Virginia's government to its wishes.
And that ability is currently under serious threat, in part due to the reality that Virginia is a deep purple state turning bluer every single year, every single election …
With the 2017 Virginia Blue Wave, Virginia's House of Delegates became far less slavish to Dominion's wishes. Even so, with Republican control of the House of Delegates and State Senate, Dominion still got most of what it wanted from the legislature this past session. And, at least until now, Governor Northam has shown zero inclination to act against Dominion Energy when it comes to environmentally destructive and economically damaging natural gas infrastructure.
As for the next Virginia legislative election year (2019), it's possible that the "blue wave" could be another tsunami and turn Virginia's legislature blue … perhaps even deep blue.
Given Dominion's reliance on a receptive Virginia government structure for its profitability; the tenuous grounds the company already is in with so many Virginia Democratic politicians; Virginia voters' dismay over Trump policies; etc., it seems somewhat strange that Dominion Energy would choose to so publicly flaunt its contributions to a conspiracy-theorist political action campaign. And it seems just as strange that its "corporate media strategist" would so enthusiastically embrace Sarah Palin, who epitomizes the worst aspects of Tea Party extremism and a precursor to the odious "Trumpism" we're living through today. The big question is, how on earth can we allow Dominion to continue getting away with this behavior?