Huge thanks to a super-smart northern Virginia "Indivisible" member for finding this data from the Virginia State Board of Elections website and for putting together the graphs of VA-10. I downloaded the CSV file and put together the first graph (see below), of Virginia absentee votes requested/submitted, by Congressional District, as of 10/4/18. A few things that jumped out at me were:
The highest number of absentee voting ballots requested/submitted so far is in VA-10, which of course is one of the most hotly contested House races in the country, between incumbent Barbara "Trumpstock" (R) and Democratic nominee Jennifer Wexton. Based on what I'm hearing from my sources, it sounds like this could be good news, with a lot of these appearing to be Democratic votes. But we'll see for sure in just over four weeks.
The second highest number of absentee voting ballots requested/submitted so far is in VA-08, a HEAVILY "blue" district (Arlington, Alexandria, Fairfax) that doesn't even have a competitive House race, as Rep. Don Beyer (D) should romp. So to me, this is an excellent measure of "base" Democratic enthusiasm. Based on the numbers so far for VA-08, that "base" Democratic enthusiasm appears to be very high so far! Also, of course, Democratic committees in VA-08 are very strong, so there's that as well.
Adding further evidence to that theory, check out the third-highest number of absentee voting ballots requested/submitted so far, which is in strongly "blue" VA-11 (Fairfax, Prince William), and which also does not have a competitive House race, as Rep. Gerry Connolly should cruise to an easy, overwhelming victory on November 6. Again, this seems to be a strong sign of high "base" Democratic enthusiasm, plus a very strong Democratic committee.
VA-07 is interesting, as it's a hotly contested "purple" district currently held by far-right Republican Dave Brat, and with a strong Democratic challenger in Abigail Spanberger. The absentee voting ballots requested/submitted in VA-07 are lower than in VA-08, VA-10 and VA-11, but still very solid. Not sure exactly what this means, but it's encouraging that around 29% of those VA-07 absentees were requested by young voters (aged 18-25).
As for VA-01, that's also a solid number, and it kind of jumps out, as the other two solidly "red" districts in Virginia (VA-06 and VA-09) have very low numbers of absentees so far. Not sure what to make of this one…any theories?
VA-02 is another very competitive, "purple" district, with Rep. Scott "Petitiongate" Taylor up against former Navy Commander Elaine Luria. The number of absentees in VA-02 is far lower than in the VA-10 Comstock vs. Wexton slugfest, which is kind of puzzling to me. Note that out of those 6,739 absentees, about 58% are coming from Virginia Beach, which went 52%-47% for Ralph Northam last year. Another 7% are coming from Norfolk City, which went nearly 3:1 for Northam last year; and about 7% coming from Accomack County, which went 54%-46% for Ed Gillespie last year.  Just based on these numbers, VA-02 looks close right now.
Same thing, to a lesser extent, in VA-05, yet another "purple" district with a potentially competitive race, between Democrat Leslie Cockburn and Republican Denver Riggleman. One good sign for Dems in VA-05 is that about 13% of absentees are coming from deep-blue Charlottesville, with another 28% coming from blue Albemarle County, which went 64%-35% for Ralph Northam last year. Combine Cville and Albemarle, and we're talking about 41% of all the VA-05 absentees coming from strongly "blue" parts of the district.
VA-04 is strongly Democratic and not at all competitive (Rep. Donald McEachin will cruise to an easy reelection), and those absentee numbers are kind of "meh." Even more "meh" is VA-03, also strongly Democratic and heavily African American; would feel better if those absentee numbers were higher there.
Finally, encouraging news: absentee numbers are very low in deep, deep-red VA-09, one of the "Trumpiest" CDs in the country. Not much indication of a surge in enthusiasm, at least not in terms of absentee ballots, so far in VA-09!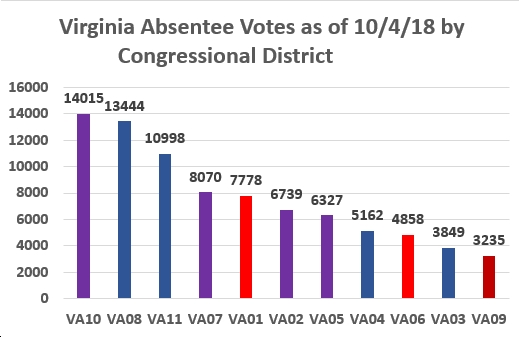 The following two tables by the aforementioned Indivisible member, of VA-10, are fascinating – and also highly encouraging, if you're a Jennifer Wexton supporter! 🙂
First off, as the Indivisible member explains, "absentee voting has almost doubled" from a similar point in 2017, with 7,508 last year and 14,015 this year. Also, per the Indivisible member, "Women's share of absentee ballots has gone from 51% in 2017 to 54% in 2018," and "[t]he big change is youth voters (18-25) [which] has gone from 22% of ballots submitted to 36%. (1673 ballots to 5086 ballots). These numbers favor Wexton."