Every year, the Fairfax County Democratic Committee holds its "Road to Richmond" even, a few days before the start of the new Virginia General Assembly session. This year's event was from 11 am to 1 pm today in Vienna, just outside of Tysons (not "Tysons Corner" anymore, I guess). The place was packed with over 300 fired-up Dems, including what felt like about 100 elected officials, candidates or possible candidates for various offices. If this is a sign of the (high) energy level among Virginia Dems right now, and I have little reason to doubt that it IS (based on everything I've been seeing and hearing), 2019 could be a VERY good year for Virginia Dems. But standard disclaimer: let's not get overconfident, rest on our laurels or take anything to granted, of course, but work our butts off and make sure we: a) take back the Virginia General Assembly; b) win as many local offices as we possibly can this coming November.
Among others that I had a chance to talk to today were: LG Justin Fairfax and both his senior advisor Larry Roberts and his communications director Lauren Victoria Burke; Senate Minority Leader Dick Saslaw (that was interesting…heh); House Democratic Leader Eileen Filler-Corn; Richmond Mayor Levar Stoney (VERY interesting that he drove up to Fairfax County for this event – possible indication that he's thinking about running statewide in 2021? UPDATE: almost forgot, he also has a fundraiser with Sen. Surovell this afternoon, so obviously he drove up for that as well); Fairfax County Sheriff Stacey Kincaid; Fairfax Dems' Chair Dan Lagana (great guy, by the way, for any of you who don't know him…) and Fairfax County Dems' Executive Director Frank Anderson (ditto); newly announced Fairfax County Board Chair candidate Ryan McElveen (also a great guy and strong progressive); Providence District/Fairfax County Board candidates Erika Yalowitz, Dalia Palchik and Phillip A. Niedzielski-Eichner; Braddock District/Fairfax County Board candidate James Walkinshaw; Fairfax County Commonwealth's Attorney Ray Morrogh and his Democratic primary opponent Steve Descano; HD40 Dem candidate Dan Helmer; State Senator Dave Marsden; State Senator Scott Surovell; Del. Kathleen Murphy; Del. Jennifer Boysko; Del. Rip Sullivan and many others. The city, county and/or state you save might very well be your own!
With that, see below for some photos and video (I'll add more later as I see them) from the event.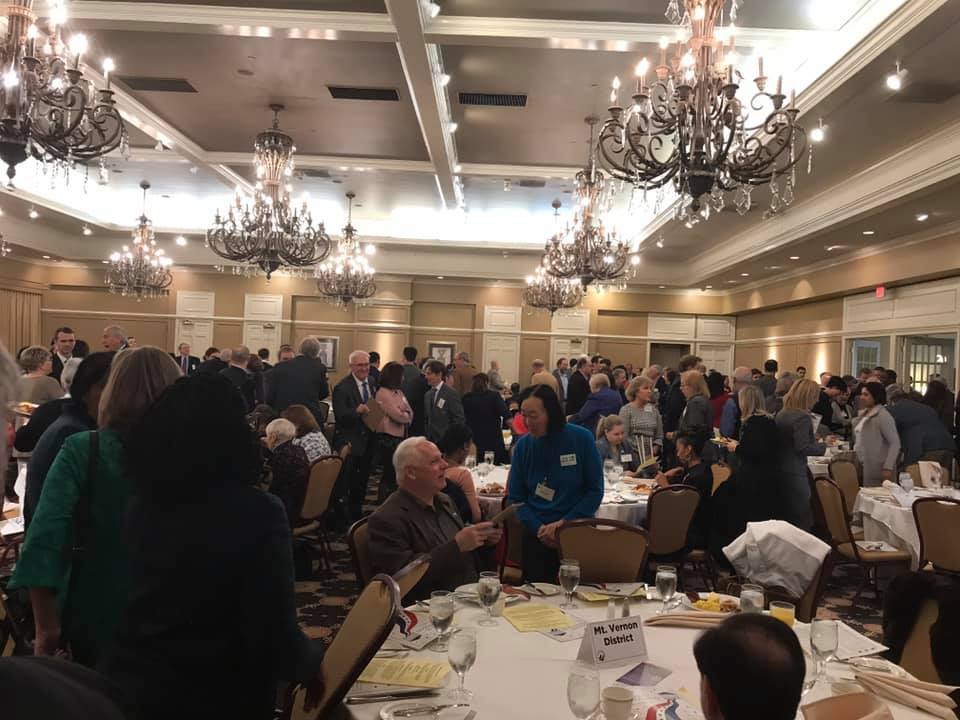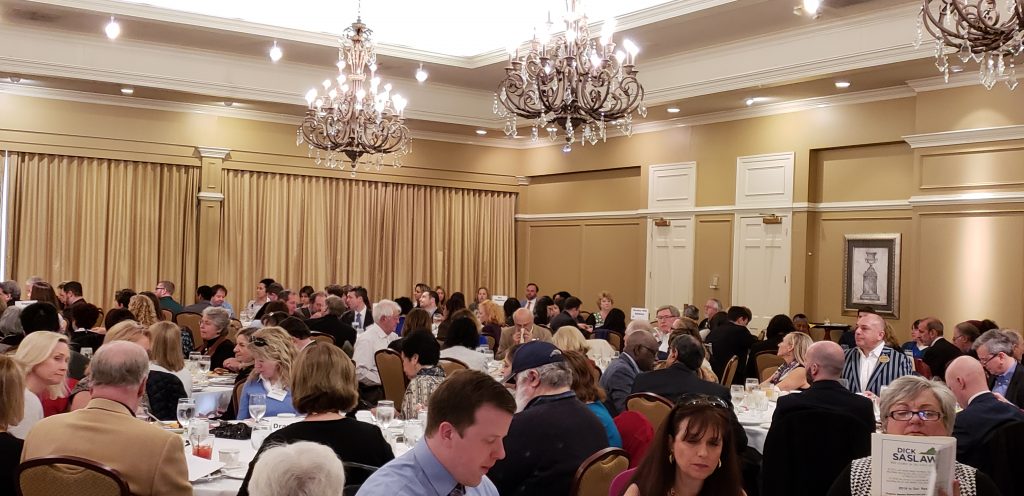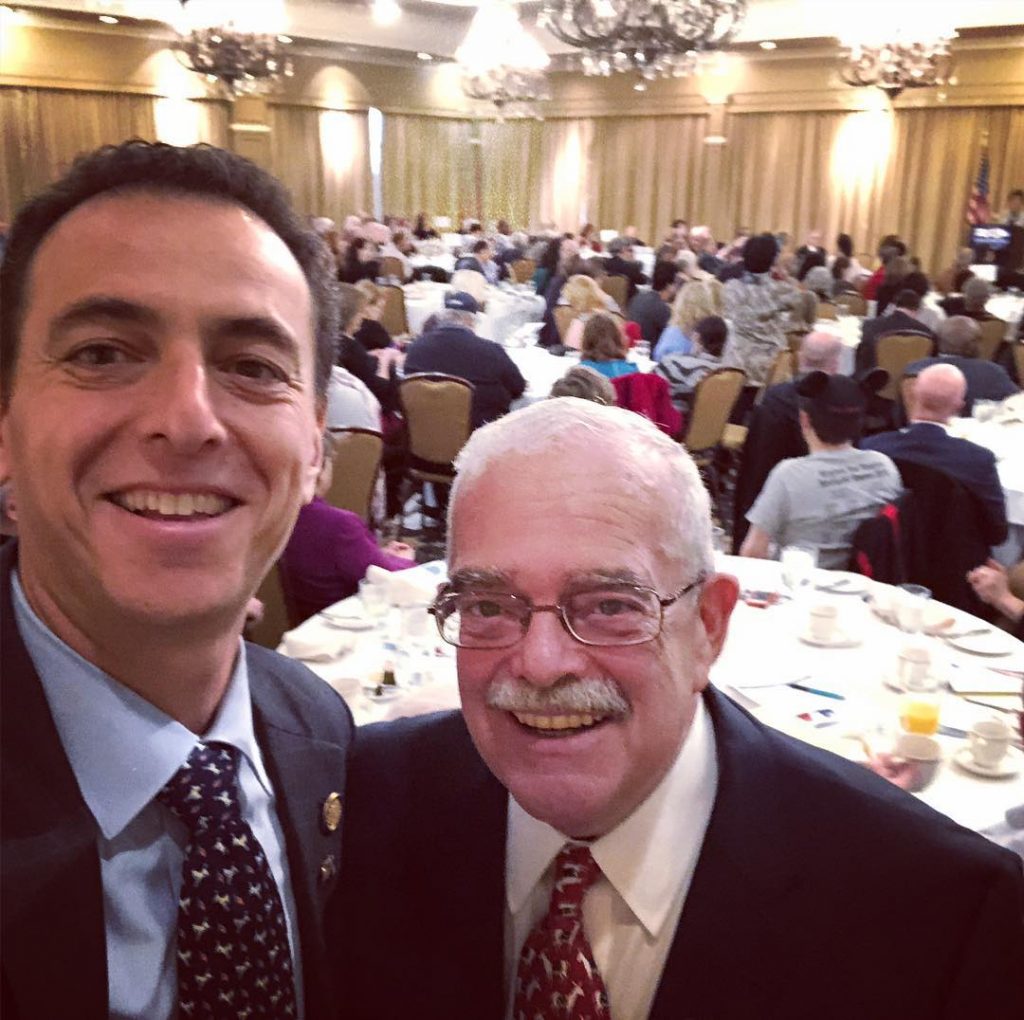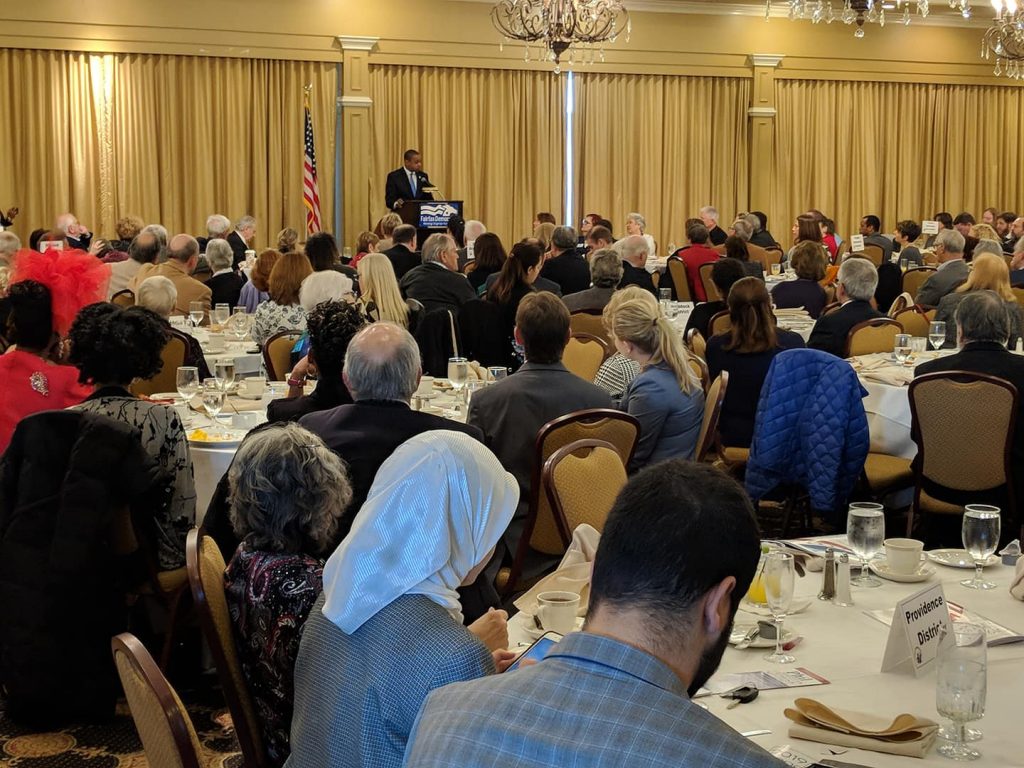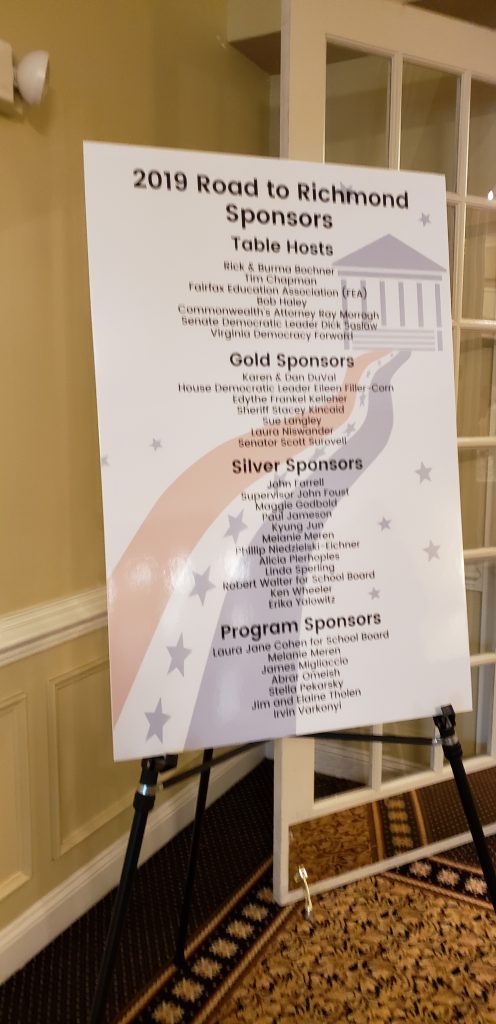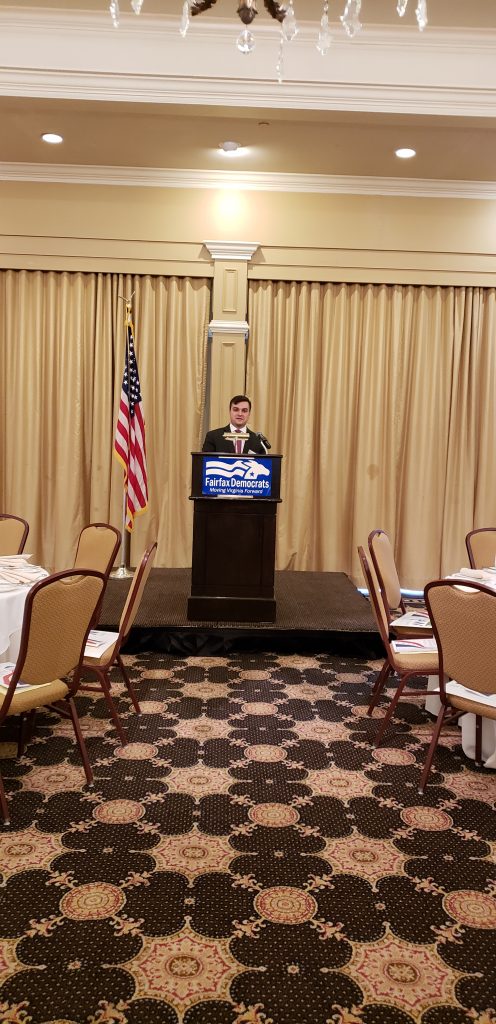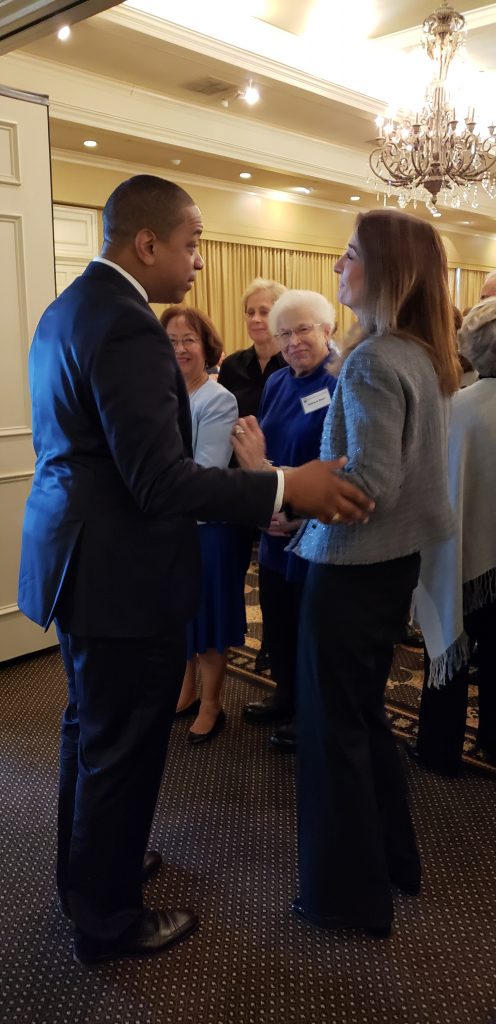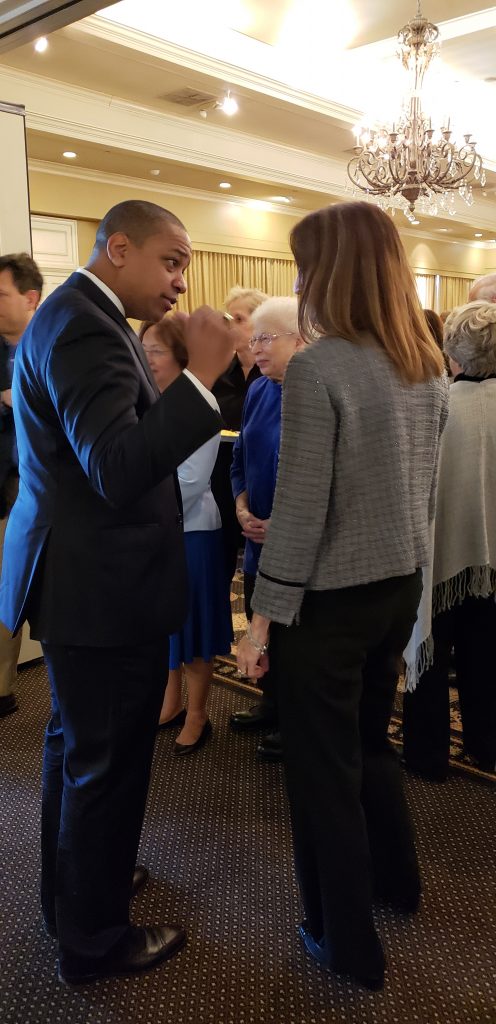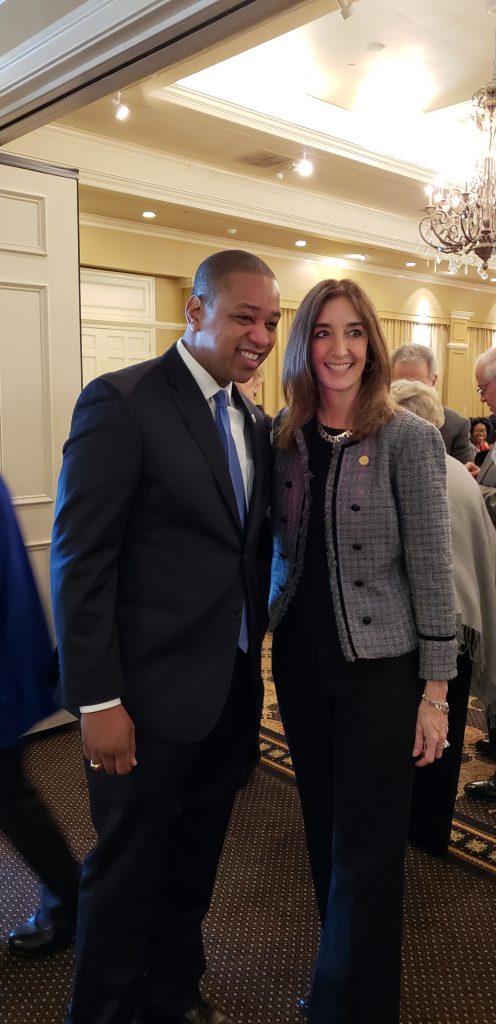 (the following photo courtesy of Charisse Espy Glassman)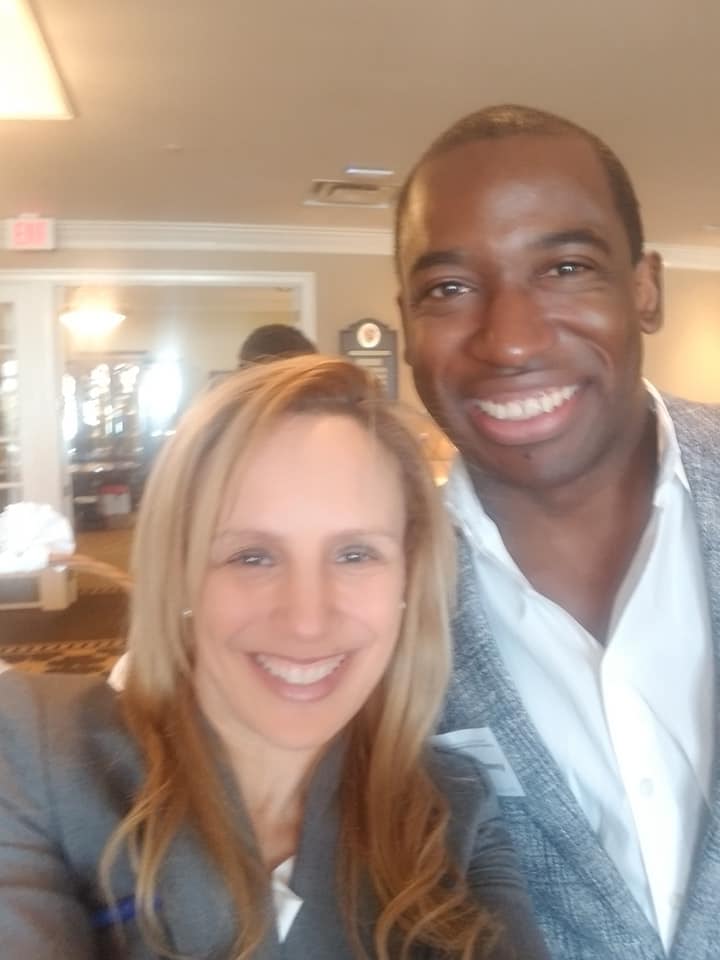 Great riff, by the way, by LG Justin Fairfax:
They say that life is 10% what happens to you at 90% how do you respond. The same is true in politics. In 2016, we had a choice after that election about how we would respond. In so many ways we felt that the lights had gone out in America. We felt a darkness had come over this country. A president, administration, people around him who took us to the lowest common denominators in our public life, who lied to us on a daily basis, who tear people down, who don't respect people based on who they are or who they love or where they come from, but instead exclude rather than include. And so that's what we were faced with here in the Commonwealth of Virginia as we stood in 2017 for the choice about whether or not we were going to be kind, whether or not we would be empathetic, or if we would stand up with one voice and say that w are taking this nation on a different, more positive course. And because of everything that you did, every door that you knocked, the faith that you had that we could be better country in spite of what had just happened. We did something that inspired this country. You elected a great governor, Dr. Ralph Northam, a great Attorney General, Mark Herring, and…15 new members of the House of Delegates…the most diverse caucus we have ever had…we celebrate the leadership of a dear friend Eileen Filler-Corn, who's going to lead our soon-to-be majority in the General Assembly in the House. And what an answer to what we saw to do something that historic at this moment, to put someone who has that kind of leadership. who will make that kind of difference. And so I hope that you all feel very proud about what you've done, because I traveled all around America over the last year and a half, and I will tell you almost to a person as I've campaigned with people and visited their states and seen what they are trying to do, they would come up to me and they would say 'thank you Virginia for giving us hope.'"