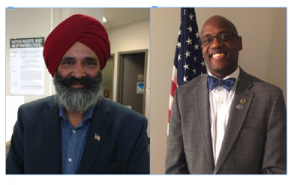 by Kenny Boddye
A few weeks ago, I wrote about the Special Election for our County Board of Supervisors in Prince William County. Since then, both parties have come up with a nominee — Victor S. Angry for the Democrats, and Devinder Singh for the Republicans.
Here are two key points:
1. This seat — now vacated by John D. Jenkins, who passed away a few weeks ago — is one of only two seats currently held by Democrats on our county board. Currently, we can't even get motions seconded if made by the sole Democrat, Frank Principi. This happened with both the ERA and a resolution to condemn white supremacists after the Charlottesville hate rally two years ago.
2. If elected, Victor Angry would become the first African-American elected to our county board in history. Remember that Prince William County is the largest majority-minority locality in Virginia, and we haven't had a single person of color on our board… until potentially now.
Just as with Jackie Smith's race for Clerk of the Court back in 2017, this Special Election holds the power to show us just how energized Democrats are in an off-year election. Considering Election Day is April 9th, we don't have a lot of time to mobilize or let people know there's an even an election!
That's where you come in — Victor and Prince William Democrats need help.
If you live in Prince William County, or know anyone who does, please let them know that we have a Special Election in the Neabsco District, which encompasses Dale City, the surrounding area, parts of Woodbridge, and pretty much any street with "dale" on the end of it.
Otherwise, please show Victor some love by donating to his campaign. Every little bit helps, especially in a local, quick turnaround election like this.