See below for a statement by the Democratic Black Caucus of Virginia asking Kevin Wade, who is challenging Del. Luke Torian (D-HD52) in the June 11 Democratic primary, to "withdraw his candidacy" due to a posting on his Facebook page, which contains a "derogatory and racist image using the 'N word'." Also see Wade's response, in which he apologized, stating that  he "viewed it too quickly" and "shared it without thinking." I watched some of the video, by the way, and generally found it to be annoying, stupid and absolutely not funny. Plus, of course, it had that racist image. All around, not sure why anyone would want to view something like that, let alone share it. Gack.
P.S. Does anyone know if Wade has ever been involved in the Democratic Party, voted in Democratic local or state elections, etc?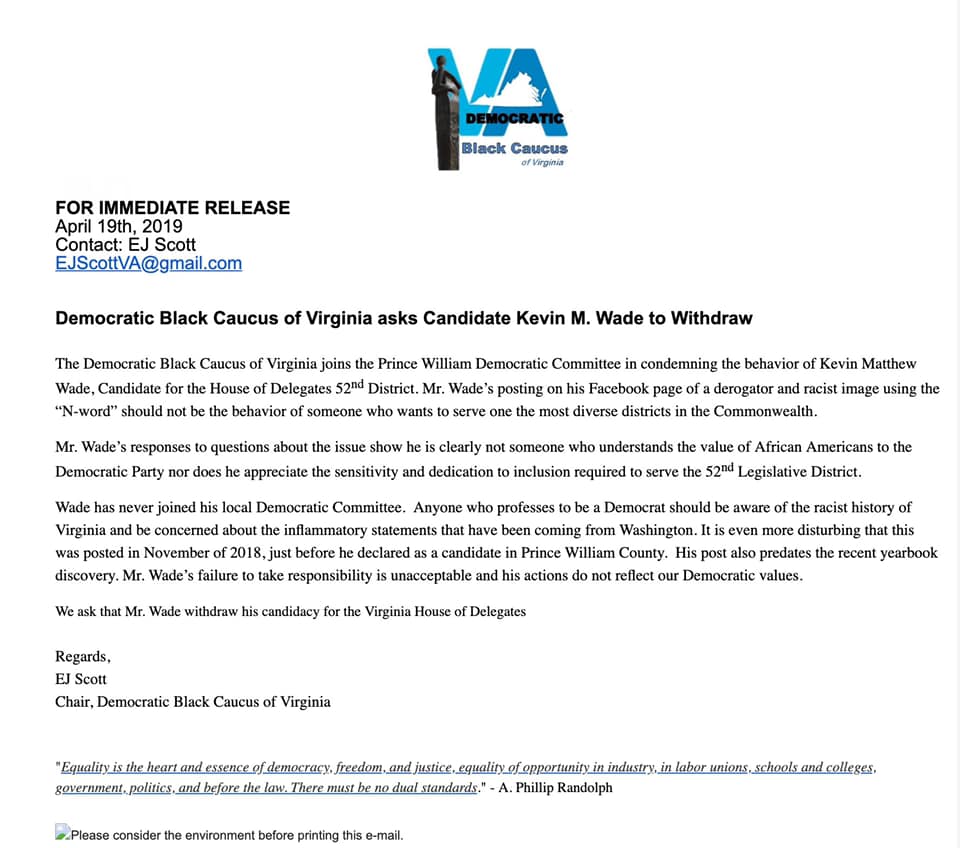 P.S. Here's Kevin Wade's response to the Democratic Black Caucus of Virginia statement
Kevin M. Wade for Virginia Delegate
There has been a press release regarding a circulating post around Facebook. Below is my response.
*****************
Thank you for sharing this press release. I would like to provide some context that was not provided in the release. The image that the release refers to represents a single screen grab in a four and one half minute video I shared on Facebook. The video shows a compilation of many short memes. The compilation title is "Stop Bullying" but it is a very eclectic, even bizarre compilation with no central theme, I believe the aim is humor. I had nothing to do with the production of this compilation and I made no comment when I shared it. It remains online and, at least from the comments, does not appear to have been controversial. Here is the link: 
https://m.facebook.com/story.php?story_fbid=261488944557943&id=115448739161965
The screen grab in question came near the beginning of the compilation, I viewed the compilation once and immediately shared it. In retrospect, I viewed it too quickly and shared it without thinking. For this, I apologize. When it was pointed out to me that the video included the offensive frame, I immediately un-shared it.
The Democratic Black Caucus of Virginia did not reach out to me before they issued this statement. Indeed, I have never talked to them, but would welcome the opportunity to discuss this issue further and to gain their perspective and understanding on further issues that may be of interest.