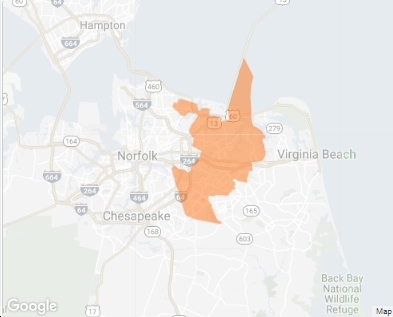 See below for Chaz Nuttycombe's analysis of Senate District 7, which is located overwhelmingly in Virginia Beach City, and which was won by Tim Kaine in 2018 (56%-42%) and Ralph Northam in 2017 (54%-45%). The district has been (mis)represented by Republican Frank Wagner – a right winger and ALSO, as an added "bonus," a Dominion Energy puppet – since 2001. Fortunately, Wagner's outta there, having announced his retirement and accepted a position as Deputy Director of the Virginia Lottery (I know, I know…how "Virginia Way!" LOL).
Anyway, with Wagner moving on to "greener" pastures, this seat is now open, giving Democrats a great chance to take back what is, effectively a "blue" district. According to Chaz Nuttycombe, SD7 is going to be  a "tough hold for Republicans this year," with the race likely to "Tilt D" following the Republican and Democratic primaries on June 11.  To check out the three Democratic candidates, see:  Del. Cheryl Turpin, Kim Howard, and Susan Hippen.
As for the Republicans, check out this interview with Carolyn Weems, which has her spewing out mindless right-wing blather, even exasperating the Trumpster radio host; and this interview with Jen Kiggans, who certainly has a very impressive resume (including Navy service as a helicopter pilot), but has hard-right views on women's reproductive freedom (she says the Kathy Tran video, which she incorrectly refers to using the word "infanticide," which of course nobody supports, was "the turning point for me" in deciding to run for State Senate), and also uses Fox-style, over-the-top language like "we can't continue down this path of socialism" and "I missed the memo that women did not have equal rights…I don't need a piece of paper…I think the ERA could overturn some laws…that benefit women") that is the absolutely LAST thing we need in the Virginia State Senate! So no matter which Democrat wins the nomination on June 11, it's crucial that we help elect them on November 11.