Advertisement

Thanks to our pals at the Koch brothers' oxymoronic "Americans for Prosperity" and at The Bull Elephant for giving us a good shortlist (see below) of which Virginia Republicans we need to go all-out OPPOSING this year. First, a quick reminder – courtesy of SourceWatch – of how bad "Americans for Prosperity" is:
"…a right-wing political advocacy group founded by billionaire brothers David and Charles Koch, the owners of Koch Industries"
"AFP will spend $1 million on campaigns to get Trump's federal judicial nominations confirmed."
"AFP adopts the anti-union positions held by its libertarian funders, David and Charles Koch"
"Across the country, AFP has been involved in a fight against regulations mandating that cars are more efficient."
"According to The New York Times, AFP has taken part in 'killing public transit projects around the country.'"
"During 2008, Americans for Prosperity ran its Hot Air Tour campaign, a hot air balloon cross-country tour with the slogan, 'Global Warming Alarmism: Lost Jobs, Higher Taxes, Less Freedom.'"
"In 2009 Americans for Prosperity, along with The 912 Project, was one of the conservative groups involved in organizing 'town hall protests' and 'recess rallies' where participants oppose health care reform by rambunctiously shouting down members of Congress while they are holding public meetings to inform the public about the proposals."
"AFP advocates pro-tobacco industry positions on issues like cigarette taxes and clean indoor air laws. The name 'Americans for Prosperity' will sound familiar to tobacco prevention policy advocates, as Americans for Prosperity worked around the U.S. to defeat both smoke-free workplace laws and cigarette excise tax increases."
Getting the idea? In short, AfP is the worst of the worst; totally antithetical to anyone who cares about fighting for workers, the environment, healthcare, transit, good government, etc.

Now, let's look at who AfP is backing this cycle in Virginia: "Glen Sturtevant (SD 10), Siobhan Dunnavant (SD 12), and Geary Higgins (SD 13) for the Senate and Roxann Robinson (HD 27), Mary Margaret Kastleberg (HD 73), Randy Minchew (HD 10), Mike Webert (HD 18), and Nick Freitas (HD 30) for the House of Delegates." Note that some of these folks – like Glen Sturtevant and Siobhan Dunnavant, for instance – dishonestly PRETEND to be relative "moderates" (e.g., Sturtevant pretended to care about ratifying the ERA), but most certainly are *not* moderates in any way/shape/form.  Anyway, let's just make damn sure we elect the following Democrats running against these Koch suckers this November (absolute top priorities marked with ***):
Ghazala Hashmi in SD10***
Debra Rodman in SD12***
John Bell in SD13***
Del. Wendy Gooditis in HD10***
Laura Galante in HD18
Larry Barnett in HD27
Ann Ridgeway in HD30
Rodney Willett in HD73***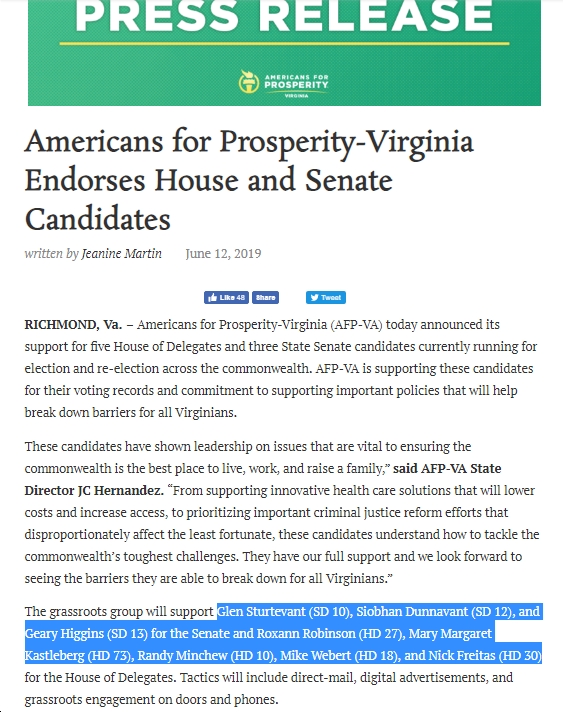 There's no paywall on Blue Virginia, and we definitely want to keep it that way! If you want to help support our work, you can donate here - thanks!
Also, you can
sign up for our weekly email list here
.