This is *exactly* what we want to see from 2020 Democratic presidential candidates – come to Virginia, spend some time, campaign for House of Delegates, State Senate and local Democratic candidates. Thank you, Beto O'Rourke, and hopefully we'll see the rest of the 2020 candidates before November 5!
In 2017, Virginia showed the nation what can happen when we come together and vote our values.

We flipped 15 seats in the House of Delegates. The next year, Dems took Congress back.

In 2019, we can win majorities in the state house and senate! Then in 2020… ? #ByeTrump https://t.co/IkGizXULrB

— Delegate Chris Hurst (@ChrisHurstVA) August 31, 2019
Joining Virginia State Senate candidate Amy Laufer for a canvass kickoff with volunteers ahead of critical state elections for control of the state legislature. https://t.co/WQDojxMCUo

— Beto O'Rourke (@BetoORourke) August 31, 2019
The road to 2020 runs through 2019. The road to America runs through the Commonwealth of Virginia. Thank you, Virginia Tech, for inspiring me—and serving as an example for our country. pic.twitter.com/JFLXYouRz1

— Beto O'Rourke (@BetoORourke) August 30, 2019
See you soon. https://t.co/gQaKbYiY98

— Beto O'Rourke (@BetoORourke) August 30, 2019
At our town hall in Roanoke, I met Sarah, who told me that she was a student at Virginia Tech when the shooting took place. We discussed how communities across America that have borne the brunt of this epidemic are leading the way in ending it. We are all in this fight together. pic.twitter.com/QCDkEvklFP

— Beto O'Rourke (@BetoORourke) August 30, 2019
Hello, Roanoke! https://t.co/jeee7idP25

— Beto O'Rourke (@BetoORourke) August 30, 2019
The challenges we face will not be solved with half the country. That's why we refuse to write anyone off, including the people of Bland, Virginia, a county where Trump won 82% of the vote; a county no presidential candidate had ever visited—until today. pic.twitter.com/IpEfpXPG6S

— Beto O'Rourke (@BetoORourke) August 30, 2019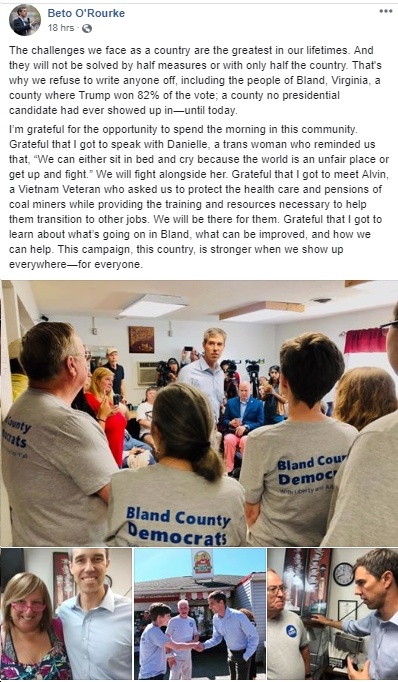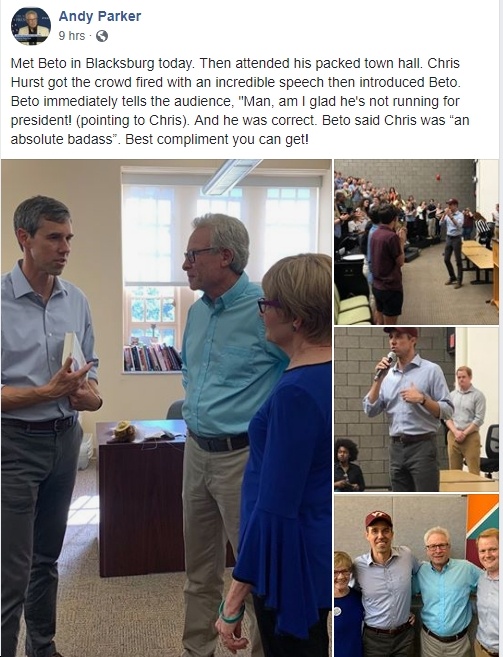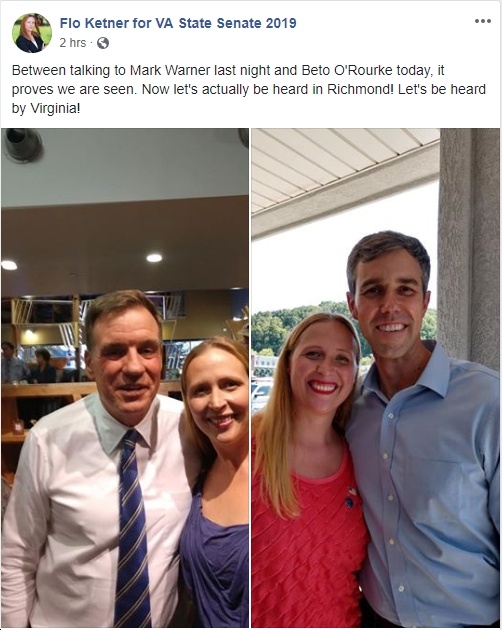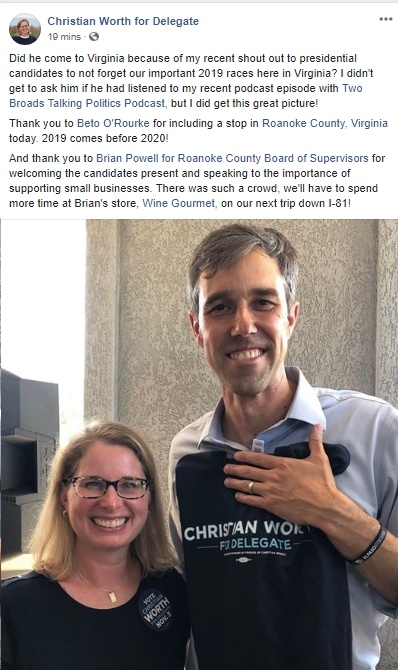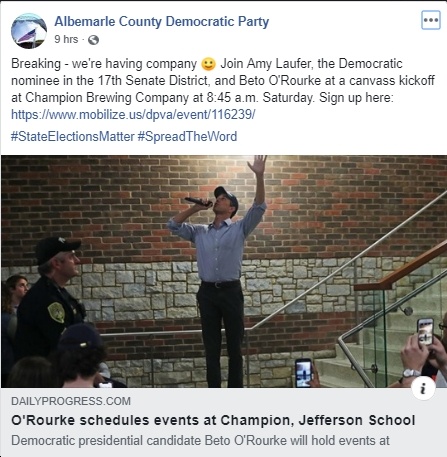 From the Dan Helmer for House of Delegates campaign:
PRESS ADVISORY – FOR IMMEDIATE RELEASE
Dan Helmer Holds Rally with Presidential Candidate, Beto O'Rourke
WHAT:  On Saturday evening, Representative Beto O'Rourke will headline a rally for Dan Helmer, the Democratic nominee for the 40th District of Virginia's House of Delegates.
WHO: Dan Helmer, nominee Virginia House District 40
Beto O'Rourke, former Representative TX-19, 2020 Democratic Presidential andidate
WHEN:  Saturday, August 30th, 5:30 – 7:30 p.m.
WHERE:  5618 Ox Road, Fairfax Station, VA 22039
WHY:  Helmer is the Democratic Nominee for the House of Delegates in Virginia's 40th District. His opponent, Tim Hugo, is the Republican House Caucus Chair and the last Republican to hold a state-level office in Northern Virginia. Hugo won by only 99 votes in 2017 and the winner this year will potentially determine the majority in Virginia's General Assembly.
Representative O'Rourke will be here to highlight the importance of flipping state legislatures. Virginia is one of only four states with legislative elections in 2019, and the only one where control of the state legislature can be flipped. With redistricting decisions decided in the next session, this race takes on added importance.
Helmer has recently highlighted Hugo's awful record on gun safety, healthcare, and women's rights and how Hugo has taken over $250,000 from payday lenders before voting to raise potential interest rates on soldiers and students to as much as 300%.