From Care in Action:
Care in Action Makes Historic Six-Figure Investment in Virginia Elections to Mobilize Domestic Workers 
Care in Action backs 12 women of color running for House and Senate races to boost stronger protections for domestic workers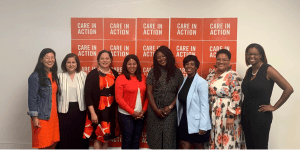 (Left to right: Ai-jen Poo, Ghazala Hashmi, Sen. Jennifer McClellan, Sheila Bynum-Coleman, Alicia Garza, Del. Lashrecse Aird, Del. Marcia Price, Alexsis Rodgers)
PETERSBURG, VA – Today, Care in Action, working on behalf of more than two million care workers nationally, formally announced a six-figure investment in Virginia's General Assembly to elect champions of a Care Economy.
The organization has endorsed 12 candidates – all women of color – for House and Senate races who will be the change needed in Virginia's legislature to adopt stronger protections for domestic workers. Care in Action plans on investing nearly $300,000 in a coordinated electoral campaign, including field organizers, digital advertisements and direct mail campaigns in key districts to mobilize voters.
"Virginia can be a gamechanger for domestic workers and securing the protections they need," said Jess Morales Rocketto, executive director of Care in Action. "We've endorsed these women for the Virginia General Assembly because they will set a new legislative agenda to improve the lives of domestic workers and working people."
Domestic work is a woman-driven workforce, where the majority of that workforce are women of color and immigrants. Care workers help meet the physical, emotional and social needs of families, yet do not have basic rights and labor protections. There are limited federal and state labor protections for this workforce.
"We know the best way to support women of color is to elect women of color leaders who will make a difference in the lives of workers and their families," said Morales Rocketto. "They will fight for fair wages, paid family leave, access to childcare and the protections we desperately need for housekeepers, nannies and all care workers."
Last year, the group coordinated the largest independently funded ground game in Georgia, backing candidates like Stacey Abrams and rallying women of color voters, especially Black women, across the state.
Now they've turned their sights to Virginia. This is the first time Care in Action has invested money in Virginia's state legislative elections and is the only electoral work they are focused on in 2019.
Currently, Virginia does not provide paid family leave or sick leave, nor protections for pregnant workers. The state also does not require worker's compensation or overtime pay for live-in employees and when work is performed on a holiday. As an underpaid and overlooked workforce, Care in Action is focused on making a Care Economy a key electoral issue for Virginia voters.
"Domestic workers and home care workers make up an important part of the electorate," said Alexsis Rodgers, Virginia state director for Care in Action. "Women of color, especially Black women, are the most reliable voting bloc in the U.S. We're going to tap into this network to build the future we want to live in and elect leaders that represent our values in Virginia."
CARE IN ACTION ENDORSED CANDIDATES:
State Senate
Ghazala Hashmi (SD-10)

Sen. Mamie Locke (SD-02)

Sen. Jennifer McClellan (SD-09)
House of Delegates
Del. Lashrecse Aird (HD-63)

Del. Hala Ayala (HD-51)

Sheila Bynum-Coleman (HD-66)

Del. Jennifer Carroll Foy (HD-02)

Del. Kelly Convirs-Fowler (HD-21)

Del. Elizabeth Guzman (HD-31)

Darlene Lewis (HD-8)

Del. Marcia Price (HD-95)

Del. Kathy Tran (HD-42)
###
About
Care in Action is the policy and advocacy home for women who care, working on behalf of more than two million domestic workers and care workers across America. Among the fastest growing sectors in our economy, domestic workers are also among the most vulnerable and undervalued. As a mostly women and majority women of color workforce, this growing constituency consistently and overwhelmingly supports progressive values in American political life. Learn more at https://careinactionvotes.org/