Rest in peace, Rev. Robert Dilday, an Episcopal priest at St. Stephen's in Richmond, who passed away suddenly last night (see below for a statement from St. Stephen's, as well as some comments from friends/colleagues). Dilday, who was ordained just a week ago, was also a "faith-based journalist," "climate justice advocate" and co-director, along with Rev. E. Weston Mathews of Grace Episcopal Church in The Plains –  of the Interfaith Alliance for Climate Justice, whose goal is "to be faithful stewards of creation by supporting resistance to its degradation and exploitation."
According to Dilday's bio on the Interfaith Alliance site:
Until 2018 he was editor in chief at Baptist News Global, an independent faith-based news organization, and prior to that worked for a religious liberty advocacy group in Washington, D.C. A Texas native, Robert earned a bachelor of arts in history from Baylor University and a master in divinity from Southwestern Seminary.
Dilday was a stalwart figure and leader in the pipeline resistance movement here in Virginia, including serving on the board of People Power Virginia, a non-partisan PAC, founded in May 2019, for non-federal Virginia elections, in support of candidates "who oppose new fracked-gas transmission pipelines and who support responsible energy infrastructure, ecological health and climate justice, First Amendment rights and climate disobedience, and good governance."
Back in May 2019, Dilday wrote the piece, "Toxic Injustice: Ecological Crisis in Marginalized Communities," in which he wrote about environmental injustice and how "communities of color and poverty are consistent sites for unwanted infrastructure and disposal – in part because energy companies and state regulators assume that residents will be unable to resist powerful political forces." Dilday specifically cited the example of the large compressor station Dominion Energy wants to build in Union Hill for its Atlantic Coast Pipeline project. According to Dilday:
Buckingham County's plight is only one of multiple examples across the United States of environmental injustice, a concept that emerged in the 1980s as environmentalists awakened to the impact on historically marginalized communities from fossil-fuel infrastructure and the disposal of waste from energy sources…The historically African-American community in Buckingham isn't the only victim of environmental injustice. The Atlantic Coast Pipeline's proposed route begins in West Virginia's economically depressed Appalachian communities and ends in Robeson County, N.C., home to the largest indigenous tribe east of the Mississippi River. In Southwest Virginia, the Mountain Valley Pipeline follows a similar pattern…
In the end, Dilday lived his faith and his values, by fighting to protect the earth and against injustice. As Dilday said so well in this February 2019 Episcopal News Service article, "environmental advocacy comes down to Episcopalians living out their baptismal covenant, to 'strive for justice and peace among all people, and to respect the dignity of every human being.'"
Again, Rest in Peace Rev. Dilday. Thank you for all you did in your life. You will be greatly missed by many.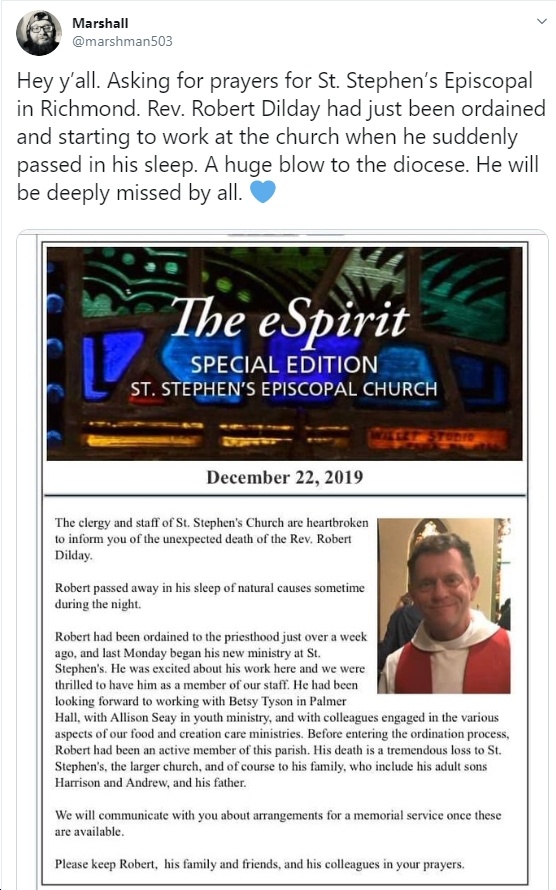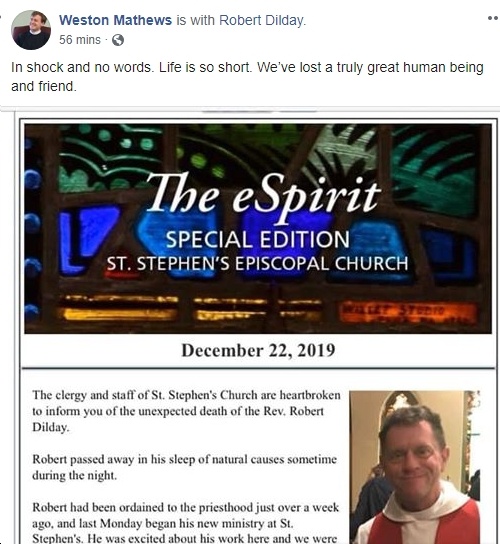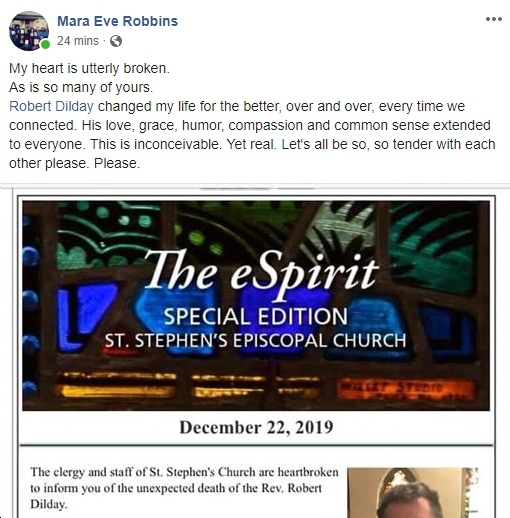 Robert Dilday with Jon Sokolow and Chesapeake Climate Action Network founder Mike Tidwell at the Green New Deal Virginia launch in October.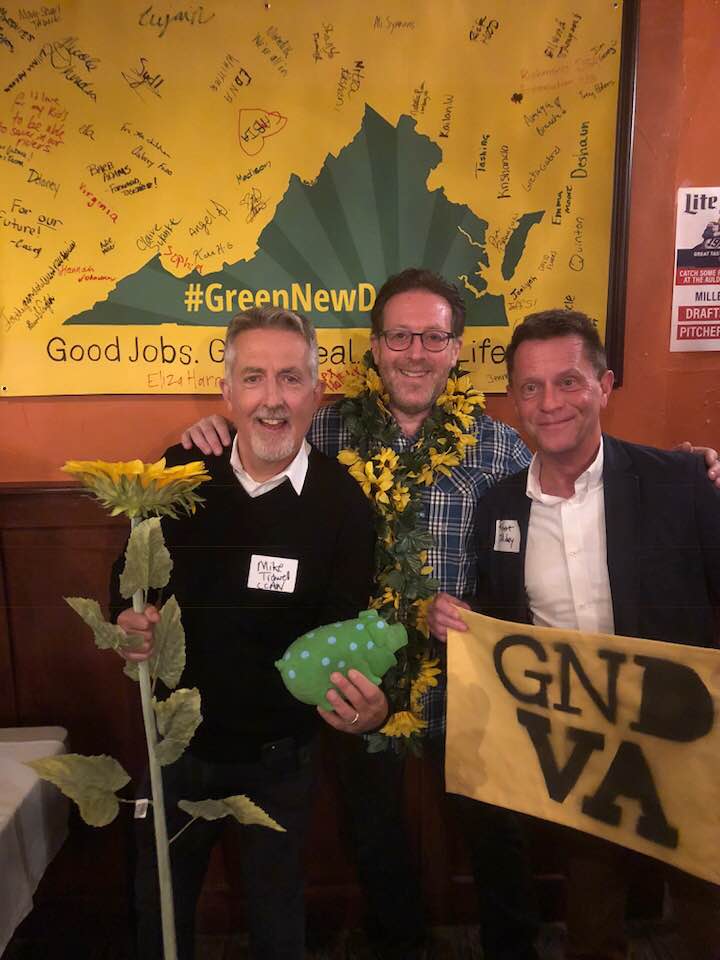 Dilday with Karenna Gore and Swami Dayananda of Yogaville, Virginia back in May in Richmond