On 12/30, Sports Illustrated posted "Five Sports Business Predictions for the 2020s," which predicts that "College athletes will obtain [names, images and likenesses – NIL] rights and the NCAA will eventually accept that." Currently, as the article explains, "NCAA amateurism rules disallow college athletes from hiring agents or licensing their NIL to video game publishers, camps, trading card shows, clothing makers, sneaker companies, technology providers and other businesses." But this situation could change, with California (see below) and "two dozen other states…in various stages of considering NIL legislation" – although note that the "NCAA is poised to strike back," by filing "lawsuits against states that adopt NIL laws."
As noted above, California has already passed an NIL law. This past September 30, California Gov. Gavin Newsom signed SB206 – which passed the legislature unanimously. The bill would:
"…prohibit California postsecondary educational institutions except community colleges, and every athletic association, conference, or other group or organization with authority over intercollegiate athletics, from providing a prospective intercollegiate student athlete with compensation in relation to the athlete's name, image, or likeness, or preventing a student participating in intercollegiate athletics from earning compensation as a result of the use of the student's name, image, or likeness or obtaining professional representation relating to the student's participation in intercollegiate athletics. The bill also would prohibit an athletic association, conference, or other group or organization with authority over intercollegiate athletics from preventing a postsecondary educational institution other than a community college from participating in intercollegiate athletics as a result of the compensation of a student athlete for the use of the student's name, image, or likeness."
The bill would take effect on January 1, 2023, giving the NCAA time to respond. Of course, if a handful of big college sports states pass similar legislation, the NCAA would probably be forced to reach some sort of compromise, instead of digging in its heels.
Florida is also looking at legislation on this issue, with a bill that  "authorizes students participating in intercollegiate athletics to receive specified compensation; provides requirements for specified students, postsecondary educational institutions, certain organizations, & specified representatives; & creates Florida College System Athlete Name, Image, & Likeness Task Force," and apparently another bill coming.
By the way, the push for this type of legislation isn't just happening at the state level. As this article points out, "H.R. 1804, the "Student-Athlete Equity Act," (SAEA) seeks to change the NCAA's position on student-athletes' rights of publicity...seeks to push the NCAA in the direction of allowing more student-athlete compensation by threatening its tax status." But, the article explains, SAEA "does not purport to directly require the NCAA or its member institutions to allow students to sell their publicity rights without fear of losing their eligibility, as would the 'Fair Pay to Play' bill that seems likely to pass the California legislature."
Also at the federal level, in early December 2019, Senators Chris Murphy (D-CT) and Mitt Romney (R-UT) launched "a working group in the United States Senate devoted to the topic of college athlete compensation." Sen. Murphy's statement explained (bolding added by me for emphasis):
"College athletes are being used as commodities to make money for the NCAA, colleges and corporations, while not being compensated for the work they do, nor given the appropriate health care and academic opportunities they deserve…That's plain wrong. The majority of executives and coaches who are getting rich off college athletics are white, while the majority of players at the big time sports programs are black. This is a civil rights issue and I'm glad to launch this bipartisan working group to fix the inequities in this broken system."
And note that U.S. Sen. and presidential candidate Cory Booker has called for "allow[ing]college athletes to be compensated for their 'name, image, and likeness' rights. As Sen. Booker points out, "current NCAA rules dictate that NCAA athletes cannot benefit from sponsorships or receive payment for the use of their name, image, or likeness (NIL) rights, or hire an agent or business manager."
Now, Del. Marcus Simon (D) has introduced a very similar bill (HB300) here in Virginia, with "a delayed effective date of July 1, 2024," which – among other things – blocks colleges and universities from "prohibiting or preventing a student-athlete from earning from another individual or entity compensation that results from the use of the student's name, image, or likeness, except in certain limited circumstances." Check it out.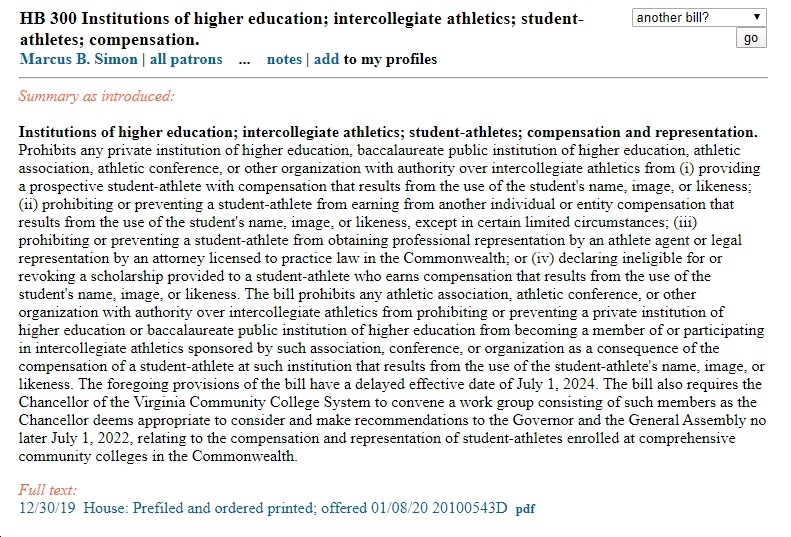 Again, what these bills – in many states and at the federal level – appear to be trying to do is to pressure the NCAA to change its policy on what it euphemistically refers to as "student-athletes." Why is this necessary? The Washington Post's Sally Jenkins explained it well back in late October (bolding added by me for emphasis):
"[T]he NCAA is in a panic over a raft of legislation that would make their current piratical rules illegal," with its leaders "desperate…to delay, and to hang on to its ravening economic system."
"As matters stand, the NCAA denies athletes their natural economic rights, and hijacks their names, images and likenesses for financial gain," with "the money generated by [an athlete's] talent, celebrity and image…go[ing] to pay the $600,000 salary for some mid-level associate athletic director and other cronies."
"The NCAA has fundamentally violated the rights of scores of athletes by forcing them into a separate and unequal class of citizens."
"The path was already there, created by legislators because the NCAA was so recalcitrant on this issue. California passed the Fair Pay to Play Act in September over the NCAA's baying protest, and Florida is right on its heels. California's law, set to take effect in 2023, would prohibit schools from punishing athletes for exercising their basic commercial rights. A dozen other states are considering similar laws. Then there is the federal measure proposed by Rep. Mark Walker (R-N.C.) that would strip the NCAA of its tax-exempt status if it continues to restrict the use of an athlete's name, image and likeness."
The NCAA's position is "utterly unsustainable…simply a bid to appease lawmakers, and try to regain the reins of the rule-change process before they are legislated out of existence in their current form."
"Lawmakers should keep the pressure on the NCAA, and hard, because unrelenting legal force is the only thing that revenue-bloated body has ever responded to…The NCAA has had years to make rules that genuinely benefit their 'student-athletes.' They have refused, except at the point of a legal threat. What we need now are laws."
All of which is why it's good to see states and Congress stepping up on this issue.