Just over a week after Erik Gutshall resigned from the Arlington County Board, and only 8 weeks after his diagnosis with brain cancer, more sad news…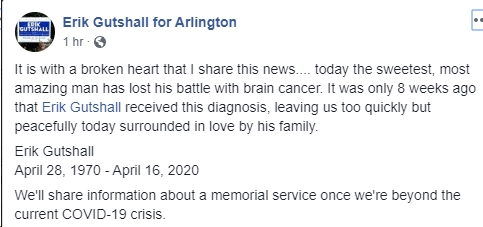 Personally, I am deeply saddened by this loss. I got to know Erik – who was just 49 years old – during his run for County Board in 2016 (and again in 2017), and was greatly impressed with him in many ways – his intelligence and tremendous knowledge of policy, for sure, but also his superb personality – funny, warm, engaging, caring, empathetic, curious, etc. Erik cared deeply about making Arlington a better place – more inclusive, more equitable, more environmentally sustainable – and he worked to turn his vision into reality. Erik's talent, energy and leadership will be greatly missed by many, myself included.
With that, here are some reactions from people who knew Erik…
Arlington Democrats: "News of Erik Gutshall's death from brain cancer is difficult to process. Erik was a true servant-leader who always put the needs of the Arlington community first. Arlington Democrats are grateful for his service and will sincerely miss his voice on the County Board, where he sought common ground and practical solutions for the challenges facing our community. During this difficult time, Arlington Democrats stand with Erik's wonderful family, who are in our thoughts and our hearts.
While a public memorial for Erik is not possible now due to social distancing requirements, we still can express our gratitude for Erik's service and support for his family virtually. Please leave a personal note using the comment field below. Together, we can honor Erik and demonstrate just how much he and his family mean to the Arlington community."
Arlington Young Democrats: "Arlington Young Democrats are saddened by the news of County Board Member Erik Gutshall's passing tonight. We hold Erik in high esteem for his years of commitment and service to the community as an activist and elected official. The county is darker tonight. We have lost one of our champions for real progressive change here in Arlington. We keep his wife Renee and daughters in our thoughts during this immeasurably difficult time. Erik, you will be dearly missed."
8th Congressional District Democratic Committee member Matt Royer: "Unbelievably sad news to hear tonight that Erik Gutshall has passed. We have lost a true champion for Arlington. He was one of the most genuine, kindhearted people you would ever be able to meet. I have always appreciated the support that he gave behind the scenes to myself and so many other young people trying to do good in the world and we are blessed to have known him and learned from him. Erik, we will miss your kindness, your spirit, and the enthusiasm that you brought to making our county better. You will be missed dearly by all. Thank you for everything."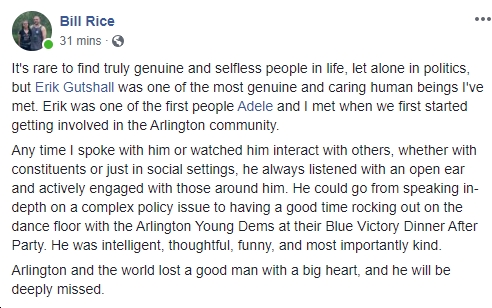 Fairfax County Board Chair Jeff McKay: "Arlington and the whole Commonwealth lost a great leader today. Erik was a friend and a strong voice for so many in the region. I'm heartbroken. Please keep the Gutshall family in your prayers. I know he made our larger Northern Virginia community a better place, thank you Erik for your public service and Rest In Peace."
Rep. Don Beyer: "I am heartbroken to hear tonight that Erik Gutshall, recent Arlington County Board member, has passed away. A champion for Arlington, we will miss him terribly."
Alexandria Mayor Justin Wilson: "‪Heartbroken to learn of the passing of former Arlington County Board member Erik Gutshall.‬ ‪Please keep his wife and three daughters in your thoughts during this unthinkable time.‬ ‪Hug your family a little closer tonight.‬"
Erik was a great leader and a staunch ally. A man who understood policy & worked hard for a better, more sustainable future. We will miss him horribly and Arlington is a darker place without his presence. https://t.co/tSD4R4lq6r

— Sustainable Mobility for Arlington County (@susmoarlington) April 17, 2020