Advertisement

Virginia State Sen. Chap Petersen (D? – Fairfax), who for months has been railing against stay-at-home orders, business closures, and other measures to combat the COVID-19 pandemic (which he has repeatedly minimized), has now filed this case (see below for highlights) in the U.S. District Court for the Eastern District of Virginia. According to the language in the filing (bolding added by me for emphasis):
This case arises from a decision by Dr. Northam, the Governor of Virginia beginning on March 12, 2020, to govern the Commonwealth by Executive Order, thereby (i) suspending civil rights in Virginia, including the right to peaceably assemble and attend religious services, and (ii) depriving certain persons of the right under Article I, Section 11 of the Virginia Constitution inter alia to own and utilize their private property. These Executive Orders were taken under color of a "public emergency" and bear no legislature imprimatur. Nor have they been reviewed on the merits by a court of competent jurisdiction. In fact, the state legislature has not been called into session since March 12, 2020, when it adjourned sine die for the year, except for a one-day "veto session" on April 22, 2020, which solely addressed the Governor's actions on bills previously passed. As of the date of this filing, the "Government by Executive Order" has been in effect for eighty-eight (88) days and counting. It is on its face a continuing violation of the United States and Virginia Constitutions.

This claim is a civil action under 42 U.S.C § 1983 and Article 8, Section I of the Virginia Constitution seeking damages and injunctive relief against Defendants for committing acts, under color of law, with the intent and for the purpose of depriving Mr. Tigges of rights secured under the Constitution and laws of the United States and the Commonwealth of Virginia.
In fact, most legal experts seem to agree that the governor has broad powers during a public health emergency.  Also, Sen. Petersen
kind of misses the point that the purpose of Gov. Northam's – and many other states' governors' – social distancing, stay-at-home orders, etc. was to prevent hospitals and ICUs from being catastrophically overloaded and to "flatten the curve" during the midst of a global pandemic. Meanwhile, Virginia is moving through the first couple phases of reopening, with plans being announced today regarding reopening of schools this fall. Anyway…it will be interesting to see what happens to this lawsuit in court.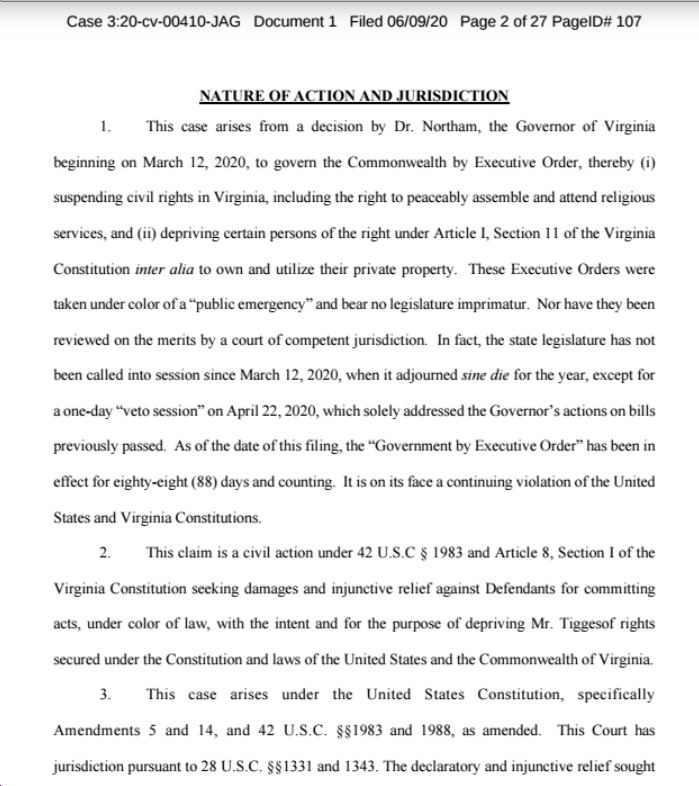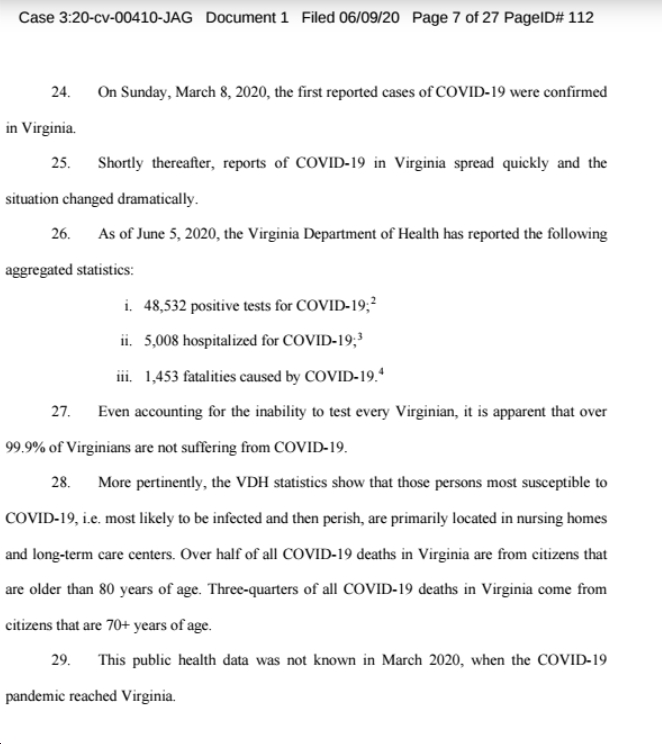 Petersen: "The Governor failed to explain why this 'science' had not been manifest in the ten weeks prior to the issuance of EO 64 when the COVID-19 was allegedly in its most lethal stage and people were walking into essential businesses every day."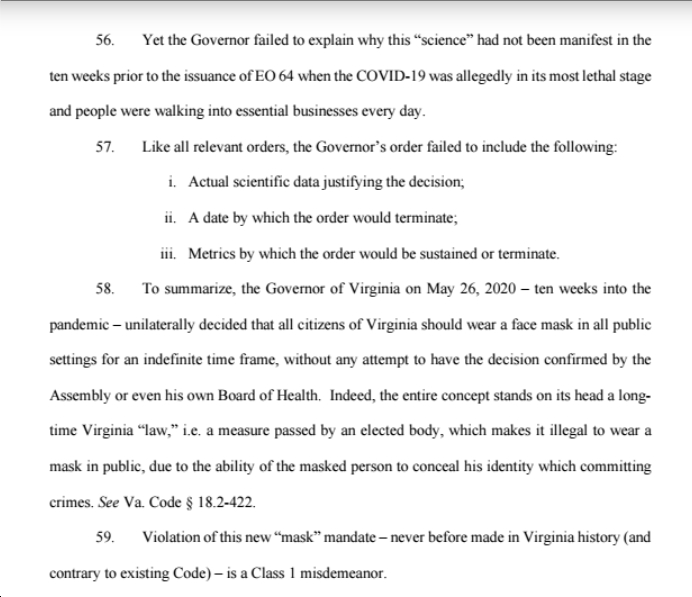 Petersen: "The Governor has a unique role in calling a special session; regardless, without a legislative mandate or lawful within the scope of a lawful delegation of administrative agency authority, there can be no binding law."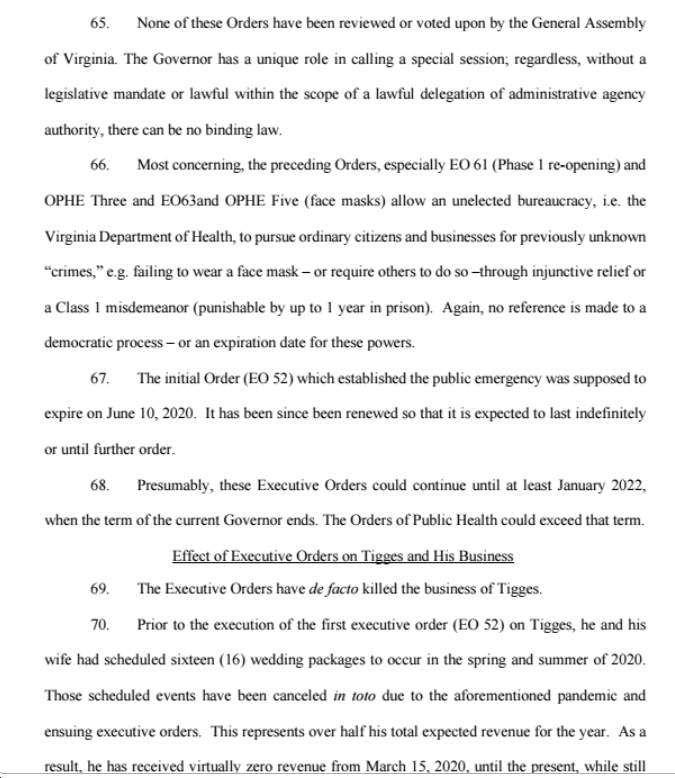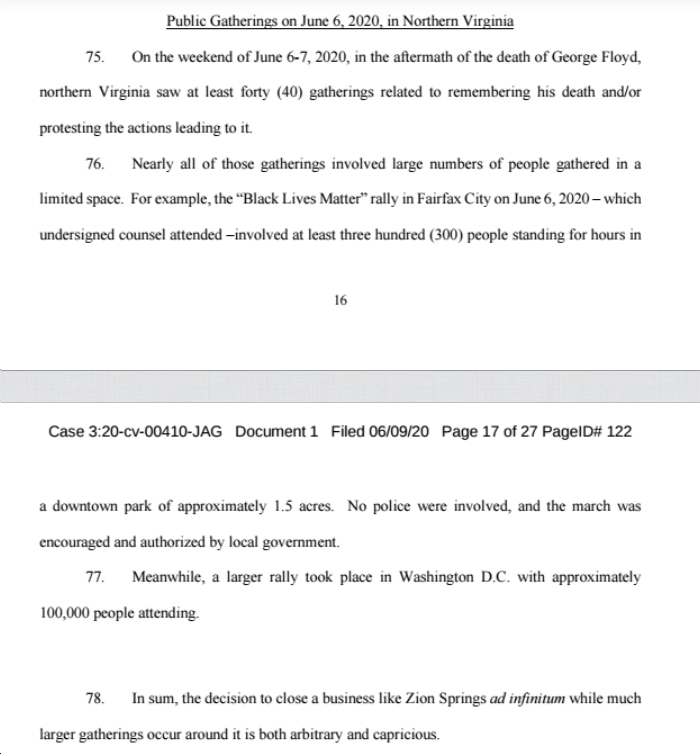 Petersen: "…there is simply no legal or constitutional basis for running a government by executive order for months on end."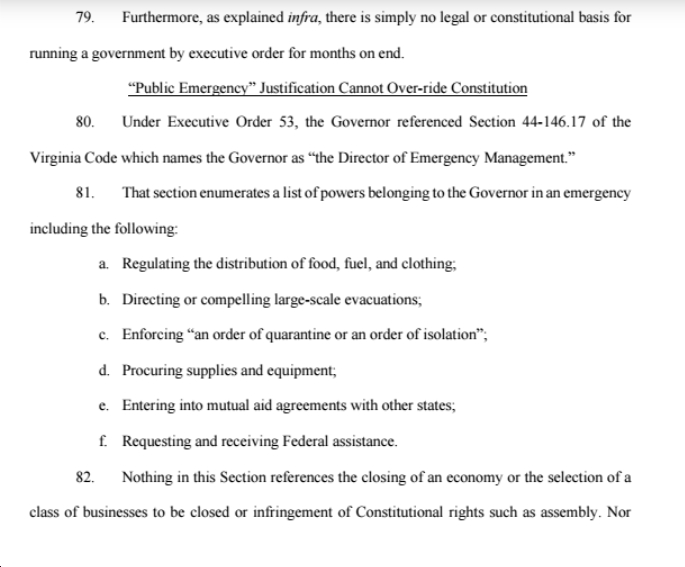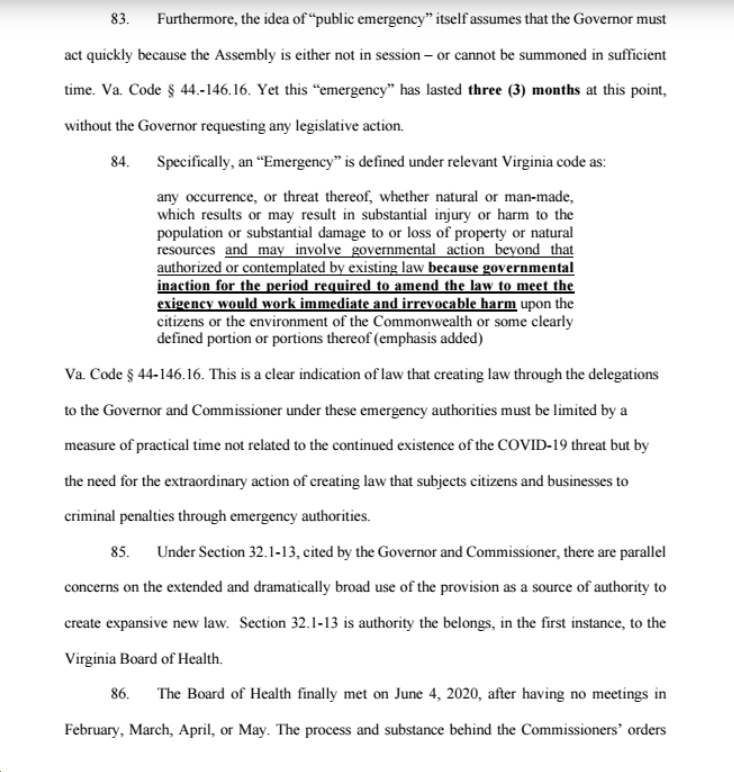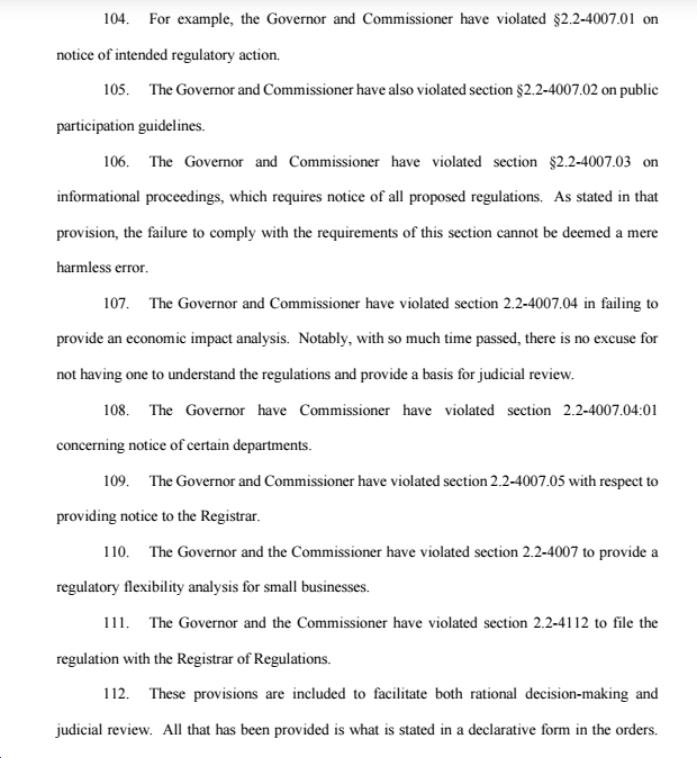 Petersen: "The sum of all these errors and omissions has been to render Virginia a Commonwealth ruled by decree, not by democratic methods."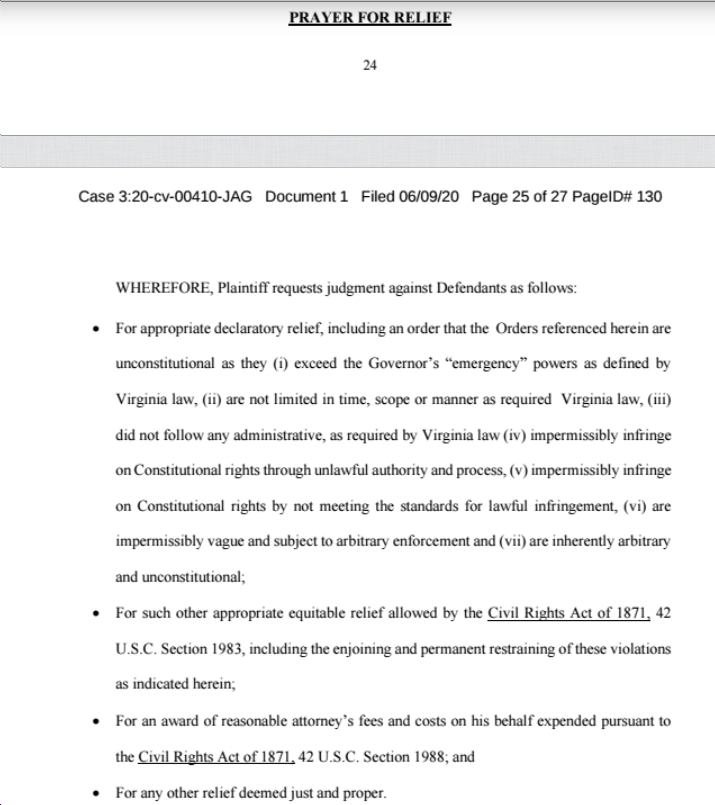 There's no paywall on Blue Virginia, and we definitely want to keep it that way! If you want to help support our work, you can donate here - thanks!
Also, you can
sign up for our weekly email list here
.