UPDATE 6/6 11:06 am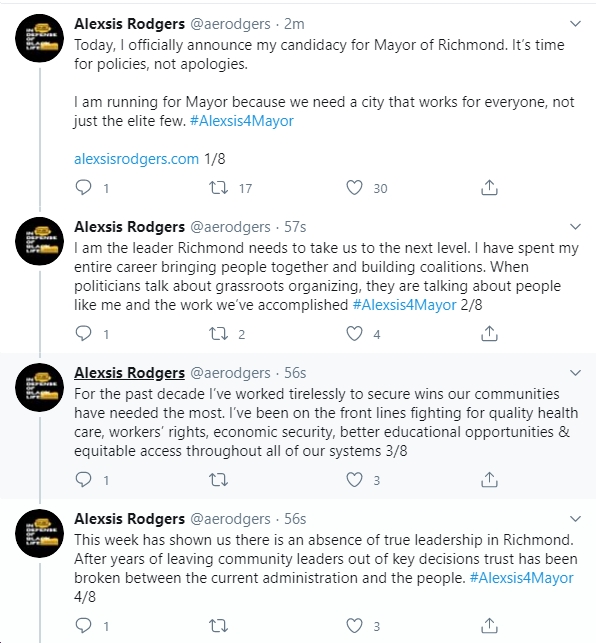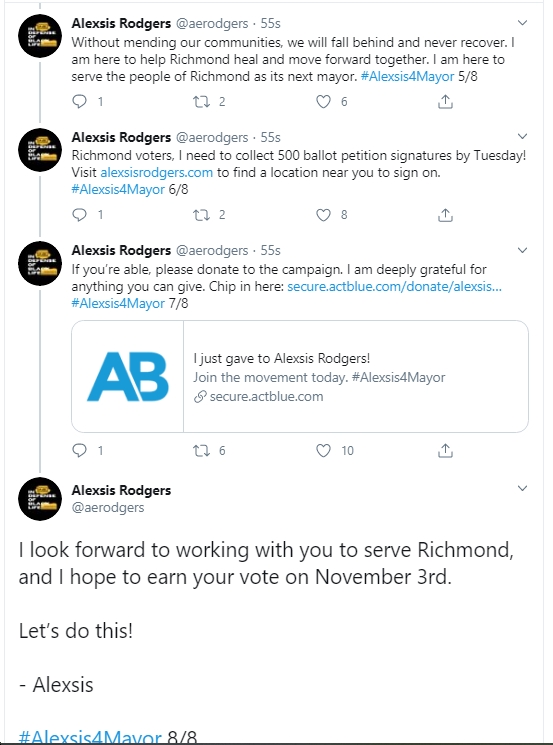 ******
Things are never dull in Virginia politics, that's for sure. That certainly includes Richmond right now, where the city has been a focus of national attention in recent days as – in the middle of the coronavirus pandemic – it faces protests over the killing of George Floyd; anger at Mayor Levar Stoney and the police over the teargassing of peaceful protests; debate about what to do with Confederate monuments; economic and other inequities; etc.
Meanwhile, politics and elections go on, with the next Richmond mayoral election set for this November, and with Mayor Stoney already facing three challengers – City Council (Ward 2) member Kim Gray, small business attorney M. Justin Griffin, and actress/businesswoman Tracey McLean.  The election, by the way, will be held under Richmond's, uh, "unique" system, in which a candidate has to win 5 out of 9 city wards – a plurality, not a majority, required. And if no candidate wins five wards? Then there would be a runoff in December 2020 – popular vote and wards don't matter, in that case. Got that? Very simple, right? LOL (note: Richmond went back to popularly elected mayors in 2004, when Doug Wilder won; he was succeeded by Dwight Jones, who served two terms, followed by Levar Stoney, elected in 2016).
So, Mayor Stoney versus three challengers? Actually, make that Mayor Stoney versus four challengers, if the following rumor – that Alexsis Rodgers will be throwing her hat in the ring tomorrow – is accurate.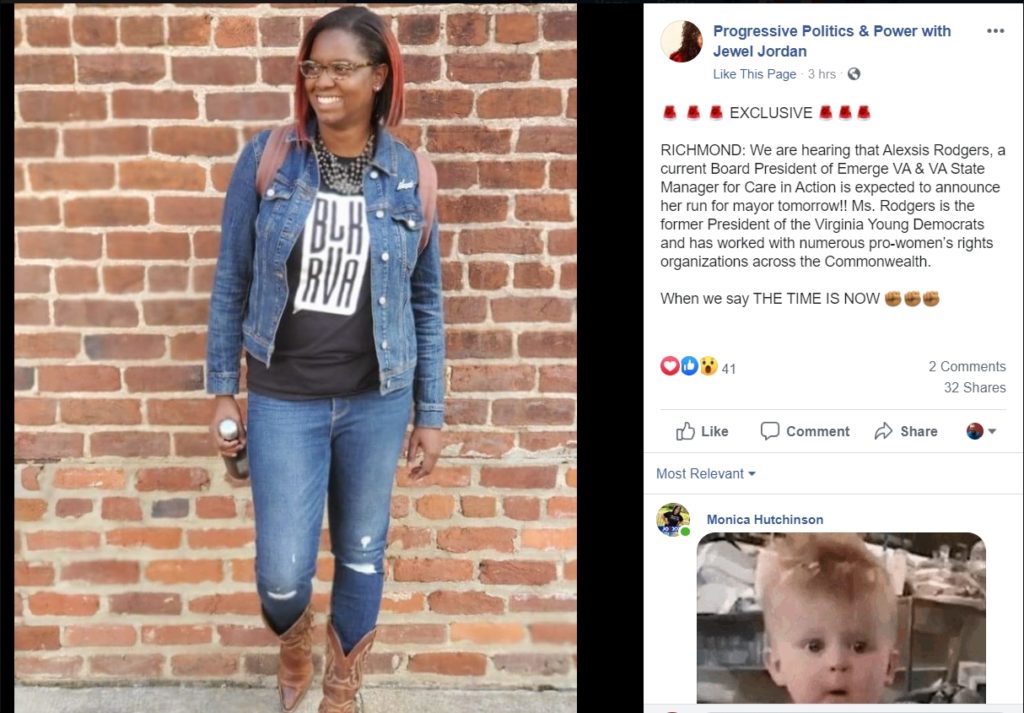 So who is Alexsis Rodgers? Here's a quick summary of her background:
Since July 2019, she's been Virginia State Director of the National Domestic Workers Alliance ("the nation's leading voice for dignity and fairness for the millions of domestic workers in the United States"), as well as the Virginia director for Care in Action ("a nonprofit, nonpartisan group dedicated to fighting for dignity and fairness for the millions of domestic workers in the United States, most of whom are women.")
From August 2017 to July 2019, she was Communications Director for the Virginia League for Planned Parenthood.
From December 2015 to August 2017, she was Policy Director for Lt. Gov. Ralph Northam.
From September 2014 to November 2015, she was Communications Director at Virginia 21, a groups which "empower[s] college students and young Virginians to be engaged citizens and advocates for issues important to them."
She also was a field organizer for the Obama campaign in 2012, as well as Political Director and President of the Virginia Young Democrats June 2014 through May 2020. She is a board member at Emerge Virginia, "the premier training program for Democratic women" in Virginia.
She graduated from Virginia Commomwealth University in 2013, with a B.S. in Mass Communications and a B.A. in Spanish.
Also of interest, Rodgers was named the 2016 "Rising Star" by the Richmond chapter of the Public Relations Society of America. Rodgers was recently quoted in an NPR story on LG Justin Fairfax, which had the following exchange: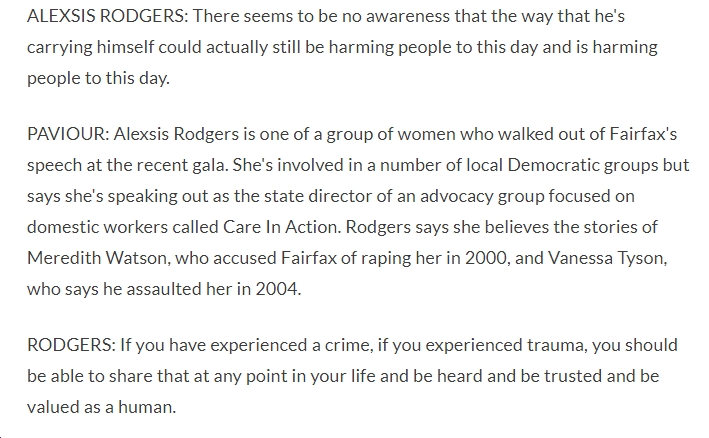 So, that's some background on Rodgers. We'll see what she has to say tomorrow, assuming she announces for Richmond Mayor, as the rumors have it…