My god, never a dull moment in Virginia politics, huh? And very, very weird timing for this…on the eve of the Virginia General Assembly's special session AND with the Democratic National Convention starting tonight?!?
For more background on what's going on here, see Video: Del. Don Scott (D) Defends Virginia Senate President Pro Tem Louise Lucas (D) Over Confederate Monument Protest in Portsmouth from June 13, when Lucas attended a protest over a Confederate monument in Portsmouth and was videotaped saying to the crowd things like "This [monument property] is city — anybody who pays taxes has the right to be on the property" and "The hell with City Council; it's your right to go on the property." Lucas also, supposedly, told the police "that the people were going to spray paint and vandalize the statue and they were not to arrest them."
P.S. See Sen. Lucas calls for immediate firing of Portsmouth police chief following protest at Confederate monument from June 11.
Here is a video thread for the press conference with the Portsmouth Police Chief announcing charges against Sen. Lucas and other electeds. Worth noting that she says she asked state & federal agencies along with the commonwealth attorney to investigate and they did not do it. 1/4 pic.twitter.com/9TnZbZx1mb

— Brandon Jarvis (@Jaaavis) August 17, 2020
Don Scott says Chief Greene refused to speak to him.

He also says he talked to the city manager Dr. Patton and she was not informed that these charges were being filed. @WTKR3 pic.twitter.com/z3d5VG4WiC

— Nana-Séntuo Bonsu (@NSBonsu_) August 17, 2020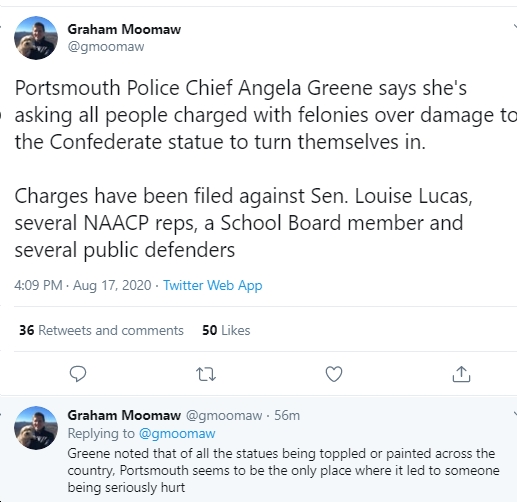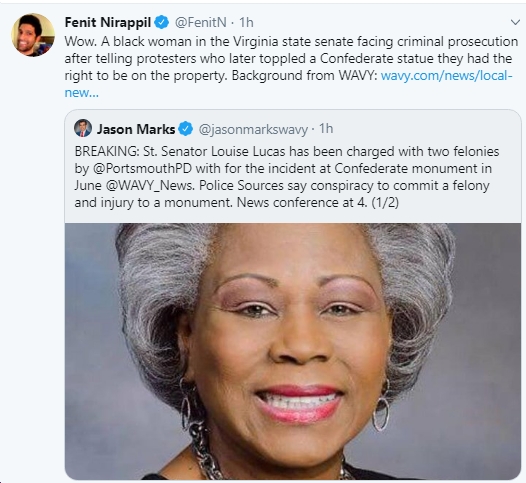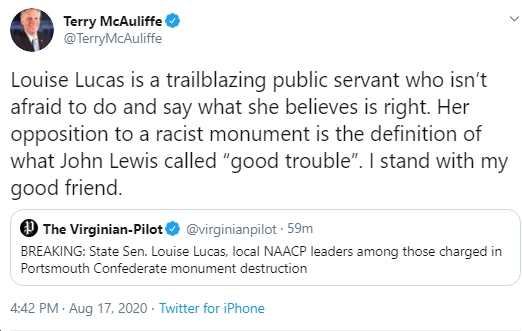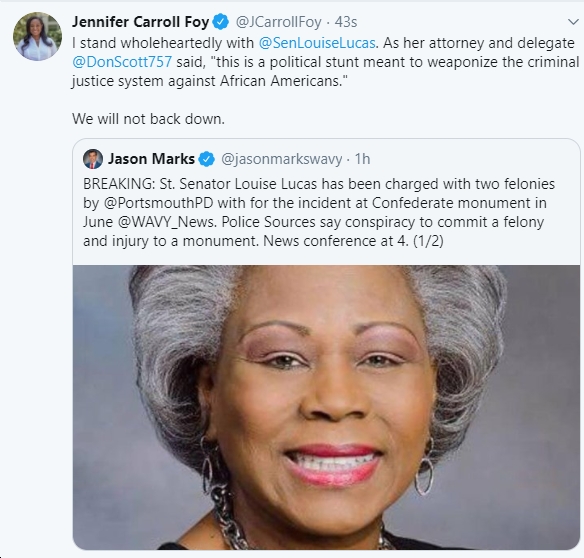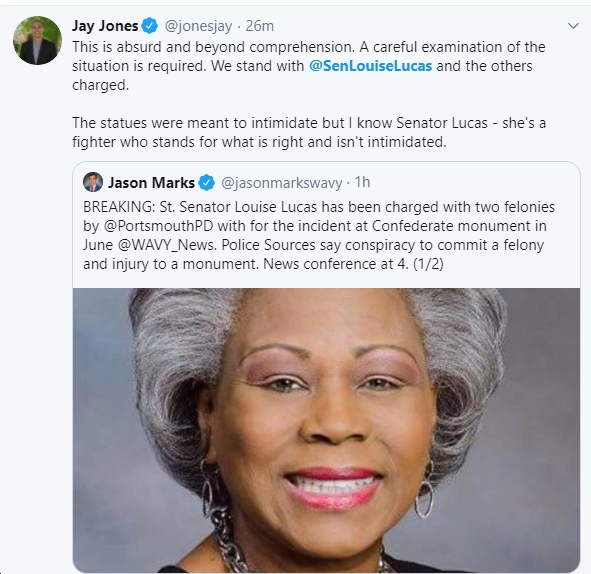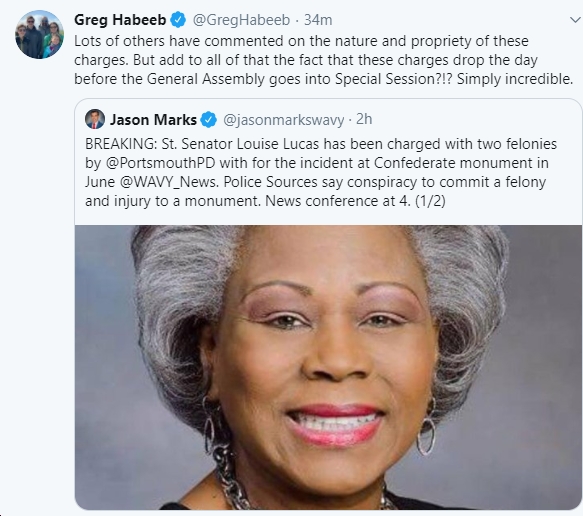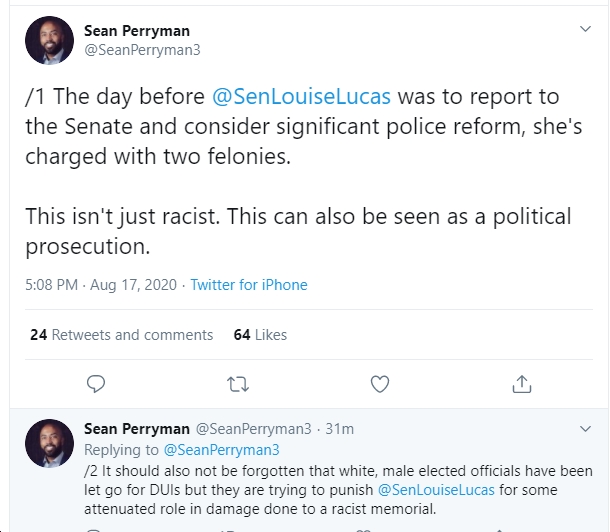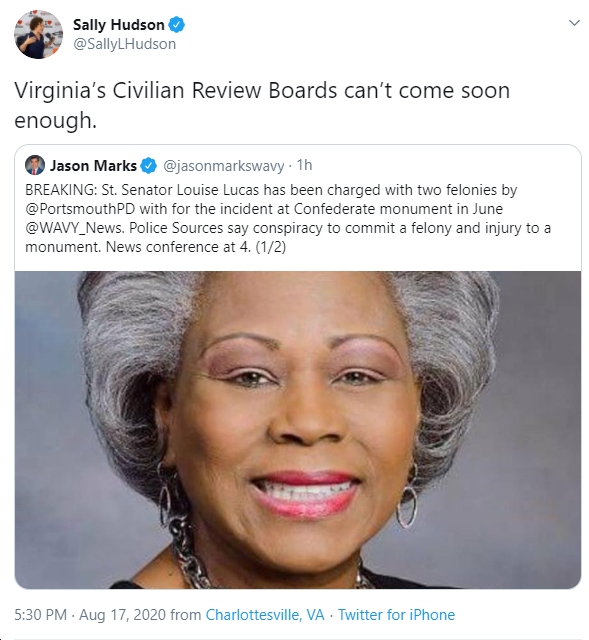 The Virginia Legislative Black Caucus Strongly Condemns the Suspicious, Baseless Charges Against Senator Louise Lucas by the Portsmouth Police Department
Richmond, VA — The Virginia Legislative Black Caucus (VLBC) strongly condemns the suspiciously timed and seemingly retaliatory actions by the Portsmouth Police against Senator Louise Lucas (D-18th, Portsmouth), a VLBC Member and President Pro Tempore of the Virginia State Senate.
On June 24, 2020, the VLBC released its Special Session Priorities, with a strong focus on policing reform and holding law enforcement accountable. Tomorrow will mark the first day of this Special Session, where Sen. Lucas will patron some of these key measures.
Yet today the Portsmouth Police Department announced that it was filing charges against Sen. Lucas, a long-standing public servant who has dedicated her life to public service and the people of this Commonwealth. This timely, suspiciously retaliatory attack on the first Black person and Woman to serve as President Pro Tempore of the Virginia State Senate is unacceptable.
"I believe during the incident in question, Sen. Lucas stood up for protestors," said Chairman Lamont Bagby (D-74th, Henrico). "We are confident that justice will be served and that she will be exonerated of these charges. She was there fighting for justice. These charges against her are simply outrageous."
Adding to the suspicious nature of these charges is the fact that Sen. Lucas plans to patron a bill this Special Session that will strengthen the ability to independently investigate police departments statewide.
The VLBC strongly stands by Sen. Lucas and expresses its full support for her and her long-standing leadership.
These attacks will not prosper. To quote Senator Lucas: Not this time.