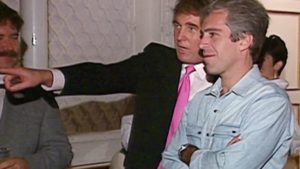 Many investigative journalists have done great work uncovering scandal upon scandal in this corrupt-to-the-core administration. But few outlets have put all of that corruption into perspective in a way that allows voters to grasp the awful depth & breadth of it all. Failing to find a useful guide to donald's vast array of scandals, I decided to create my own.
There have been so many scandals over the past four years that I can guarantee you've forgotten some of them. And with the election upon us, it's important to keep both the big picture and the details handy, for dealing with everyone from reporters who underplay the crookedness of this administration to far lefties who say that both parties are the same to Republicans who refuse to admit how badly they've been fleeced.
Below, I rank and categorize these scandals into a broad Top Ten. My ground rules were: to avoid more minor or personal stuff like marriage, health or generally being a jerk; to focus on transgressive, often law-breaking scandals as opposed to what could be characterized as policy stances; and to spend less time on recent or well-remembered scandals, in order to remind us of the many we may already have forgotten. I welcome your additions in the comments of any that I managed to miss.
And so, counting down from the bottom to number 1…
Mafia ties
It says a lot about the kind of guy donald is that his ties to mobsters represent the least scandalous thing on this list (by my ranking anyway). Some of these connections are murky, as is often the case with mob ties, which most folks try not to advertise. Examples include:
Beyond Russia – other suspicious foreign activity
While the campaign conspiracy with Russia merits its own category below, there have been a whole lot of murky, suspicious dealings with other countries worth mentioning – some of which appear to overlap with the Russian skullduggery. Examples include:
Fraud
While most of the focus of the other categories is on donald's campaign and administration, his lifetime record of defrauding others, usually with few consequences, is also worthy of discussion. It is frankly shocking that this history did not garner more attention in 2016, considering such doozies as:
Sexual assault & abuse
donald's history as a serial sexual abuser is well-known, so I'll just cite a few sources that recount that history:
Besides his own history of abuse, donald certainly seems drawn to men with the same tendencies, like:
Nazism & discrimination
The elevation of blatant racism to the highest levels of American politics and government, after decades of progress on race relations, is not a mere policy choice, but a scandal. The number of people in the administration and campaign, as well as general supporters, who have been exposed as unrepentant Nazis is shocking, and not by any means a coincidence.
Major examples include:
And the evidence is clear that these repellent ideologies have been directly applied to administration policies on immigration and other issues. Evidence of that includes:
War on truth: lies and propaganda
Democracy depends on the public having access to reliable facts on which to base their political choices. Elected officials blatantly lying to the American people is a gross betrayal. And while there have always been politicians who have misled or shaded the truth, no figure in American history has come close to donald's record of deceit – over 20,000 documented lies during his presidency, per the Washington Post's latest count.
With so many to choose from, it's hard to play favorites, but just a few of donald's most corrosive lies and acts of deception include:
War on government ethics
Beyond the personal financial benefit he has been squeezing out of his time at the White House, donald has been undermining the rule of law, ethical practices and basic checks and balances at a wide array of agencies. Indeed, the damage is so extensive that this is one category where my attempts to list it all will certainly fall short.
But let us at least survey that damage:
Emoluments – Raiding the Treasury
Ethics and conflict of interest laws maintain the integrity and reputation of our government so that we can have some confidence that decisions are being made based on how they benefit the public, not the president personally. Many have pointed to the example of Jimmy Carter selling his peanut farm as an example of how far most modern presidents have gone to avoid conflicts of interest.
donald has taken a different course, to put it lightly. Early in the administration, he announced his plan to maintain his stake in his company with the laughable fig leaf of his sons taking over day to day management and supposedly not talking with him about it.
Citizens for Responsibility and Ethics in Washington (CREW) tracks the conflicts of interest that he has piled up as he has promoted his businesses rather than the interest of the country. These blatant conflicts, pouring money into his pocket, include:
Exploiting the Pandemic
As we are living every day with awareness of the awful fallout of the COVID-19 pandemic, I won't spend much time on it. But in terms of both death toll and the impact on the economy, this is donald's biggest catastrophe – and second largest scandal when you consider how much responsibility he bears for the scope of it:
The Russia conspiracy
The mother of all of donald's scandals – the one that helped illegitimately bring him to power – while extensively covered in the press, has still been downplayed in comparison to what a blatant, treasonous, impeachable high crime it was, and continues to be.
The Moscow Project is a useful resource for this scandal, with its documentation of 272 contacts between donald's campaign and Russia-linked operatives, including 38 known meetings involving at least 33 high-ranking campaign officials. There has never been anything like this level of interaction between a presidential campaign and a hostile foreign country in US history.
The mountain of evidence showing how compromised donald was and clearly still is includes:
*********
If all of the above leaves you overwhelmed, it's not your fault – it's the intended result of a psychological warfare campaign meant to be the domestic equivalent of blitzkrieg or "shock and awe". (The information warfare versions of those tactics have been referred to by Steve Bannon's colorful phrase "flooding the zone with sh*t" and Putin's "firehose of propaganda" technique.)
In terms of crime & dishonesty, donald's approach seems to be to go big precisely because it's harder to track a hundred scandals than to focus on just one. Or maybe because the dishonest way is the only way he knows how to do anything.
Regardless, putting all of that graft and corruption into an organized reference list allows us to better process the scope of it, to use it as a weapon against the rotten Republican establishment, and to mark and remember all that has been broken so that we can more swiftly and effectively repair our government and society once we have finally crushed and defeated this gang of lawless thugs.
(Cross-posted on Daily Kos.)