UPDATE 6:44 am – In VA10, Rep. Jennifer Wexton (D) easily defeated her Republican opponent, Aliscia Andrews, 56.4%-43.5%. In VA01, Rep. Rob Wittman (R) defeated Democrat Qasim Rashid by nearly 18 points (58.8%-41.1%).
UPDATE 6:13 am – With all precincts reporting in VA Beach, it appears that – sadly – Mayor Bobby Dyer (R) has defeated Democratic challenger Jody Wagner by a 51.9%-43.7% margin. 🙁
UPDATE 6:00 am – In VA02, Rep. Elaine Luria (D) appears to have won reelection, with 50.94% of the vote to Republican Scott Taylor's 46.49%. So…about a 4-point victory, which is similar to what the polls were suggesting. Congrats to Rep. Luria! 🙂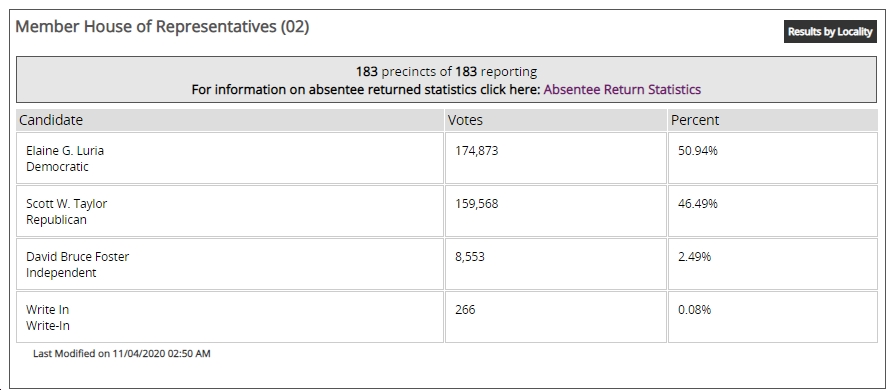 UPDATE 5:58 am – In VA07 right now, with 231/232 precincts reporting, it's looking like potential recount territory, with Republican Nick Freitas ahead of Rep. Abigail Spanberger (D) by just 263 votes (199,786-199,513). You can't get much closer than this. As for the remaining precinct, it appears to be absentees in "red" Spotsylvania County, so that's not particularly encouraging. But let's just wait and see, since it's SO close…

UPDATE 5:55 am – As of now, Biden leads Trump in Virginia by about a 9-point margin (53.65%-44.48%), with 2579/2585 precincts reporting. So in the end, it looks like Biden will win Virginia by a bit less than the 11-point margin the polls seemed to be indicating. Not too bad.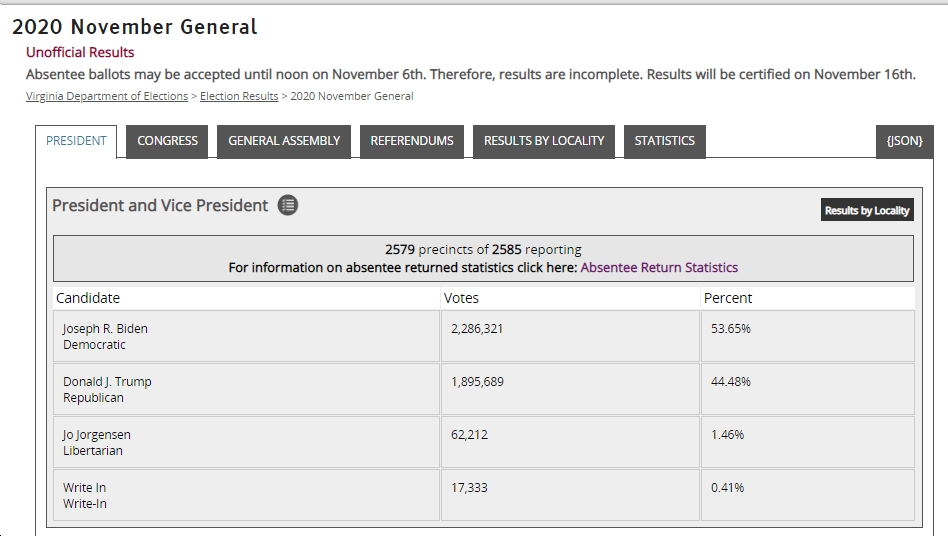 UPDATE 12:33 am – Dr. Cameron Webb has just conceded the race in VA05 to Republican Bob Good. Ugh.
UPDATE 12:29 am – According to VPAP, with "86.23% of Expected Vote Reported," it's now Biden 1,962,521 (51.81%)-Trump 1,753,158 (46.28%).
UPDATE 12:21 am – Rep. Abigail Spanberger (D-VA07) tweets "Our votes are our voices and every vote matters! As an update- Henrico, Chesterfield, Spotsylvania, and Powhatan haven't yet reported their 220,000+ early votes, and across #VA07, there are thousands of pending mail-in ballots. As we continue to monitor the results and wait for every vote to be counted, I want to take a moment to thank all of you for your tremendous support!"
UPDATE 12:01 am – According to CNN reporter Ryan Nobles, "Here you go… as predicted. A big batch of Virginia votes have come in. Biden now leads: (they are still counting)." So…on the CNN website, it now has it Biden 1,848,523 (52.4%)-Trump 1,618,388 (45.9%), with 75% of the vote in.
UPDATE 11:54 pm – According to reporter Amy Friedenberger, Republican Bob Good has declared victory in VA05. "Associated Press hasn't called this race yet, but Good feels comfortable with his lead and that Webb won't overcome the margin with the outstanding absentee ballots. Webb's campaign is saying they're waiting until all the votes are counted."
UPDATE 11:51 pm – Per reporter Ryan Nobles, "VIRGINIA update: via/@KristenhCNN: Fairfax, VA estimates they will have their roughly 400,000 absentee ballot results in the next couple of hours, likely before 1 am, per Brian Worthy, a spokesman for the county."
UPDATE 11:25 pm – Still just 65.09% of the "expected vote" reporting (still mostly from Election Day, which skewed Republican), and Trump leads narrowly (50.49%-47.48%). But outstanding votes including a huge Democratic haul in Fairfax County early voting, plus "blue" areas like Richmond City and Henrico County. Hopefully, we'll see those results shortly, as they're supposed to be released after 11 pm…which it is right now. 😉
UPDATE 11:10 pm – In Arlington County, congrats to Democratic nominee/incumbent Libby Garvey, who defeated Independent Audrey Clement handily to win reelection to the County Board; and Democrats David Priddy and Cristina Diaz-Torres, both of whom were elected for the first time to the School Board. Also, Amendment 1 lost in Arlington, 55.4%-44.6%…although it is winning by a big margin statewide.
UPDATE 10:55 pm – Former Gov. Terry McAuliffe tweets, "Please stop calling me about Virginia. They have not counted the 2.7M early votes. They'll all be in by 11 and we will win big."
UPDATE 10:53 pm – From Brandon Jarvis: "The VA Department of Elections said that the vote count is going well but they are stopping at 11 p.m. and reporting the results up to that point. Counting will resume on Wednesday and the results will be announced no earlier than Friday at noon…DoE official: 'I want to again preach patience. These numbers could change significantly through the night as the CAP numbers are reported. And as I said earlier this morning, we've given them a cutoff time of 11 p.m. so we should see absentee numbers coming in after that time.'"
UPDATE 10:50 pm – According to VPAP, "In CD5, waiting for AB votes in Albemarle, Fauquier, Campbell, Bedford, Franklin & Fluvanna. Good is ahead by 25,552 votes, w/an estimated 115,277 absentee votes outstanding. To pull ahead, Webb would need to win at least 61.1% of remaining votes."
UPDATE 10:50 pm – According to VPAP, "In CD7, all that is left is absentees in Chesterfield, Henrico, Powhatan & Spotsylvania. @NickForVA ahead by 48,209 votes, w/an estimated 226K absentee votes outstanding. To pull ahead, @SpanbergerVA07 would need to win at least 60.7% of remaining votes."
UPDATE 10:37 pm – In local races, Democrat Libby Garvey is easily winning reelection to the Arlington County Board against Independent Audrey Clement, and Democrats David Priddy and Cristina Diaz-Torres are easily winning election to the Arilngton County School Board. Congrats. Also, it looks like Amendment 1 lost in Arlington (65,293-52,428, with only provisional ballots outstanding).
UPDATE 10:26 pm – AP just called VA10 for Rep. Jennifer Wexton (D). Congratulations!
UPDATE 10:08 pm – This is helpful from Loudoun County Board Chair Phyllis Randall: "Loudoun folks, let me walk you through what's happening. The vote count coming in is the vote from today. The in person vote. If you voted early you didn't report what precinct you live on. That because all early votes are considered one precinct. So at some point they will add that one precinct. I believe (not positive but pretty sure) that's about 150k votes. So, in short the results you're looking at right now is only about 30% of the total vote count. Everyone take a breath."
UPDATE 9:41 pm – Currently, 44.98% of the expected Virginia vote has been counted, and Trump leads 55.1%-43.2%. Buuuut…the thing is, most of the vote total so far comes from votes cast ON election day, which skews strongly Republicans, as opposed to the early votes, which skew heavily Democratic. For instance, early votes still not reported right now include those from large, deep-"blue" Fairfax County, "blue" Prince William County, "blue" Loudoun County, plus "purple" Chesterfield County and "purple" Virginia Beach, "blue" Henrico County, "purple" Chesapeake, "blue" Richmond City, "blue" Alexandria, etc. Add it all up, and there are 2,260,999 early votes outstanding, heavily from "blue" areas of Virginia. So…let's wait until they're reported after 11 pm. Also note, AP called Virginia for Biden and Warner a looong time ago. But we still don't know about important U.S. House races in VA02, VA05 and VA07. Hopefully, we'll know a LOT more in 1 1/2 hours or so…
UPDATE 8:40 pm – In VA05, Danville has reported all its precincts, including absentees, and Democrat Cameron Webb has won it 11,942-7,047. Webb also won Nelson County (4,599-4,546) and Brunswick County (4,557-3,269). Republican Bob Good has won Appomattox County (6,362-2,671) and Lunenberg County (3,378-2,415). Still tons of early/absentee votes left to count, so it's hard to know what to make of these results right now.
UPDATE 8:15 pm – The AP has called VA08 for incumbent Rep. Don Beyer (D) and VA01 for incumbent Rep. Rob Wittman (R). Neither is surprising, although I was hoping for a miracle in VA01.
UPDATE 7:38 pm – The AP just called Virginia for Joe Biden. 🙂
UPDATE 7:18 pm – By the way, since such a huge % of votes this election were cast early, and since those will probably not be reported until much later in the evening, don't be surprised if some of the early results look very "red." They are mostly a mirage, as they will be swamped whenever jurisdictions release the massive early/absentee ballot motherlode…
UPDATE 7:04 pm – The AP just called Virginia for Sen. Mark Warner. That was fast…but not surprising. Congratulations to Sen. Warner on getting "rehired" by the people of Virginia! As former VA House Dems Caucus Chair Trevor Southerland puts it, "Hell of a job by @VA_GOP. It took til 7:01 for the AP to call Virginia's Senate race." 😉
UPDATE 7 pm – Polls are now closed. As AG Mark Herring points out, "f you are in Virginia and still in line to vote stay in line! You will still be allowed to vote as long as you were in line by 7PM!" By the way, as I posted earlier, expect deep-blue Arlington County to release 102,000 CAP ("central absentee precinct') ballots between 7 and 7:30 pm. Also, Henrico County's supposedly going to release another 100k between 8:30 and 9 pm.
*****************************
The last four years have, clearly, sucked. Really, really sucked. America's standing in the world trashed. 230,000+ Americans dead from COVID-19. Constant corruption and incompetence, nastiness and buffoonery and bigotry from the White House, plus massive giveaways to polluters, the super-rich (who have, indeed, gotten much richer – shocker, eh?), corporations, etc. The ugliest aspects of America, such as systemic racism and white supremacy, made crystal clear. Severe problems with the media, including continued "both sidesism" and "false equivalency," plus a relentless firehose of falsehoods spread by bad actors, but also the failure of the media – including social media, such as Facebook – to deal with it appropriately.
Yes, it's been a nightmare, the likes of which we haven't really seen before – other than the Civil War, presumably; the Great Depression (particularly when Republican Herbert Hoover was in the White House, doing nothing to help matters and a lot to hurt); and maybe World War II, although at least then we had a great president and a strong sense of national unity. And, to top it off, we can't even feel 100% confident that the winner of the most votes in this election – which is almost certain to be Joe Biden –  can be assured of a peaceful transition of power, given attempts by Trump and his enablers  – including at the Supreme Court – to ratf*** the election. Which, by the way, is completely FUBAR that it's even a *possibility* we have to think about, in our wildest fever dreams…
So…with that fun intro, and with the prospect of all kinds of idiocy and insanity tonight and in coming days (e.g., Trump and his minions claiming "victory" if/when they get an early lead in vote counts,  possibly demanding that the vote counting be stopped, which obviously is insane and wildly illegal…), see below for a live blog of results from Virginia tonight. I'm really hoping that at least the presidential and U.S. Senate elections here in Virginia can be called tonight (of course, it's basically a 100% lock that both Biden/Harris and Warner will win Virginia, the only question is the margins of victory). We'll see about VA02 (Rep. Elaine Luria vs. Republican Scott Taylor) and VA07 (Rep. Abigail Spanberger vs. Republican Nick Freitas) – it's certainly possible we could know the results of those tonight, but it's also possible we'll have to wait until tomorrow or beyond. As for VA05 (Democrat Cameron Webb vs far-right Republican Bob Good), I'd be surprised if we know the final results tonight, or maybe even tomorrow. We'll see. Also, I'll be keeping an eye on key mayoral races in Richmond (we'll see if that one has to go to a runoff or not) and Virginia Beach (where I'm rooting hard for Democrat Jody Wagner over Republican incumbent Bobby Dyer).
Now, on a more positive note, just think about how much better things will be, assuming Biden/Harris win this election – especially if Democrats take back the U.S. Senate, which is absolutely essential by the way. Sane, rational, responsible leadership for a change. Empathy, not cruelty. Competence, not utter incompetence. Working with our allies and against our enemies, not the converse of that. Believing in science and, more broadly, fact/reality, as opposed to the "inject bleach"/"COVID will just disappear" crowd. Leadership we can be proud of, instead of horrified to even think about. Tons of great new laws to protect our environment, expand voting rights, fix our severely ailing democracy, expand affordable/quality health care coverage to all Americans; etc. And, imagine this: being able to get back to our lives without having to think about the "narcissistic maniac" – to use Ralph Northam's memorable turn of phrase – in the White House for a change? What a concept.
Anyway, I'll be focused on following the election here in Virginia, where polls close at 7 pm. My main source for Virginia election data will be the State Board of Elections website (assuming it doesn't crash, which seems like an election night tradition) and VPAP. I may also check in with the Fairfax County Board of Elections numbers, as they are sometimes faster than the SBE. Oh, and to see my previews of what to look for in specific districts tonight, see here for VA01, here for VA02, here for VA05 and here for VA07. With that, it's showtime!
P.S. Oh yeah, almost forgot about Amendment 1, which I'm assuming will pass…unfortunately.