UPDATED 2/12: Here's the consent decree…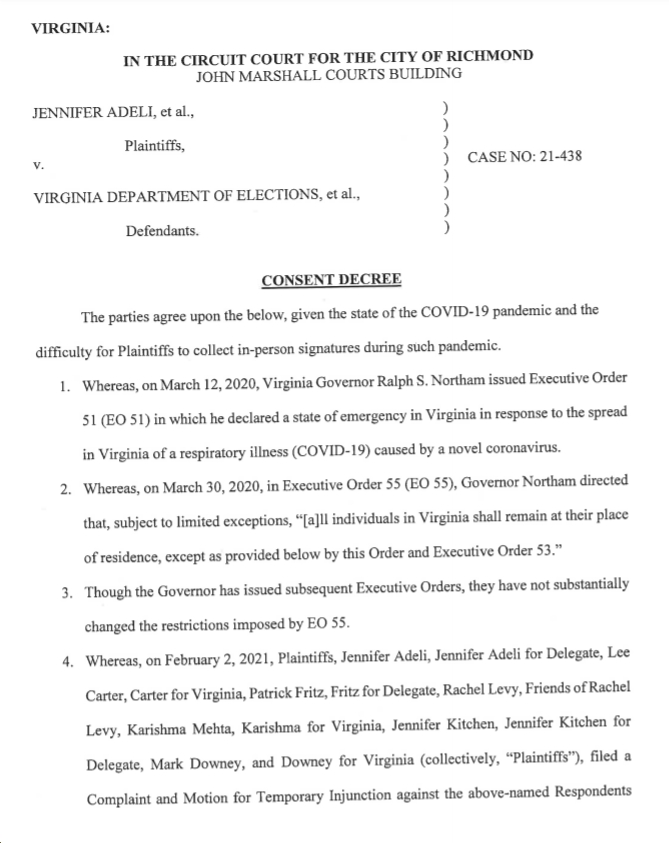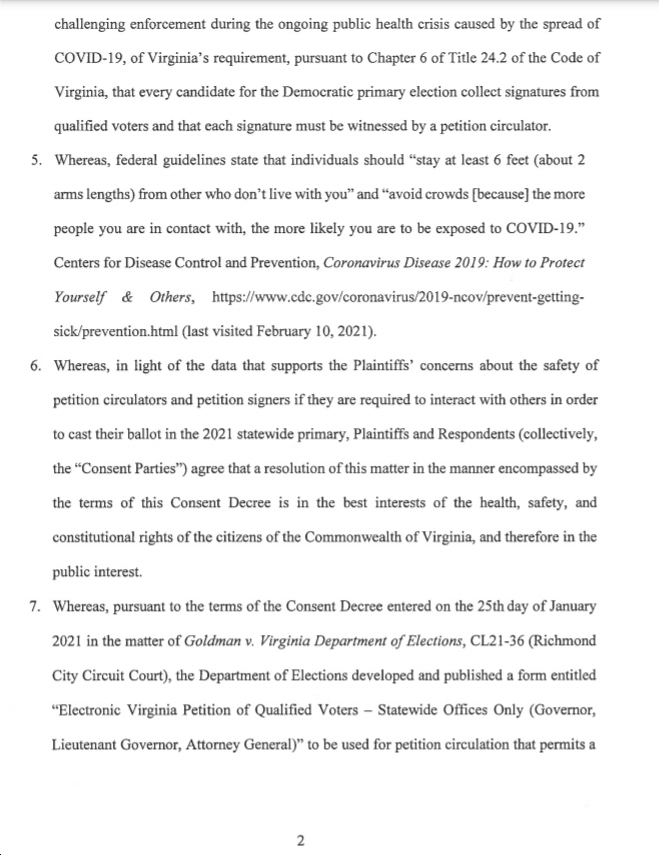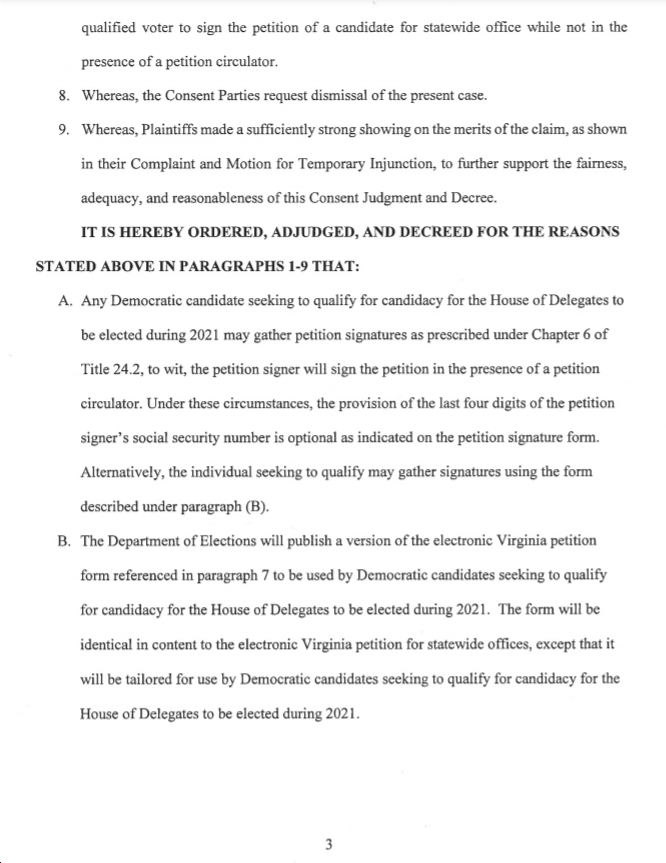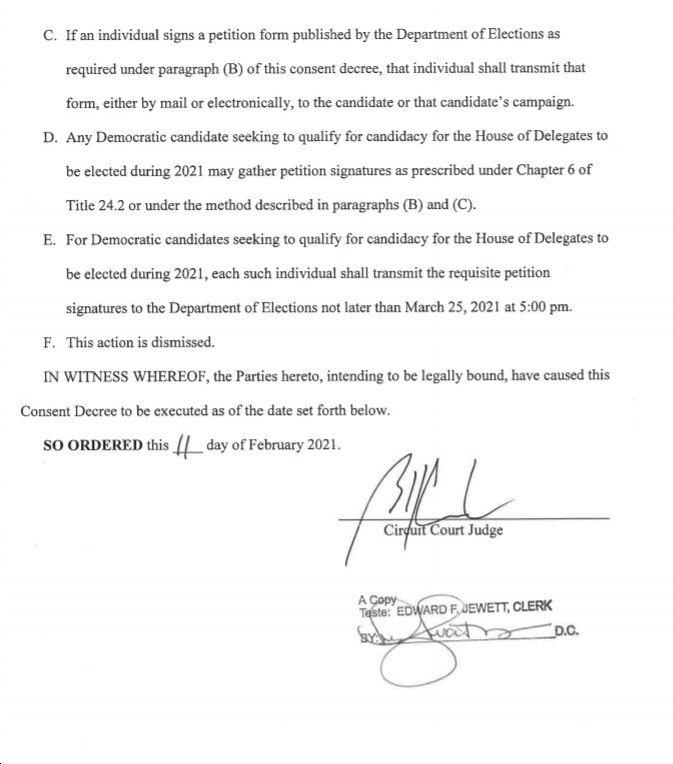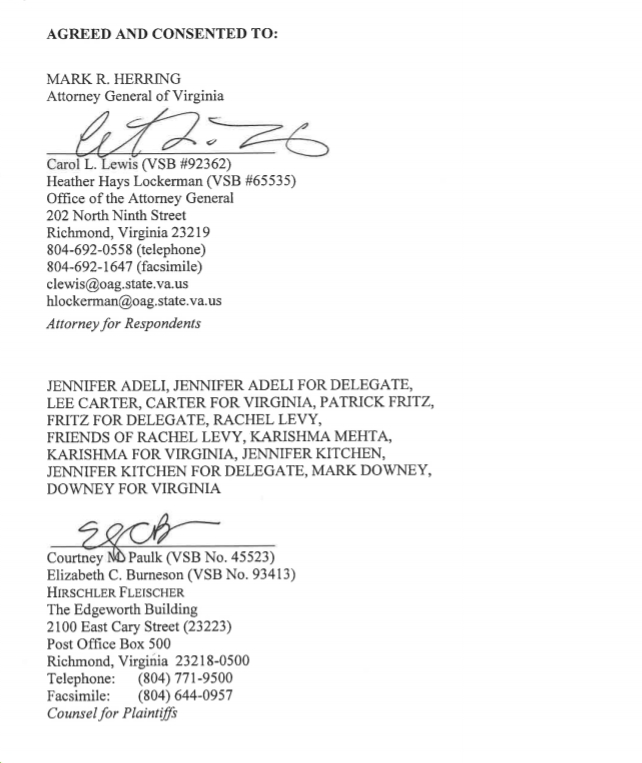 The following press release is from the Jennifer Adeli for House of Delegates campaign, which was the lead plaintiff on this case. Nice job!
Great Falls, VA — The Jennifer Adeli for Delegate campaign is pleased to announce that the Virginia Department of Elections, the Attorney General, and plaintiffs in our lawsuit for a contactless method of ballot petition signature gathering have come to a Consent Decree agreement approved today by the Circuit Court for the City of Richmond. 
Earlier this month, the Jennifer Adeli for Delegate campaign, along with several other Democratic candidates for Delegate around the Commonwealth, filed a temporary injunction and complaint seeking that the Department of Elections must allow the collection of ballot petition signatures via mail and online. 
"I could not be happier with this quick action to allow all Democratic candidates for Delegate across the Commonwealth to have a safe, contactless method to collect the required signatures to appear on this year's ballot" said Adeli. "We saw that the existing method of collecting signatures was inherently unsafe during the COVID pandemic, requiring face-to-face distribution of petitions and in-person notarization. 
The Adeli campaign led this action in order to protect the public from unnecessary exposure during the statewide COVID state of emergency declared by Governor Ralph Northam. 
Per the agreement, the Department of Elections must publish a version of the electronic petition form used by statewide candidates, to be made available for those seeking the Democratic nomination for the House of Delegates. The form is expected to be released soon.
"Today's agreement is a reminder that the COVID pandemic requires us to rethink many of our old ways of governing and serving the community and begin using up-to-date methods, tools, and technology available to us" said Adeli. "If I am elected to serve the Commonwealth in the General Assembly, I will introduce legislation to make this change permanent and integrated with our voter registration portal, to ensure secure and immediate authentication of signatures – a process that is historically error-prone, manual, and time consuming."
The Adeli campaign is joined in this suit by:
LEE CARTER and CARTER FOR VIRGINIA  

PATRICK FRITZ and FRITZ FOR DELEGATE

KARISHMA MEHTA and KARISHMA FOR VIRGINIA 

JENNIFER KITCHEN and JENNIFER KITCHEN FOR DELEGATE 

MARK DOWNEY, M.D. and DOWNEY FOR VIRGINIA

RACHEL LEVY and FRIENDS OF RACHEL LEVY
The lawsuit was originally filed on February 2, 2021
Jennifer Adeli is a candidate for the Virginia House of Delegates in HD34, encompassing Great Falls and parts of McLean, Vienna and Loudoun County. The primary date is June 8, 2021.