See below for the 2Q21 Virginia fundraising numbers as they're coming in (source: VPAP).  I will continue to update this post.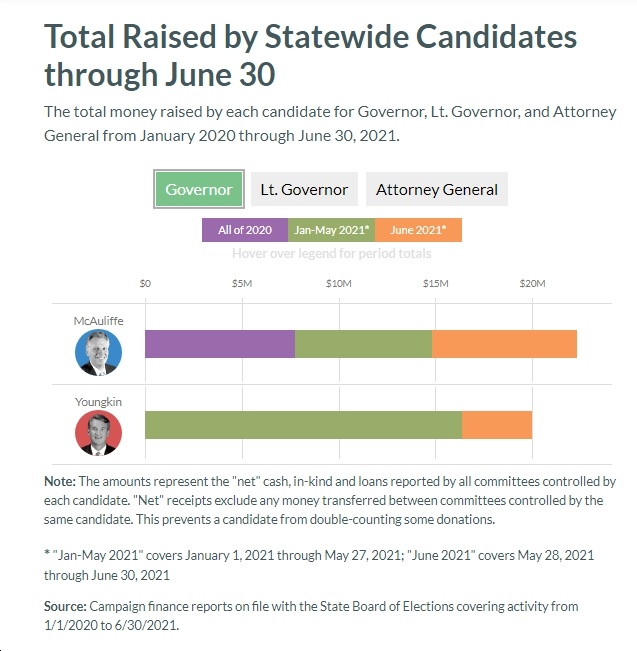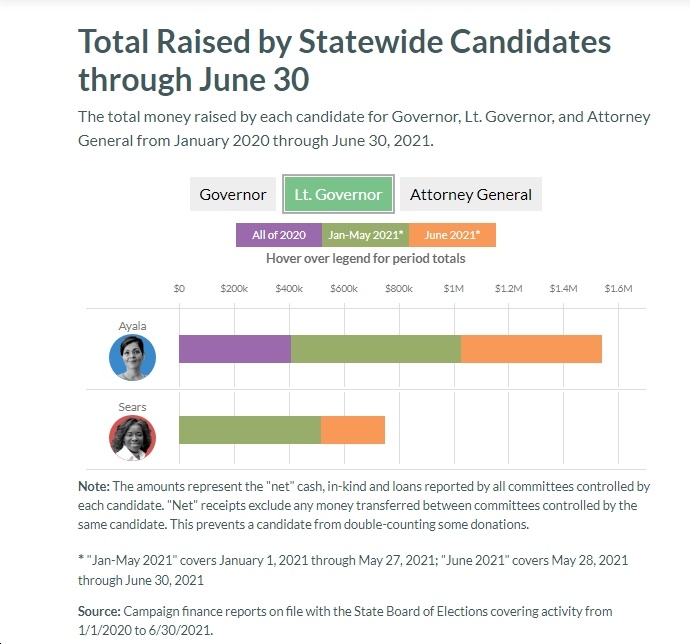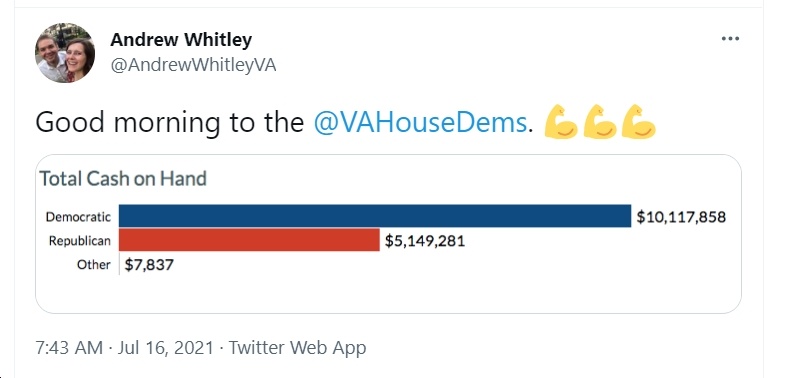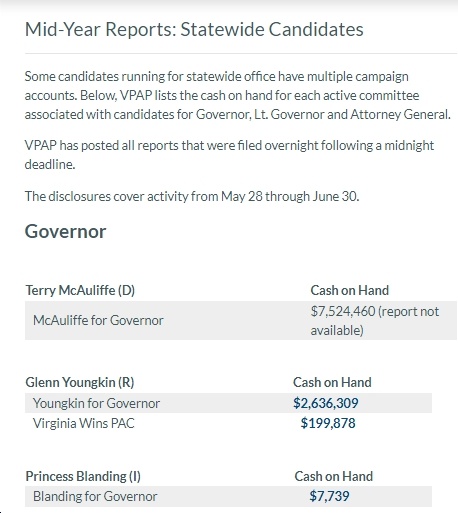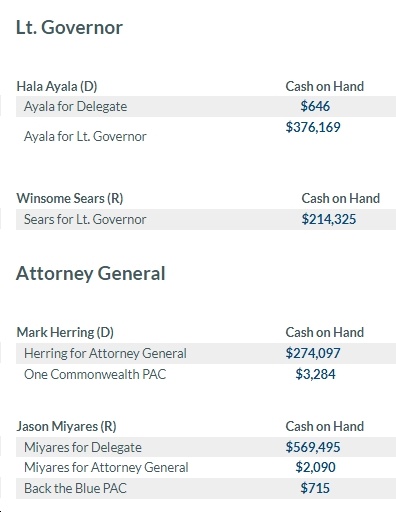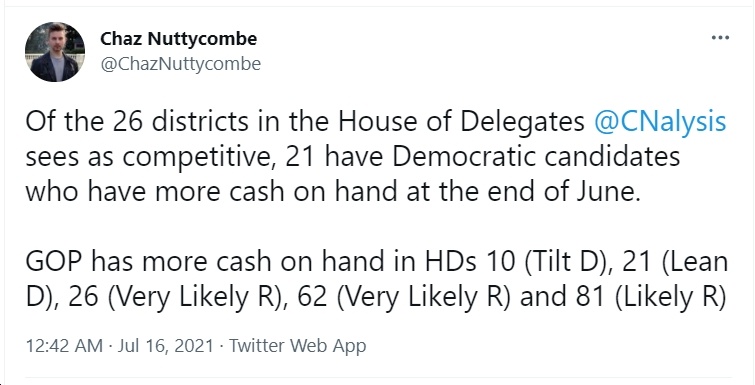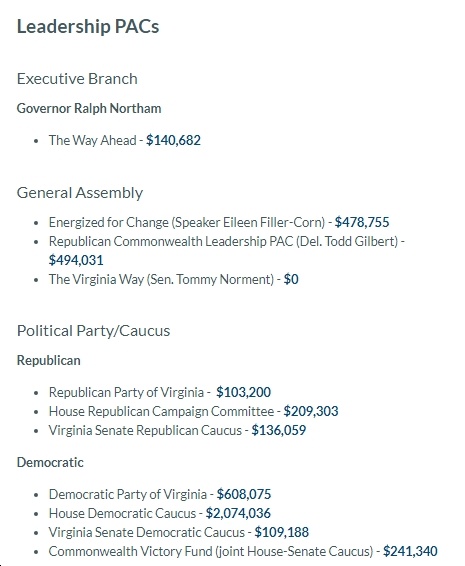 Terry McAuliffe Breaks Fundraising Record With $7.5M Haul in Latest Filing Period, Receives Support from More Than 14,000 Donors in Just Over One Month, Has $9M Cash-on-Hand
Terry for Virginia Continues to Build Massive Grassroots Fundraising Army, With More Than 33,000 Donors and 60,000 Contributions to Date, Support from All 133 of Virginia's Cities and Counties
More Than 95% of Donations in Latest Period Were Under $100
Trump-Endorsed Glenn Youngkin Has Already Spent $12M+ Of His Own Money & Promised to Spend Up To $75 Million to Buy VA Governor's Office 
MCLEAN, VA – Terry McAuliffe raised $7.5 million in the latest filing period and has raised more than $20.4 million to date, breaking fundraising records for a Virginia gubernatorial candidate at this point in the cycle. He currently has over $9 million cash-on-hand. In addition to this massive fundraising haul, Terry for Virginia continues to build an unmatched grassroots army of supporters. More than 14,000 donors contributed to Terry for Virginia in just over one month in the latest filing period when Terry decisively won the Democratic nomination. The campaign has received more than 60,000 contributions from more than 33,000 donors to date, including support from all of Virginia's 133 cities and counties. In the latest period, more than 95% of donations to Terry for Virginia were under $100.
This unmatched grassroots strength draws a stark contrast with Trump-endorsed Glenn Youngkin's promise to spend $75 million of his own money to further his and Donald Trump's right-wing agenda. In recent weeks, Youngkin has made clear he is trying to hide his out-of-step agenda from Virginia voters. Just last week, a shocking video was released showing Youngkin admitting he is hiding his true plans to "go on offense" to ban abortion and defund Planned Parenthood from voters. This week, Youngkin broke with a 36-year Virginia tradition and refused to participate in the Virginia Bar Association debate that was scheduled for July 24, and on Wednesday he was caught on camera running away from a reporter and refusing to answer questions.
"While Glenn Youngkin is trying to buy the governor's office to enact his and Donald Trump's out-of-step agenda, I can promise Virginians: I am running for governor for you. Just as I did before, as governor I will get up every single day fighting to build a stronger Commonwealth. That means creating good paying jobs, making health care more affordable, and giving every Virginia child a world-class education," said Terry McAuliffe. "I am so proud to have tens of thousands of grassroots supporters who share our vision of keeping Virginia the best state for business and making sure our Commonwealth remains open and welcoming to all."
Since launching his campaign, Terry has released 17 detailed plans to strengthen Virginia's education system and dramatically increase teacher pay, help secure Virginia's economic recovery from COVID-19, reform our criminal justice system, ensure Virginians have access to regular nutritious meals, address the broken, predatory system of prescription drug pricing, confront the gun violence epidemic, make Virginia the best state in the nation for Science, Technology, Engineering, Mathematics and Health Care (STEM-H) and computer science education, tackle the housing crisis in the Commonwealth and invest in Virginia's workforce in the post-COVID economy, ensure Virginians have access to high-quality, affordable health care, tackle climate change and secure Virginia's clean energy future by 2035, lift up Black Virginians as the Commonwealth rebuilds from the COVID-19 pandemic, further advance LGBTQ+ rights, create a flourishing rural economy, support entrepreneurial ecosystems and tackle rising costs and meet the health care needs and make higher education more affordable.
SPEAKER EILEEN FILLER-CORN ANNOUNCES RECORD-BREAKING SECOND QUARTER FUNDRAISING
Speaker reports over $2,140,000 cash on hand
RICHMOND, VA — Virginia Speaker of the House Eileen Filler-Corn today reported raising an additional $670,000, bringing the second quarter fundraising total to nearly $950,000, a historic number that surpasses that of any speaker before her at this point in an election year. This brings the speaker's overall 2021 fundraising to more than $1,534,000, with over $2,140,000 cash on hand, and continues her record-breaking streak from last quarter in the midst of a pivotal election cycle.

Speaker Filler-Corn is working to maintain and expand the Democratic majority, contributing $870,000 in support of Democratic campaigns for the House of Delegates so far this year. This is in addition to the strong financial showing by the House Democratic Caucus as well as Democratic House members and candidates throughout Virginia.

"The Democratic majority led by Speaker Filler-Corn has delivered on the agenda they campaigned on two years ago," said Tyler Javonillo, a campaign spokesman for Speaker Filler-Corn. "The momentum continues to be on our side, and we're heading into the fall with full steam ahead. Voters are clearly energized to re-elect a Democratic majority and work with them to build a better Virginia."

On Tuesday, CNBC 

announced

 that Virginia earned back-to-back titles in its ranking as top state for business, a testament to the Democratic Majority's efforts to support small businesses while creating an open, welcoming environment for workers.

This past session, the General Assembly passed pivotal legislation increasing access to quality, affordable to health care; expanding school funding and teacher pay; making Virginia a national leader in ballot access; implementing common-sense gun violence prevention; reforming our criminal justice system; and protecting workers' rights, women's rights, and LGBTQ+ rights, among many other significant accomplishments.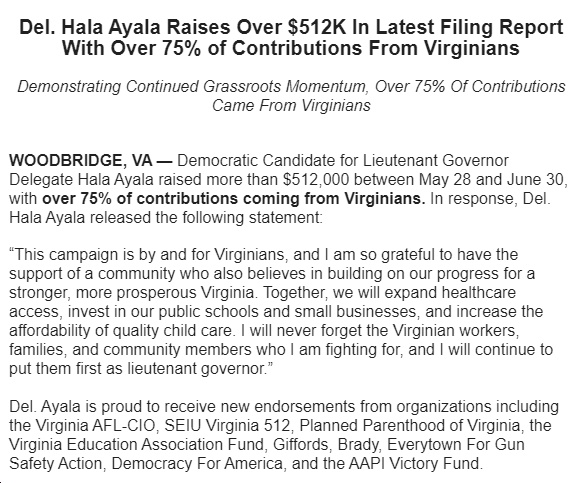 Some key Virginia House of Delegates contests (per Chaz's and Ben's competitive ratings)
Del. Candi King (D-HD2): Raised $236k, had $55k cash on hand (well ahead of her Republican opponent,

Gina Ciarcia,

who raised $9k and had $9k cash on hand).
Del. Wendy Gooditis (D-HD10): Raised $84k, had $199k cash on hand (behind her Republican opponent,

Nick Clemente

, who raised $112k, had #234k cash on hand)
Del. Chris Hurst (D-HD12): Raised $92k, had $249k cash on hand (well ahead of his Republican opponent,

Jason Ballard

, who raised $40k and had $101k cash on hand)
Del. Danica Roem (D-HD13): Raised $40k and had $122k cash on hand (well ahead of her Republican opponent,

Christopher Stone,

who raised $4.7k and had $3.9k cash on hand)

Del. Kelly Fowler (D-HD21)

: Raised $32k, had $28k cash on hand (slightly ahead of her Republican opponent,

Tanya Gould,

who raised $28k and had $26k cash on hand)
Debra Gardner (D-HD27): Raised $78k, had $147k cash on hand (ahead of her Republican opponent,

Del. Roxann Robinson

, who raised $68k and had $128k cash on hand)
Del. Joshua Cole (D-HD28): Raised $110k, had $172k cash on hand (well ahead of his Republican opponent,

Tara Durant

, who raised $59k and had $80k cash on hand)
Del. Elizabeth Guzman (D-HD31): Raised $107k, had $119k cash on hand (well ahead of her Republican opponent,

Ben Baldwin,

who raised just $28k and had $53k cash on hand)

Paul Siker (D-HD33)

: Raised $35k, had $76k cash on hand (ahead of his Republican opponent,

Del. Dave LaRock,

who raised $23k and had $54k cash on hand)

Del. Kathleen Murphy (D-HD34)

: Raised $54k, had $201k cash on hand (ahead of her Republican opponent, Gary Pan, who raised $52k and had $112k cash on hand)

Del. Dan Helmer (D-HD40)

: Raised $95k, had $301k cash on hand (ahead of his Republican opponent,

Harold Pyon,

who raised $64k and had $198k cash on hand)
Michelle Maldonado (D-HD50): Raised $32k, had $17k cash on hand (well ahead of her Republican opponent,

Steve Pleickhardt,

who raised $3.5k and had just $1.5k cash on hand)
Brianna Sewell (D-HD51): Raised $74k, had $206k cash on hand (well ahead of her Republican opponent, Tim Cox, who raised just $10k and had just $10k cash on hand)
Del. Lashrecse Aird (D-HD63): Raised $65k, had $142k cash on hand (well ahead of her Republican opponent,

Kim Taylor,

who raised just $16k and had just $29k cash on hand)
Katie Sponsler (D-HD66): Raised $79k, had $69k cash on hand (ahead of her Republican opponent,

Mike Cherry,

who raised just $41k and had $66k cash on hand)

Del. Karrie Delaney (D-HD67)

: Raised $46k, had $133k cash on hand (waaayyy ahead of her Republican opponent,

Bob Frizzelle,

who raised just $4k and had just $6.5k cash on hand)
Del. Dawn Adams (D-HD68): Raised $23k, had $205k cash on hand (her Republican opponent,

Mark Earley Jr.

raised $47k and had $44k cash on hand)
Del. Schuyler VanValkenburg (D-HD72): Raised $57k, had $277k cash on hand (way ahead of his Republican opponent,

Christopher Holmes,

who raised $22k and had just $26k cash on hand)
Del. Rodney Willett (D-HD73): Raised $77k, had $258k cash on hand (compared to his Republican opponent,

Mary Margaret Kastelberg,

who raised $81k and had $118k cash on hand)
Del. Roslyn Tyler (D-HD75): Raised $60k, had $167k cash on hand (well ahead of her Republican opponent, Otto Wachsmann, who raised $28k and had $70k cash on hand)
Jeffrey Feld (D-HD81): Raised $15k, had $33k cash on hand (his Republican opponent,

Del. Barry Knight,

raised $13k and had $192k cash on hand)
Scott Flax (D-HD82): Raised $25k, had $41k cash on hand (his Republican opponent, Anne Tata, raised $35k and had $60k cash on hand)
Del. Nancy Guy (D-HD83): Raised $108k, had $259k cash on hand (well ahead of her Republican opponent, Tim Anderson, who raised $53k and had $41k cash on hand)

Kim Melnyk (D-HD84)

: Raised $55k, had $62k cash on hand (well ahead of her Republican opponent,

Del. Glenn Davis

, who raised $23k and had $19k cash on hand)

Del. Alex Askew (D-HD85)

: Raised $89k, had $217k cash on hand (well ahead of his Republican opponent,

Karen Greenhalgh,

who raised $53k and had $61k cash on hand).

Del. Martha Mugler (D-HD91)

: Raised $38k, had $136k cash on hand (well ahead of her Republican opponent,

A.C. Cordoza,

who raised $20k and had $16k cash on hand)
Del. Mike Mullin (D-HD93): Raised $17k, had $69k cash on hand (well ahead of his Republican opponent, Jordan Gray, who raised $12k and had just $21k cash on hand)
Mark Downey (D-HD96): Raised $16k, had $64k cash on hand (compared to his Republican opponent,

Del. Amanda Batten

, who raised $35k and had $54k cash on hand)
Finale Norton (D-HD100): Raised $68k, had $93k cash on hand (well ahead of her Republican opponent, Del. Rob Bloxom, who raised $19k and had $45k cash on hand)