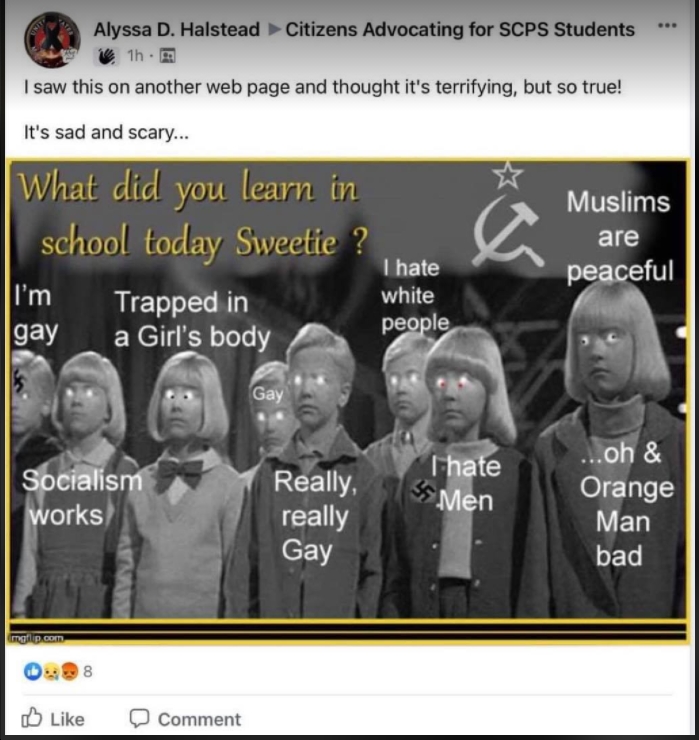 See below for a statement by long-time Democratic activist Marc Broklawski,  who is running for Stafford County School Board from the Hartwood District (whose demographics are changing, but which definitely leans "red") regarding a Facebook post his right-wing Republican opponent Alyssa Halstead. Also note that Halstead is a strong opponent of mask mandates and school closures for COVID-19, who apparently believes (see her post, below Broklawski's press release), incorrectly, that the COVID-19 vaccine "likely" causes cancer. Needless to say, Stafford County (Hartwood District) voters should opt for Marc Broklawski in this election, as he'd make a far, FAR better choice to serve on the School Board!
I began this campaign to make Stafford Schools a better and more inclusive place for our children to learn. As our campaign has progressed, many residents have pointed out my opponent's hate-filled Facebook posts.
Political campaigns should be a battle of ideas. Throughout, I have opted to spend my time talking about my plans for the School Board with voters throughout our district.
This recent post by my opponent highlights her lack of ideas for our children and instead repeats the xenophobic, transphobic, homophobic, Islamophobic and anti-Semitic hate speech that has become all too common on Facebook.
I am offended as the descendant of Holocaust victims, as a parent, and as a candidate who believes politics should be better than this.
To be clear, this post is reflective of a person who is unfit for leadership positions at any level, but particularly one that involves too many children. Alyssa Halstead needs to apologize for her post and work to become a role model for children not online trolls.