UPDATE 3:50 pm:
Sen Tim Kaine is finally at the Capitol, "26.5 hours later," he told us. pic.twitter.com/CAfN63zAU0

— Julie Tsirkin (@JulieNBCNews) January 4, 2022
See below for a statement by Gov. Ralph Northam's office, as well as updates, regarding the situation on I-95 between DC and Richmond due to the snow and ice. Among other things, 100s of motorists were stuck in their cars, in sub-freezing temperatures, overnight. Scary and not good at all! So…yeah, stay safe out there, and definitely don't hit the road if you don't absolutely have to do so.
"The Governor's office has been working throughout the night alongside the Virginia State Police (VSP), Virginia Department of Transportation (VDOT), and the Virginia Department of Emergency Management (VDEM) to respond to this situation. State and local emergency personnel — with particular support from Spotsylvania, Stafford, Prince William County, Fredericksburg counties — are continuing to clear downed trees along I-95, assist disabled vehicles, and re-route drivers. Since midnight, VSP has responded to 1,016 traffic crashes and assisted 1,026 motorists. An emergency message is going to all stranded drivers connecting them to support, and the state is working with localities to open a warming shelter for passengers, as needed."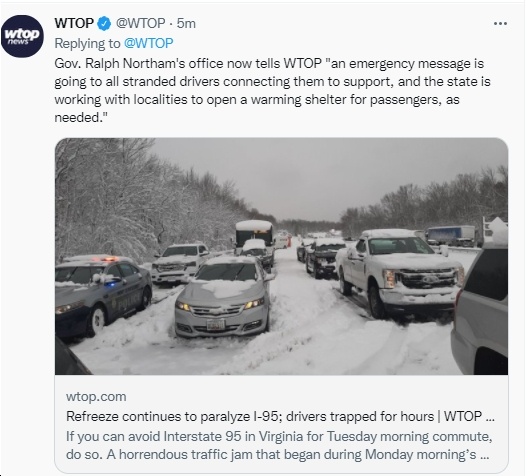 .@JoshNBCNews joins us from his car on I-95, where he has been stuck overnight with his dog as a result of the winter weather. pic.twitter.com/s2nN4uaqp6

— Morning Joe (@Morning_Joe) January 4, 2022