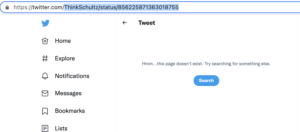 by A Siegel
In May 2021, far-right extremist Elizabeth Schultz  – formerly on the Fairfax County Public School Board, until thankfully defeated by Democrat Laura Jane Cohen in November 2019 – made her Twitter debut as Think_Schultz.  For many years before that, Schultz was highly active on Twitter as ThinkSchultz.
While people delete tweets for many reasons, a core reason for a public figure deleting an entire account, and then coming back online with another account, is that the user has (or feels like she has) something to hide. When it comes to "ThinkSchultz", perhaps it more appropriate to phrase this as, "the user has (or feels like she has) a LOT of somethings to hide."
For instance, Schultz – who Glenn Youngkin has now named as Virginia's Assistant Superintendent of Public Instruction – doesn't want people to remember that she: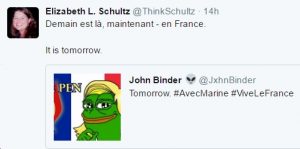 While Schultz's old Twitter account was jam-packed with anti-LGBTQ, white-nationalist sympathizing, and other extremist material, "ThinkSchultz" doesn't seem to be eliminated solely from Twitterdom.  Instead, it appears that eliminating her Twitter account (and creating a new one with only slightly less outrageous tweeting) may have been part of a more systematic effort to clean up Schultz's internet history.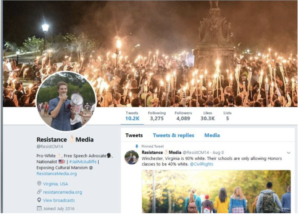 To take one example, following Schultz's tweeting back at BV's post about Pepe the Frog, the white-nationalist Resistance Media (RM) went out with a post "Unhinged Leftist Blog Attacks Schultz". Following that RM post, numerous anti-Semitic comments appeared (and were filtered out) at Blue Virginia.  That RM post no longer appears at the site and didn't show up in multiple internet searches. That isn't the only RM/Schultz interaction that seems to have been wiped. In 2017, there were numerous RM discussions of and interactions with Schultz that appeared using the simplest web search, none have shown up in January 2022 searches.
All of this returns us to the question:
What is Elizabeth Schultz
seeking to hide by changing her Twitter handle?