First, here's the actual popular vote count as of last night. Note that Hillary Clinton's lead is growing all the time, and will most likely end up at 1.5-2 million by the time all the ballots are counted.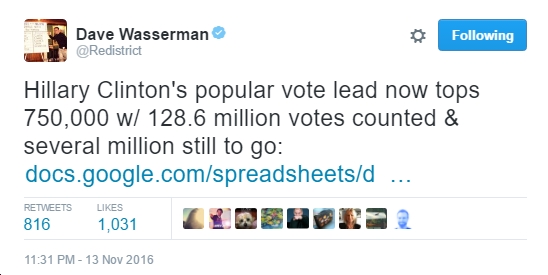 Now, here's what far-right Fairfax County School Board member Elizabeth Schultz falsely claims the popular vote count is. Can anyone seriously argue that a person like this, who routinely tweets out false "news," plus extreme and bigoted comments, should be on a school board???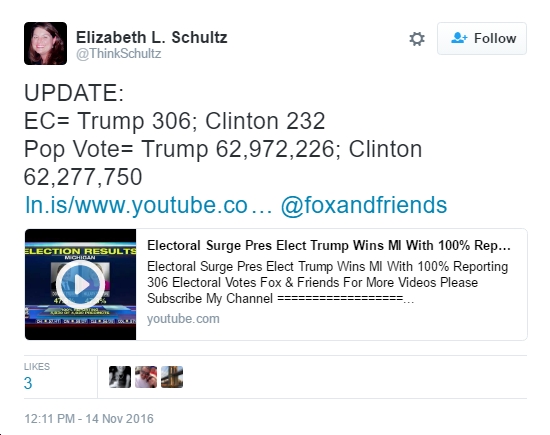 Note that Schultz tweeted out this blatantly false vote count hours after the real vote count – Clinton ahead by 750k votes and growing by the hour – was available. Now why would anyone do such a thing? Hmmmm.
P.S. For more on Schultz – the LAST person who should ever be on a School Board! – see Audio: EW Jackson Talks to Anti-#LGBT Fairfax County School Board Member Elizabeth Schultz, Far-Far-Right Fairfax County School Board Member Recommends Video by Rabid Bigot, Extremist,Video: Heated Debate Over Transgender Rights in Fairfax County Public Schools,https://bluevirginia.us/2016/05/audio-voice-reason-fairfax-county-school-board-goes-nuts-transgender-directive, Just When You Thought Fairfax County School Board Member, Anti-LGBT Extremist Elizabeth Schultz Couldn't Get Any Crazier, FCDC Chair Sue Langley: School Board Member Elizabeth Schultz (R) "has gone on a Trump style, unhinged social media rant", ,etc., etc.