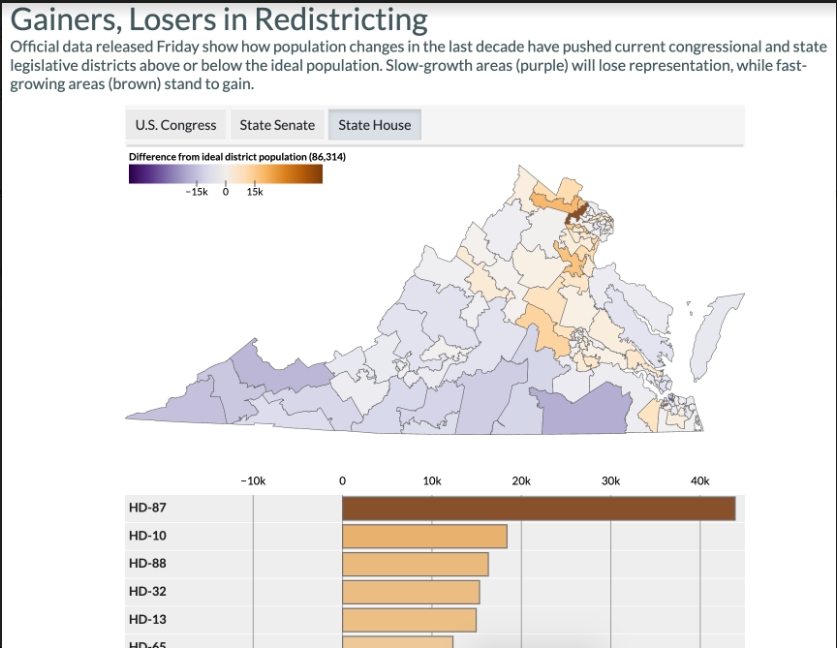 by Jeff Thomas
We should have seen it coming. The House of Delegates districts we all live in are grossly unconstitutional.
One district in Southwest (HD 3 – Will Morefield) has a population of 69,778, while the largest district in Loudoun (HD 87 – Suhas Subramanyam) has a population of 130,082. This 69,778/130,082 misrepresentation is a nearly two times disparity. One person, half vote.
In a trick that has Harry Byrd grinning from the grave, voters in northern Virginia's HD 10 (Wendy Gooditis) with a population of 104,703 are 50% underrepresented. Three people, two votes.
Voters and residents in my Richmond district, a majority-minority district (HD 71 – Jeffrey Bourne), are 93,525/69,778, or 34% diluted compared to Southwest. One person, two-thirds vote.
Talk to some smart politicians about this and their neurons atrophy, feigning incomprehension. Others will tell you plainly that they do not want their colleague to lose re-election. But that friend will lose election in 2023 anyways. Provincial or personal preferences have replaced inalienable rights.
People are waking up to the neo-Byrd Machine sham. "Loudoun's African American residents and people of color living in disproportionate districts continue to face election discrimination, voter disenfranchisement, while being denied their constitutional rights to fair elections, and adequate legislative representation, based on the current population distribution," said Loudoun NAACP President Michelle Thomas. The voting rights organization 90 for 90, led by Dr. Ferguson Reid, Jr., son of the first Black Delegate elected since Reconstruction, has also joined the fight.
The people who own the state have long controlled our politics. They are not going to give you your rights because you issue a press release. The right to vote was only expanded when the state government was compelled by the Union Army, constitutional amendments, or federal courts.
Attorney and author Paul Goldman, for one, did see this coming. "I had only one unique thing to offer," Goldman writes in his excellent new book, Remaking Virginia Politics: In the Shadow of the Byrd Machine. "I was not raised in Virginia." He should be given credit. He has led the legal fight as a sole plaintiff in Goldman v. Brink that asks the Eastern District of Virginia federal court to hold constitutional elections in 2022. He needs help.
The state government's neo-Byrd Machine tactics are clear. The politicians' legal lapdogs are motivated to dilute your vote by the personal interests of 100 old incumbents not to hold elections again. They do not care about taking away citizens' rights to vote or to fair representation so long as they do not have to run for reelection. The state will attempt anything to delay resolution of this case to try to moot it. It is an incumbent protection racket, Constitution be damned.
The politicians and legal lapdogs will continue to harm voters until we are properly represented in the General Assembly – which will not happen until 2024, under the politicians' plans. The state will delay as best it can using the same blunderbuss tactics with which it has bombarded Mr. Goldman.
In Virginia, Old Harry Byrd's disenfranchisement machine is alive and well.
I filed a motion to join the case as a plaintiff. Any citizen is guaranteed the right to represent themselves in federal court, and that is no more important than when the state government takes away your rights. The Constitution guarantees us equal protection under the law. One person, one vote.
For more information:
https://twitter.com/90For90 (DMs)
My motion for joinder, which I filed in person at the Richmond federal courthouse, is below.