UPDATE: 2:45 pm – Youngkin's press secretary says…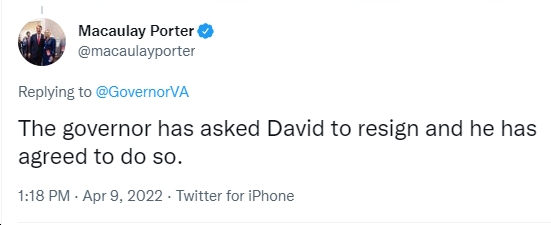 See below for some reactions to this story by WAVY, which reports:
The Chairman of the Hampton GOP has called upon the appointing authority for all electoral board members to remove Electoral Board Chair David Dietrich from his position because of racist comments posted on Facebook.
A racist Facebook post believed to be posted by Dietrich came to light last week.
In response, the NAACP Hampton VA says "no room for racism in our democracy." And Loudoun County Chair Phyllis Randall says:
David Dietrich, GOP Chair of the Hampton Roads Electoral Board has called two well decorated American Military men "the N-word" & suggested their lynchings. This "man" felt perfectly free to say this crap out loud.
The truth is, no matter how excellent or patriotic African Americans are, no matter how educated, how successful, how rich, how kind, or how much service we render, for some people, it just doesn't matter. In fact, our success makes them hate us harder.
And this man is charged with overseeing fair elections?
The question is, how does someone like this end up on an electoral board, or in any position of public authority?!?