See below for reactions, by President Biden and Virginia's members of Congress, to passage by the U.S. House of Representatives of the "CHIPS and Science Act." The bill now heads to President Biden's desk for his signature.  For more on this bill, see Video: Sen. Mark Warner Says Passage of "CHIPS" Bill a "Sputnik Moment" for USA.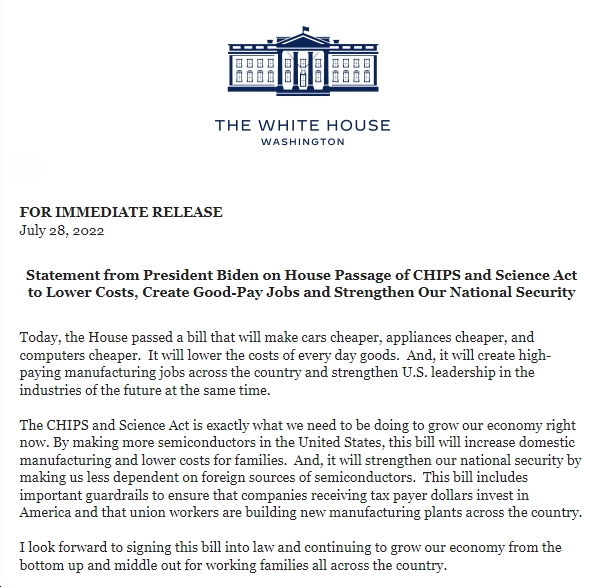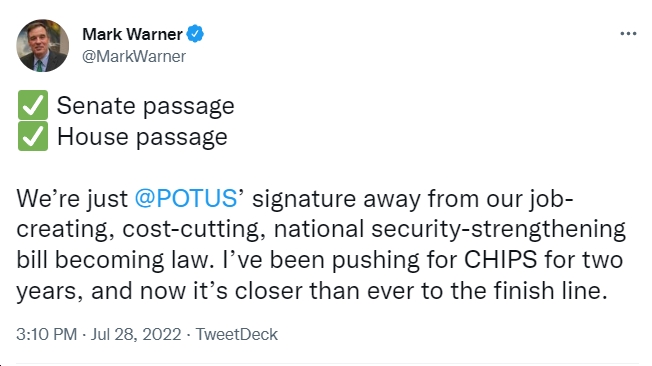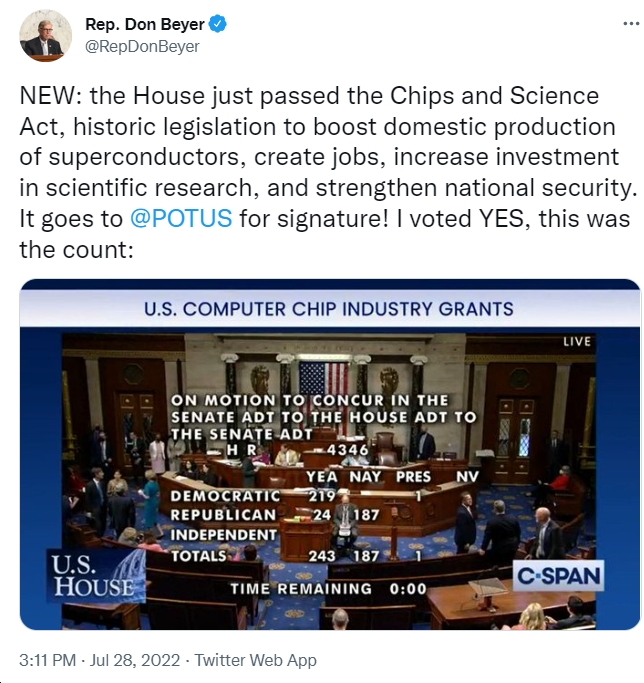 Beyer Hails Passage Of "Transformational Science Bill"
CHIPS and Science Act contains first NASA Authorization in five years
July 28, 2022 (Washington, D.C.) – Today Rep. Don Beyer (D-VA), a longtime member of the House Committee on Science, Space, and Technology and the Chair of its Subcommittee on Space and Aeronautics, voted for the CHIPS and Science Act, which passed the House on a bipartisan vote. The bill now goes to President Biden's desk for signature.
The bill contained the first NASA authorization passed by Congress in over five years, which Beyer identified as a top priority for the session when he took the subcommittee gavel. Beyer and the Space and Aeronautics Subcommittee Majority staff were heavily involved in negotiating the terms of the authorization as part of larger conference discussions for the bill throughout the summer. The legislation also contains several bills written by Beyer, including the Cleaner, Quieter Airplanes Act, the NASA Enhanced Use Leasing Act, and the National Secure Data Service Act.
The CHIPS and Science Act also contains landmark scientific research bills which the House Science Committee spent years negotiating, drafting, and advancing, including the NSF for the Future Act, the DOE Science for the Future Act, and the NIST for the Future Act, as well as a swathe of provisions intended to build and diversify America's STEM workforce. Beyer's district contains the National Science Foundation headquarters, and the bipartisan Fusion Energy Caucus, which Beyer founded, helped secure authorization for significant fusion energy investments in the DOE Science for the Future Act.
Beyer said:
"The CHIPS and Science Act is a transformational science bill that will create jobs, boost our economy, and put America on a stronger, more competitive path for years to come.
"This bill's investments in research, innovation, and American manufacturing will bolster our leadership across the globe. We passed broad provisions to support NSF, NIST, and the Department of Energy, and continued our increasing commitment to the development of clean, safe fusion energy. The bill contained several measures I wrote, including the Cleaner, Quieter Airplanes Act, and the National Secure Data Service Act."
"Finally, I am thrilled to have helped craft and secure the first NASA authorization in five years. I commend the staff of the Space and Aeronautics Subcommittee, led by the indefatigable Pamela Whitney, as well as my own space policy advisor Grace Rubinger, who put in countless hours to help make this a reality. And I thank congressional leaders, including Chairwoman Johnson and her team, Ranking Members Lucas and Babin, Chairs Cantwell and Hickenlooper, and Ranking Member Wicker for their good faith negotiation, which was supported throughout by Administrator Nelson and his staff. This bill is a big win for space policy, the U.S. space program, and NASA."
McEachin Helps Pass American Competitiveness Bill, Denounces Republicans' Opposition
Package Sent to President Biden's Desk for Signature
Washington, D.C. – Today, Congressman A. Donald McEachin (VA-04) voted in support of H.R. 4346, the CHIPS and Science Act of 2022, to strengthen America's global competitiveness, invest in domestic semiconductor manufacturing, and ensure the nation continues to lead in science and innovation. Previously passed by the Senate, this legislation now heads to the President's desk to be signed into law.
"The CHIPS and Science Act is a major victory for Virginian families and our Commonwealth's economy," said Rep. McEachin (VA-04). "This crucial legislation will help lower costs for American families, reduce supply chain disruptions, strengthen our national security, and promote manufacturing here in the United States. It will create thousands of good-paying union jobs, promote research investments in local communities, and broaden Virginia's STEM workforce. I am proud to help advance this legislation to turbocharge our economy and cut costs for working families."
The legislation passed by the Senate on a bipartisan basis with 14 Republicans voting in favor of it. Following the news that Majority Leader Chuck Schumer and Senator Manchin brokered an agreement on a reconciliation package, House Republican leadership immediately began whipping votes against the bipartisan CHIPS legislation.
"Republicans' sudden opposition to this previously bipartisan legislation amounts to nothing more than a temper tantrum. Their actions today make it clear that they are incapable of putting our nation or the American people above partisan politics," continued Rep. McEachin (VA-04). "This is non-controversial legislation that aims to keep America at the forefront of technological advancement and scientific innovation. It will help stimulate our local economies and bring manufacturing back to America; despite that, the majority of Republicans banded together in an embarrassing display of partisanship."
Background
A nationwide shortage of semiconductor chips has severely disrupted American manufacturing – slowing down production, spiking prices and increasing dependence on unfriendly foreign nations.  Only 12 percent of semiconductor chips are currently manufactured domestically – a dramatic drop from 37 percent in the 1990s – while foreign competitors are investing heavily to dominate this critical national security industry.  Other nations have also begun to outpace the United States' research advantage – threatening American preeminence in technology and scientific innovation.
The bipartisan CHIPS and Science Act will reverse these dangerous trends, reasserting America's economic independence and scientific dominance.  Thanks to the strong leadership of House Democrats, this legislation:
Lowers costs for American consumers – by making more critical semiconductor components in America, helping end the shortage of chips that have driven up the price of everything from cars to consumer goods.
Creates 100,000 new good-paying jobs – creates strong Davis-Bacon jobs building hi-tech manufacturing facilities here in America.
Ends our dangerous dependence on foreign manufacturers – bringing critical semiconductor manufacturing back to America instead of overseas where it can be threatened by our adversaries.
Turbocharges American R&D – powering America's preeminence in both basic research and next-generation technologies and ensuring that the technologies of the future are made here in America.
Diversifies and expands the innovation workforce – broadening the pool of brainpower and talent so that we are embracing the full potential from all our communities, helping to diversify our STEM workforce and advancing regional technology hubs to ensure communities across the country can help in American research and development.
###
Spanberger Votes to Send Bipartisan Bill to Strengthen American Competitiveness, Boost Homegrown Semiconductor Production to the President's Desk 
Congresswoman Calls Legislation "A Victory for Virginia's Economy, Virginia's Workforce, & Virginia's Future" 
WASHINGTON, D.C. — U.S. Representative Abigail Spanberger today voted with a bipartisan majority of the U.S. House to strengthen America's semiconductor research, development, and production. The U.S. Senate voted yesterday to pass the bill, which now goes to President Biden's desk to be signed into law. 
The legislation would make $52 billion in funding available for semiconductor research and manufacturing — so that more chips can be made in America. Additionally, it would offer companies a tax credit for investments in domestic manufacturing facilities — rather than facilities overseas. Since arriving in Congress, Spanberger has heard directly from Virginia leaders, companies, and research institutions about the need for this additional investment. 
"This vote is long overdue — but today's progress represents a victory for Virginia's economy, Virginia's workforce, and Virginia's future," said Spanberger. "By investing in domestic semiconductor production and boosting homegrown innovation, we are leveling the playing field for American companies, including those currently in Virginia and those looking to relocate to our Commonwealth. Additionally, we are preventing future shortages of semiconductors, microchips, and the many consumer goods they power — from cars and tractors to cell phones and dishwashers." 
Spanberger continued," Today, I'm proud to vote in support of Virginia's semiconductor industry, the many industries that rely on them, and the consumers who will see lower costs at the store. I'm also proud to vote to protect our national security in the face of increased competition and threats from the Chinese Communist Party. It is imperative that we win this competition, demonstrate our global leadership, and show the world the true dominance of American technology in the 21st century." 
"We are grateful for Rep. Spanberger's efforts to win passage of the CHIPS Act, a critical measure for America's economy and homeland security," said Anthony J. Romanello, Executive Director, Henrico Economic Development Authority. "Henrico and the Commonwealth of Virginia have a long history of innovation in the semiconductor industry. With the federal support provided by the CHIPS Act, semiconductor manufacturers can take full advantage of Henrico and Virginia's robust infrastructure, shovel ready sites, and talented workforce to ensure the domestic semiconductor industry can flourish immediately." 
Yesterday, Spanberger pressed U.S. House leadership for an immediate vote on this legislation, following its passage with a bipartisan vote in the U.S. Senate. 
Earlier this year, Spanberger and U.S. Senator Mark Warner (D-VA) led the entire Virginia congressional delegation in calling on the U.S. Department of Commerce to consider Virginia for future locations of major semiconductor production and research facilities made possible through investments in the CHIPS Act.
***************
Oh, and then there's this lunatic…