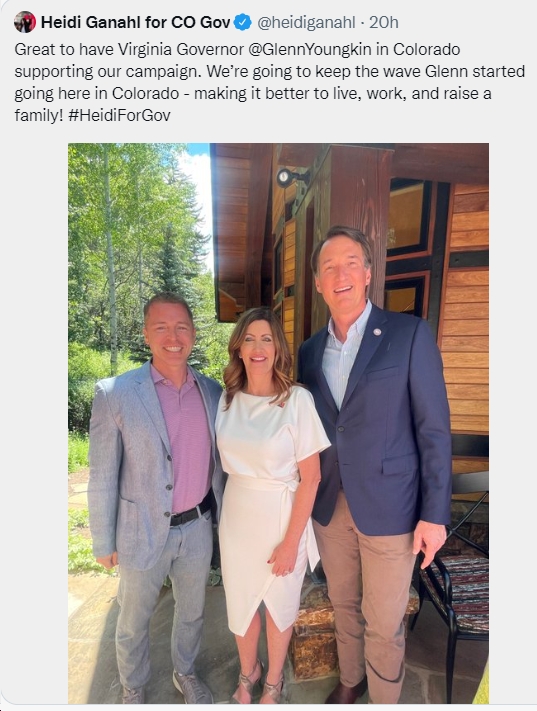 Yesterday, Gov. Glenn Youngkin flew out to Colorado to campaign for Colorado Republican nominee for governor, Heidi Ganahl. Who is Heidi Ganahl?
"Ganahl considers herself to be a supporter of former president Donald Trump. Ganahl has declined to state if the results of the 2020 presidential election are legitimate. After the 2020 presidential election, Ganahl praised John Eastman, a controversial lawyer who incorrectly claimed that Kamala Harris is not an American citizen and wouldn't be eligible to be Vice President. Eastman also helped Trump in his attempts to overturn the election results.
…In the 2021 legislative session, Ganahl opposed the Colorado Affordable Health Care Option, a measure that aimed at lowering healthcare costs by creating a public health insurance option.
…
Ganahl is opposed to proposals offering tuition-free enrollment in community colleges. In regards to sexual assault on campus, Ganahl has acknowledged it as a serious issue but has downplayed its prevalence, saying "Twenty-eight percent of students at CU said that they had been sexually assaulted, but it included all kinds of things like inappropriate touching, and catcalling, etc. 'I think the actual rape number was nine percent […] it's still nine percent too many. But you know, that's self-reported, so.'
Ganahl has claimed that conservatives at colleges are being 'silenced' and has attempted to form organizations that promote conservative viewpoints on-campus."
As of that's not bad enough, Ganahl just announced her pick of an *election denier* named Danny Moore as her running mate! According to the Denver Post, Moore "previously served as chair of the state's Independent Redistricting Commission that redrew the Colorado congressional map," but…
"…was removed from that position — though not from the commission altogether — by his colleagues in April 2021 due to controversial comments he'd made on Facebook. Among his posts: falsely claiming that President Joe Biden was not 'elected by the people,' but rather 'elected by the Democrat steal'; claiming without evidence that mail-in ballots can increase fraud; and calling on Republicans to use the court system to 'erase those gains' made by Democrats in 2020."
Yikes. But wait, there's more!
The selection of Moore is the latest example of Ganahl embracing far-right conspiracists. She's now working on this campaign with top associates of former President Donald Trump, Brad Parscale and Boris Epshteyn, and she recently appeared on Steve Bannon's show, WarRoom. Ganahl, an elected University of Colorado regent, has consistently declined to condemn John Eastman, the former CU visiting professor who was central in the plot to overturn the legitimate results of the 2020 election.
At many points during her winning primary campaign, she refused to say whether she felt Joe Biden was legitimately elected and chastised journalists for asking her about it.
In short, Ganahl is an extremist, "Big Lie" promoter and all-around nutjob.  A few more items to consider about this candidate who Glenn Youngkin campaigned for yesterday:
She's a big-time promoter of fossil fuels who never lets the words "climate," "global warming," etc. cross her lips. That alone, of course, should be disqualifying for anyone to hold public office in America at this point, given the severity and urgency (and overwhelming scientific evidence) of the climate crisis being fueled by greenhouse gas emissions from coal, oil, and natural gas.
Ganahl stated that she agrees with extremist Supreme Court Justice Clarence Thomas that "these decisions [about contraception and same-sex marriage] should be made by the states," which of course means that states with right-wing legislatures and governors could ban same-sex marriage and contraception if they wanted to do so.
Ganahl supports overturning Roe v Wade and "opposes a new state law that cements the right to abortion care in Colorado." She also says she's a "huge advocate of charter schools" and opposes raising the age of ownership for AR-15s, arguing that "we've got to be really careful about protecting Second Amendment rights in this country."
Ganahl argues that "gun legislation, including magazine restrictions, that have passed in our state over the last few years are too restrictive."
Ganahl has reportedly "surrounded herself with top Trump advisors on her campaign," including former Trump campaign manager Brad Parscale, who "was shown to be a central figure in the January 6 plot to overturn the 2020 presidential election"; and "Boris Epshteyn, another individual close to Trump and involved in the Jan 6 plot." "Ganahl also bragged about "Boris and Brad"'s involvement in her campaign on Steve Bannon's show, who has been indicted for failing to cooperate with the Jan. 6 investigation" and "refuses to denounce John Eastman, former CU professor and author of the fraudulent legal memo used to justify the Jan 6 plot, who has been subpoenaed by the Jan. 6 committee and by a grand jury investigating election fraud in Georgia."
Nightmarish. Yet Glenn Youngkin was busy campaigning for this extremist nutjob yesterday? Maybe the media should stop pretending that Youngkin's some sort of "moderate," "sane" Republican, non-Trumpist, blah blah blah?