Check out the latest from Glenn Youngkin.
In several school districts in Virginia, teachers are strictly prohibited from informing parents of their kids' sexual orientation and gender identity without the student's permission…
…Now that Youngkin has a majority on the Virginia Board of Education, 7News asked the governor if he thinks the board will pass new guidance for school districts.
"With regards to informing parents with most important decisions about their children, I think everybody knows where I stand, parents matter," said Youngkin. "Parents should be at the forefront of all of these discussions. And I firmly believe that teachers and schools have an obligation to make sure that parents are well informed about what's happening in their kids' lives. And one of the things we learned last year during the campaign is that parents were tired of being pushed to the background in their child's education."
Here are some reactions to what Youngkin had to say, including by former Del. Jay Jones, who commented:
"Imagine telling people you follow the teachings of Jesus – treating people with love and compassion – and then inducing immeasurable trauma on a child by forcing teachers to out them to their entire community. @GlennYoungkin's idea of faith is hatred and persecution of children."
As for Richmond Times-Dispatch political columnist Jeff Schapiro, he summarized what Youngkin said as arguing that "teachers should out gay, trans kids to their parents."
And last but certainly not least, Virginia Senate President Pro Tempore Louise Lucas bluntly put it this way: "'They need to leave that crap to the folks in Florida,'…referring to the 'don't say gay' bill."
A-f'ing-men!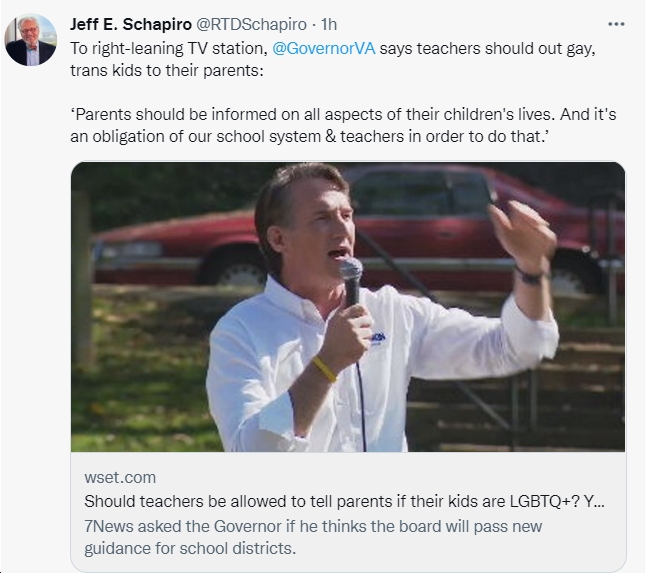 Virginia Senate President @SenLouiseLucas says Gov. Glenn Youngkin wants to ban the word 'homosexuality' in Virginia schools.

"They need to leave that crap to the folks in Florida," said Lucas, who was referring to the "don't say gay" bill.

Story: https://t.co/YG3HlbKOzE

— Nick Minock (@NickMinock) August 8, 2022